CO.LAB brand-new business model wardrobe joins Smart Creation at Premiere Vision becoming partner of C.L.A.S.S. Creativity Lifestyle and Sustainable Synergy
CO.LAB, a collaborative smart platform and research-lab aiming to create a new way of making fashion smart, presents with its own stand in the Smart Creation Area of Premiere Vision Paris, its first cutting-edge and ready-to-wear wardrobes developed to tackle some of the most pressing issues in fashion such as responsible water-saving production and easy-soft sportswear woven responsibly with the next generation of chemistry. For this platform, C.L.A.S.S. Creativity Lifestyle and Sustainable Synergy, the global resource for smart material innovation, education, marketing and communication, teamed up with TINTEX, the leading manufacturer of 'Naturally Advanced' jersey fabrics, and leading responsibly driven (Portuguese patterns) garment makers such as Becri, Confetil and Pedrosa & Rodrigues, to create a multileveled set of skills ranging from fabrics making to style development, production as well as marketing and communication. All in name of design driven by sustainability.
"CO.LAB was created as a prompt answer responding to the very end-users increasing demand for responsible and sustainable products. From here, we realised it was fundamental to create an innovation wardrobe and smart platform open to companies willing to make a difference in the textile and fashion business", explains C.L.A.S.S. founder Giusy Bettoni. CO.LAB is the unique and precious tool able to give companies for the first time the opportunity to quickly access innovative and "turnkey" sustainable solutions. "Working together driving a change for a more sustainable fashion industry. After the first launch in September 2019, we are following the goal we aim to and that's why we're proud to pursue the Co.Lab innovative and sustainable model", adds Ricardo Silva, Head of Operations of TINTEX. "We have to be smarter and more innovative to end-consumers and clients as well". The range, that has also obtained the influential and responsible PETA - People for the Ethical Treatment of Animals – certification, includes: LEGACY H2O by Becri and TINTEX Fabrics is the minimal-casual and new-born classic apparel collection crying out for less water and more style. The range comprises man and woman designs standing out for track & traceable innovation and guaranteeing less water is used in all aspects of sourcing, design and make. The collection reflects a bold and determined attitude.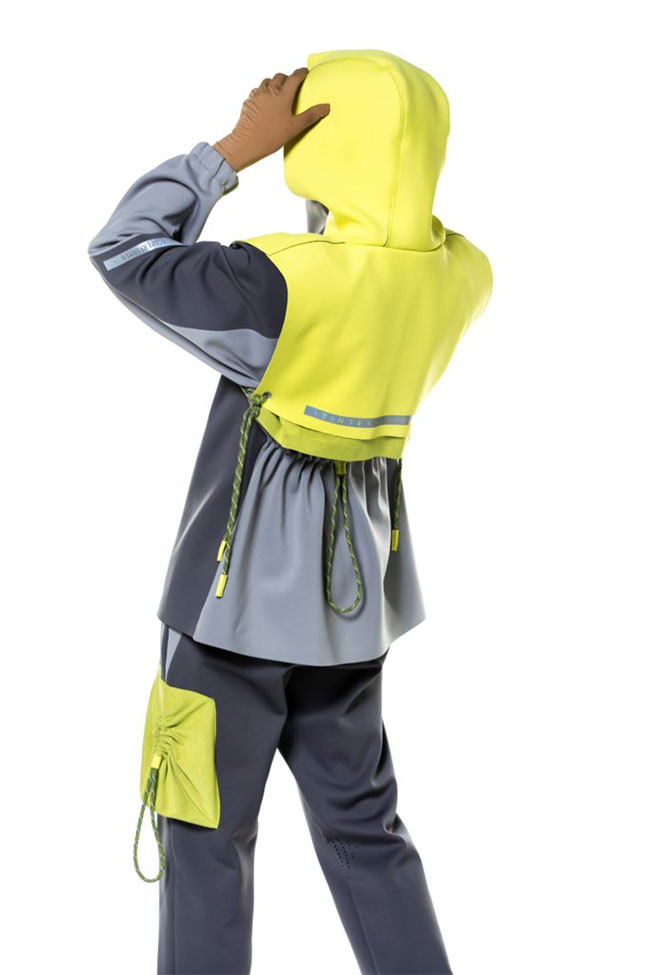 Co.Lab  collection  made  by  Becri,  Confetil  and  Pedrosa   &  Rodrigues  with  TINTEX  fabrics

The ECOPERFORMER by Confetil and TINTEX Fabrics collection meets the values of millennials and generation Z consumer. Sustainable, multitasking, gender neutral and designed to fit contemporary urban lifestyle. The collection comprises modern soft sports garment with fully transparent innovation values. The range flexes its muscles with the best sustainable and highperformative materials for comfort, ease and style. Designed to win.

SENSING SMARTS by Pedrosa & Rodrigues and TINTEX Fabrics is both sensitive and sensible. It comprises easy-to-wear, smooth and soft-touch garments created by an extremely responsible process that reduces the use of chemical products to the absolutely bare minimum. A 360° responsible approach is born, harnessing the most-cutting edge technologies for the next generation of chemistry. The result is a collection as light, delicate and fresh as a leaf which 'buds' from naturally advanced innovation materials for beauty and well-being.


Hits: 2535 | Leave a comment