Bemberg doubles its presence at Premiere Vision with smart material innovations and new collaborations
Bemberg gears up for Premiere Vision with a great deal of novelties and a key statement on sustainability: Let's Make it Circular! That's why the Japanese brand of regenerated cellulose fibers joins the fair with two booths, one in the yarn-focused sector – Hall 6 C52 6D53 – the other one in the Smart Creation area, the curated district showcasing cutting-edge sustainable innovation for the textile and fashion business. Hall3 S14.
"We simply could not miss out on the Smart Creation Area as sustainability is the founding pillar of our company," says SHUNSUKE SATO, sales manager of Bemberg™ by Asahi Kasei. "Indeed, the smart fiber is made from a cotton linter which is pre-consumer material, a natural derived source, that doesn't deplete forestry resources. The strategy beyond our double presence is to highlight our deep commitment to responsible innovation to a larger target of professionals."
Let's make it circular! is the motto at the Smart Creation booth. The lifespan of Bemberg's regenerated cellulose fiber derived from cotton is fully circular: from the source to manufacturing. The whole sustainable closed-loop process is supported by the LCA study, signed by ICEA and validated by Paolo Masoni. Recyclability is granted by the Global Recycle Standard - GRS certification by the renown Textile Exchange. An influential guarantee that involves the whole production process and supply chain behind the company's smart yarns. Bemberg yarns are entirely biodegradable and ecotoxicityfree – meaning that at the end of their life circle they break down into the environment leaving no trace in terms of toxic substances as attested by the Innovhub-SSI report.
On show at Premiere Vision some of the most recent collaborations with GRS-certified partners such as FIVEOL, SMI TESSUTI, TESSITURA UBOLDI, INFINITY, SIDONIOS, MATIAS & ARAUJO, TINTEX, IPEKER, EKOTEN, for fashion fabrics as well as PEZZETTI and BRUNELLO and G.CRESPI from lining partners. A special focus is on VelutineTM Evo, the new fibrillation finishing technology for Bemberg fabrics only that guarantees another level of sustainable benefits without sacrificing the Bemberg amazing and unique touch. As part of the company's Bemberg doubles its presence at Premiere Vision with smart material innovations and new collaborations Premiere Vision - February 11th-13th, Paris, France: Hall 6 C52 6D53, Hall3 S14
February 11th-13th, 2020
continuous innovation, Velutine Evo brings better environmental, energy and water profiles for the benefit of Bemberg partners in the manufacture of their ranges. The sustainable achievements of the new finishing technology have been measured by LCA – Life Cycle Assessment study by ICEA and proved to guarantee environmental benefits such as -16.5% of greenhouses gas emissions and -21% of overall consumption of energy resources. On top of that Velutine Evo means also -20.5% of electricity savings, -15.9% of steam production and -19.5% of water consumption.
The first Bemberg partner to present a commercial collection enriched by Velutine Evo is the Portuguese Matias & Araujo. With an innovative spirit, dynamism and a determined entrepreneurial spirit, the company is a leading knitwear producer for the textile industry.
In the Hall 6 Bemberg displays key commercial items developed by premium brands such as CAALO that is making its mark in the outerwear market with its Sustainably produced FunctionalLuxury proposal.
For SS20, CAALO utilized Bemberg lining because of the sustainability properties and it's unique colour. CAALO looks to utilize as much eco-friendly and sustainable materials as possible without compromising on design or quality. This Bemberg lining was a perfect fit.
Among the new fabrics highlight is important to mention:
- The new partnership with the leading Italian Cotonificio Albini S.p.A. especially for two of their brands: Albini Donna and ALBINI 1876. Albini Donna is versatility, experimentation and extensive research. Combinations of precious raw materials, the use of special, imaginative, refined jacquard and fil coupe yarns, give life to versatile fabrics, conceived for a more sophisticated and intriguing woman. 100% Italian taste, textile know-how, creativity and continuous research are the distinctive features that set Albini 1876 apart, the Group's historic brand which, for over 140 years, has been delivering collections that meet all the most demanding market requirements. Of special interest, DORIS TP a fabric made with an innovative blend of linen and Bemberg: an eco-friendly fabric that is extremely breathable and soft, with a full-bodied and fluid hand that leaves a feeling of comfort on the skin. The slightly slubbed appearance of linen combined with the silkiness of Bemberg give life to a fabric that tells of a refined and natural rusticity.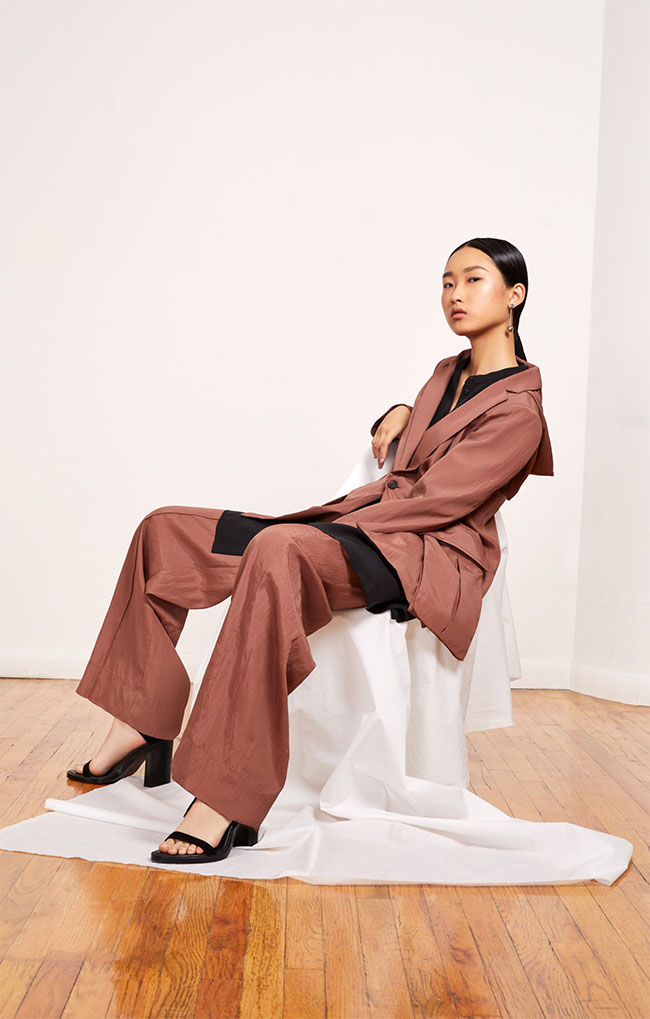 CAALO SS2020 collection with Bemberg lining

February 11th-13th , 2020 February 11th-13th , 2020
- A naturally stretch woven proposal by Gianni Crespi Foderami S.p.A.. The company, specialized in the manufacture of linings for high quality menswear, womenswear and childrenswear, has been able to develop a precious 100% Bemberg lining that is indeed stretch thanks to the fabric construction itself. Quality, flexibility, competitiveness and service targets are constantly viewed and pursued in a continuous technological updating and careful management of the organization. Being vertically integrated, from sectional warping up to shipment, the company directly controls these process steps in order to achieve high levels of quality of service and product.

The participation at Premiere Vision is the final and chapter of a global tour pointing to some of the most cutting-edge design innovations on planet Fashion such as Pitti Uomo, Premiere Vision NYC and ISPO. At each 'sustainable pit-stop' the company has showcased a different aspect of its multitasking and sustainable imprint.


Hits: 2427 | Leave a comment