Bemberg with sustainable fashion news: Let's Make it Circular!
Bemberg™ presents a great deal of novelties with a true key-statement for sustainability: Let's Make it Circular!
The lifespan of Bemberg™'s regenerated cellulose fiber Cupro derived from cotton is fully circular: from the source to manufacturing.
"Sustainability is the founding pillar of our company," says SHUNSUKE SATO, sales manager of Bemberg™ by Asahi Kasei. "Indeed, the smart fiber is made from a cotton linter which is pre-consumer material, a natural derived source, that doesn't deplete forestry resources".
In Bemberg™'s production the whole sustainable closed-loop process is supported by the LCA study, signed by ICEA (Istituto per la Certificazione Etica e Ambientale) and validated by President of Ecoinnovazione Paolo Masoni ex Research Director of ENEA (Ente per le Nuove tecnologie, l'Energia e l'Ambiente).
While recyclability is granted by the Global Recycle Standard - GRS certification by the renown Textile Exchange (an influential guarantee that involves the whole production process and supply chain behind the company's smart yarns), Bemberg™ yarns are also entirely biodegradable and ecotoxicity-free - meaning that at the end of their life circle they break down into the environment leaving no trace in terms of toxic substances as attested by the Innovhub-SSI report.
A special focus deserves Velutine™ Evo, the new fibrillation finishing technology for Bemberg™ fabrics only that guarantees another level of sustainable benefits without sacrificing the Bemberg™ amazing and unique touch. As part of the company's continuous innovation, Velutine™ Evo brings better environmental, energy and water profiles for the benefit of Bemberg™ partners in the manufacture of their ranges.
The sustainable achievements of the new finishing technology have been measured by LCA - Life Cycle Assessment study by ICEA and proved to guarantee environmental benefits such as -16.5% of greenhouses gas emissions and -21% of overall consumption of energy resources. On top of that Velutine™ Evo means also -20.5% of electricity savings, -15.9% of steam production and -19.5% of water consumption.
p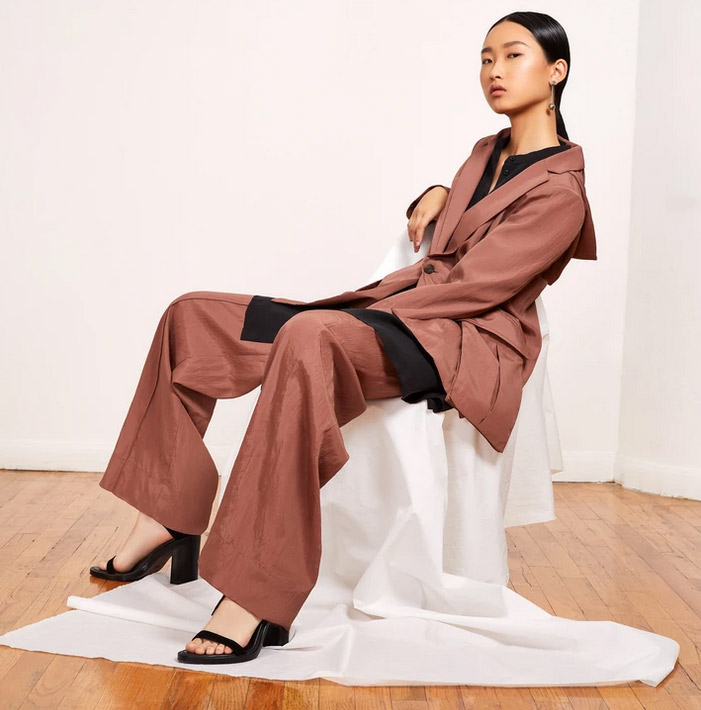 The first Bemberg™ partner to present a commercial collection enriched by Velutine™ Evo is the Portuguese Matias & Araújo. With an innovative spirit, dynamism and a determined entrepreneurial spirit, the company is a leading knitwear producer for the textile industry.

Bemberg™ collaborated also with the premium brand CAALO that is making its mark in the outerwear market with its Sustainably produced Functional-Luxury proposal. For SS20, CAALO uses Bemberg™ lining because of the sustainability properties and it's unique colour.

CAALO uses as much eco-friendly and sustainable materials as possible without compromising on design or quality. This Bemberg™ lining was a perfect fit. This versatile blazer features a removable hood, hidden welt pockets, button closure, and removable cargo pockets.

Sustainably produced in the USA!


Hits: 12118 | Leave a comment