A Young Dad's Guide to Staying Stylish
The responsibility of fatherhood is often understated in various cultures across the globe. Where mothers are championed as the pillars of familial affection because of their commitment to the upkeep of a child, fathers do not always attract similar consideration.
Fathers do indeed deserve accolades for the role they play in the family. Just like women, they share the responsibility of caring for and protecting the child from infancy till adulthood.
Although the concept of fatherhood is one that instills deep feelings of love and affection for a child, there is no doubt that the responsibility ascribed to the role can take a toll on one's appearance.
A child can be likened to an investment. Having a stake in business requires that you devote much of your time and attention to ensuring that you yield considerable profits and do not suffer a loss.
While the profits of raising a child do not materialize in monetary form, the time devoted to their upkeep can affect your physique and appearance.
John Stamos described fatherhood as a beautiful thing. In his own words, "Everything is more colorful, more exciting." Such elation is not unusual for new parents and as a young dad, the change in priorities is reflected in a shift in values and preoccupations.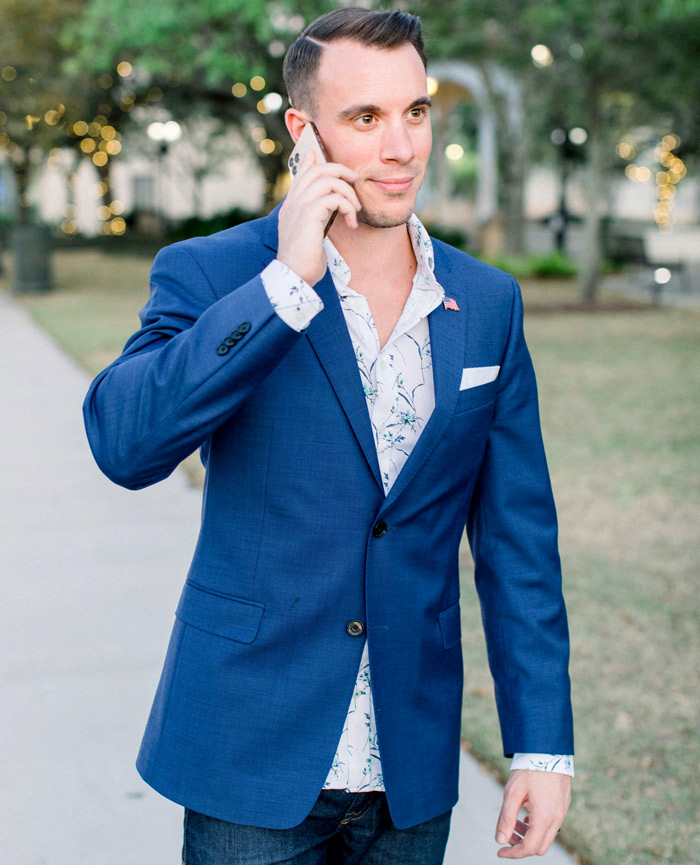 There's the need to juggle fatherhood with work responsibilities, maintaining a healthy social life, and keeping fit. Lifestyle is an important component of parenting as children tend to mimic the actions and predilections of their parents. As such, your appearance need not be neglected. Check out these 7 tips that can help you retain a sense of style as a young dad.
Know your size
The most important component of an outfit is fit. Irrespective of how luxurious a material feels or how well-known a brand, if the clothes are the wrong fit for your body type, you'll come off looking very appealing.
It's not unusual for men to add extra weight after the first years of having children. While this is not true for all, you must remain conscious of your weight and body. If you're on the larger side, it would be foolhardy to keep trying to fit into clothes you bought before becoming a father.
Exercise is important to maintain a healthy lifestyle but it's hardly necessary to bulk up or slim down just to fit in with a trend. Knowing your size, you'd have little problem picking out the ideal clothes.
Know your colors
When it comes to fashion, color and style are synonymous. Colors reflect perceptions and emotions and thus remain critical influences of our style preferences.
Knowing your colors is useful not only because it helps streamline the purchasing process, but also because it limits how much time you spend putting together an outfit. Certain age-old color combinations always seem to work well for men.
Navy, black, white, grey, khaki, cream, burgundy, and brown are the classic go-to's. However, more flamboyant shades like yellow, green, ornate, purple, and red need not be exiled from your closet.
Experiment with color matching until you compile a suitable palette and then build a wardrobe based on your choices.
Know your brands
Being stylish also requires a rudimentary knowledge of different clothing brands. Good-quality materials, fit, and design are some reasons why one should be interested in brands. They also provide a level of consistency that's invaluable.
An important consideration to make while deciding on the brands to patronize is the demographic they cater to. The brands that served you during your high school or university days would not reflect your current role as a father and are thus unsuitable.
While searching for satisfactory brands, it's important to consider different brand categories. Limiting your search to only luxury and designer brands may prove problematic so do not hesitate to consider clothing items from high street brands as well.
Make the right investments
At the stage when you become a father, it's not far-fetched to assume that your income will be stretched to accommodate familial and personal needs. On the topic of becoming more stylish, it's very important to invest in your clothing.
This may seem like a no-brainer especially as clothing items generally require some monetary investment. However, there's a difference between going on a random buying spree and buying select pieces guaranteed to serve you well.
The right investment here is more in line with the latter.
According to fashion experts, a navy blazer, a pair of solid black and blue jeans, a pair of solid brown lace-ups, white sneakers, and white and blue button-downs - such as those on offer at Gitman Vintage - are some wardrobe essentials that every stylish man ought to own.
When investing in these pieces, quality should be the deciding factor. This is a good way to accumulate good-quality items that will last a very long time.
Prioritize personal grooming
The responsibilities of parenting are unending. It is so easy to get carried away with fulfilling the needs of your child until you forget about your appearance. Other than clothing choice, personal grooming plays a crucial role in helping one retain a stylish appearance and there should never be cause for you to compromise one for the other. A good shower can do wonders for your appearance, while at it, be sure to give your hair a good wash.

An unkempt beard is a turn off so keep your beard clipped and in shape. If you can't grow one, it's best to stay cleanly shaven rather than have splotches of hair growing in different corners of your face.
Fragrance is another relevant factor to consider - stay away from heavy spices colognes that offend the sense. Also, keep your fingers nails and toes nails clipped. In essence, give your body the attention it deserves.

Being a stylish dad goes further than wearing the right clothes. Set the right example for your child by making your health, mental, and financial state a priority. This level of commitment to personal development combined with the helpful tips provided will help enhance your sense of style.


Hits: 6513 | Leave a comment