10 Practical Gift Ideas for Men
Guys are tricky to pick out gifts for, especially if you want to avoid giving the same old thing everyone else gives. Also, we tend to play to our own interests when choosing gifts. We often think, "oh, this is something I'd love to get," even though we clearly know the receiver may have different tastes.
Instead of giving a gift you think they'll like because you like it, give them something they'll actually use. Below, we share with you practical and thoughtful gift ideas that most guys will go crazy about.
1. Desktop Organizer
Let's face it, we know a lot of guys who just can't seem to get themselves or their tables organized. When purchasing an organizer, avoid boring designs; instead, go with ones that reflect the personality of the recipient. If the gift receiver appreciates the great outdoors, choose something that's nature-themed. For more professional recipients, perhaps an antique-style, sleek wooden desk organizer should do the trick.
2. A Professional Camera
Does he like photography? Maybe he's already a good photographer but just doesn't have a professional camera to match his potential. It's time to get him a professional camera, then. DSLR and mirrorless cameras are things almost every guy dreams of having. What's great about cameras is that if you get good enough at taking photos, you can actually make money with it. Talk about practical!
3. Sock Sets for Multiple Uses
Anyone can give a pair of men's socks, but rarely does it occur to someone to purchase sock sets specifically for camping, yardwork, casual wear, office, and special events. Some guys just don't buy enough socks for themselves, which means they'll appreciate it more if you choose a variety of different men's socks for them.
4. Grilling Essentials
We have yet to meet a man who doesn't like to grill or enjoy grilled dishes. Why not ditch those boring shirts and instead go with a set of grilling baskets, a fancy BBQ thermometer, steak knife, or stuffed burger press for making patties?
Another great addition to a man's BBQ arsenal is a set of grilling utensils made from the finest quality stainless steel. Ideally, they should be okay to throw into the dishwasher for hassle-free cleaning. After all, the less washing needed, the better.
5. Shaving Kit
The best thing about shaving kits is that they let men get a full routine shave in one go. You can either compile your own kit or buy a ready-to-use set. For extra class, the kit should also include a luxury fragrance for a truly manly and clean feel right after every shave.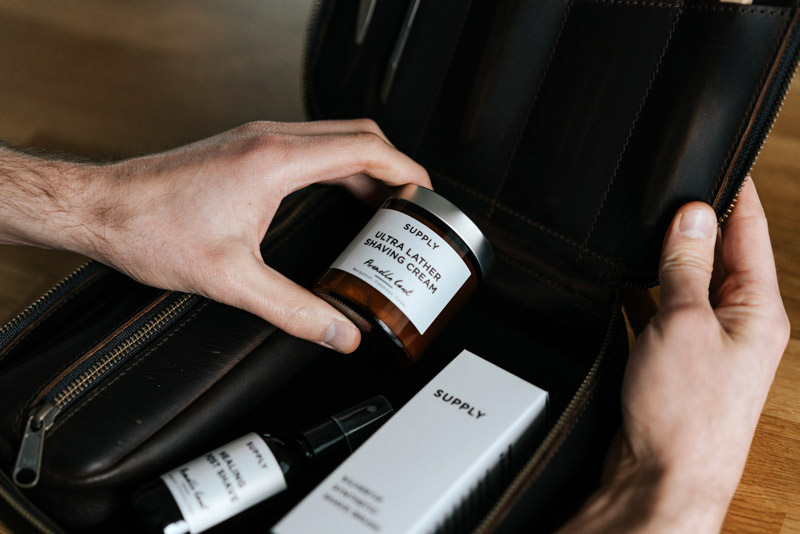 6. Personal Water Filter
This gift idea is perfect for outdoorsy guys. There are numerous on-the-go water filters out on the market. Some are sold as bottles with a filtration system or a straw that cleans out the water as it passes through the tube.
7. Solar-Powered Camping Equipment
Solar-powered items have been gaining popularity in the last couple of years. And usually, men who enjoy being around nature also appreciate items that are reusable or run on renewable energy. With that in mind, why not give them a solar flashlight, camp shower, lantern, or even solar-powered speakers? Both the gift receiver and Mother Nature will thank you for it.
8. Multi-Device Charging Dock
For the hardcore gadget lover, a charging dock that can charge their smartphone, Bluetooth earbuds, and smartwatch at the same time is a sure winner. These charging docks don't cost a lot of money and they're incredibly useful, making them a solid gift option.
9. Versatile Cooking Pot
Guys often like simplicity and tasty dishes, so why not give them a gift that offers both? Multi-use pressure cookers can have as many as 15 cooking options, making it easier for guys to whip up many of their favorite meals with just one pot. These pressure cookers are perfect for guys who don't have a lot of space in the kitchen.
10. Fitness Tracker
You can either go for the small and inconspicuous trackers such as FitBit or the ultra-fancy full-featured ones from Garmin as a gift. Guys that are dedicated to healthy living and exercise will surely love them. It's like having a fitness coach that tells you your progress for the day. The device can even remind you if you've been in one sedentary position for too long.
The best men's gifts are functional yet have a great aesthetic design
This list may be far from exhaustive, but the ideas shared are fantastic if you're stuck on what to choose as a wedding, birthday, or anniversary gift for a special guy in your life. One quick tip to make the selection easier is to consider the recipient's unique personality and interest—follow this and you can't fail.


Hits: 5430 | Leave a comment