How to Choose the Right Streetwear Jeans
Jeans are a staple part of anyone's wardrobe, but particularly amongst men. Creating the perfect, everyday style, jeans can be worn for a multitude of occasions and dressed up or down as needed. The choice of styles is endless, even when it comes to streetwear jeans.
Characterised by a much more rugged look than traditional denim, streetwear jeans are great for creating your off-duty style for the weekend. So, if you're hoping to find the right streetwear jeans to add to your wardrobe, there are a few design features you should consider first.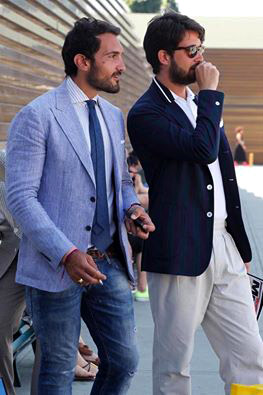 Finding the right fit
Streetwear emerged from the Californian surf and skate culture before encompassing the hip hop culture of the east coast, characterised by its casual appearance and comfortable garments. For this reason, early streetwear clothing was particularly loose, perfect for those in the skate parks or throwing something on after a surfing session.
However, today's streetwear has taken on a much more modern look, with many streetwear jeans now having a fitted design for extra style. Created with stretch denim, skinny fit or slim streetwear jeans are the favoured fit of the moment.
Choosing the right colour
Jeans come in a multitude of colours, with seasonal shades coming and going too. The traditional blue denim is now interspersed with different shades of blue, as well as black and grey. This can make choosing the perfect pair of jeans a tricky decision.
Having a pair of blue jeans is an absolute essential for your wardrobe, so keep this in mind if don't already own a pair that you love. If you're buying in the winter months, consider a darker blue; in the summer, try a lighter blue wash.
If blue jeans aren't your usual go-to, a charcoal grey or black are both classic alternatives, and a beige shade is perfect for the summer months. For a streetwear vibe, steer clear of anything brightly coloured!
Eye for detail
Once you've got your fit and the colour, it's time to decide what added details will make your streetwear look complete. Streetwear jeans aren't complete without some sort of ripped or distressed detail, so keep this in mind if you're hoping for an authentic look. Choose from simple ripped patches to extreme distressed detail depending on your personal preference.
Other details can include zips on pockets, frayed hems or paint splash effects for an eye-catching finish to your statement denim styles.
How to style your streetwear jeans
Once you've got your perfect pair of streetwear jeans, consider how to style them for different occasions. Just because they are ripped doesn't mean they won't go with your go-to white shirt for weekend events; pair them together with a pair of desert boots for a smart-casual look.

For the ultimate off-duty style, the possibilities are endless. Consider a drop shoulder tee with a hoodie and chunky trainers for an on-trend look, or a graphic tee with an overshirt for a layered appearance.


Hits: 4508 | Leave a comment