Raging Trends of Men's Ethnic Wear
Women have an endless choice for Indian ethnic wear, but do men have the same kind of luxury? A lot of you may disagree. However, the Indian fashion industry is invested in reinventing some trendy fashionable ethnic wear choices for men and the results are amazing. Stylish ethnic wear for men are everywhere today and men are taking time to upgrade their wardrobe. Bringing together some dapper traditional outfits, they are creating some unique style statement.
When it comes to men's ethnic wear, the scenario has completely shifted. With dedicated efforts of so many designers, there are some rich and elegant trends emerging. There is more than just a boring kurta pajama to flaunt now. These attires are perfect for all kinds of traditional ceremonies, religious events, weddings, and pujas. So, are you ready to browse through an exceptional range of stylish ethnic wear? Before you do, here is a list of some trending styles that you are certainly going to love.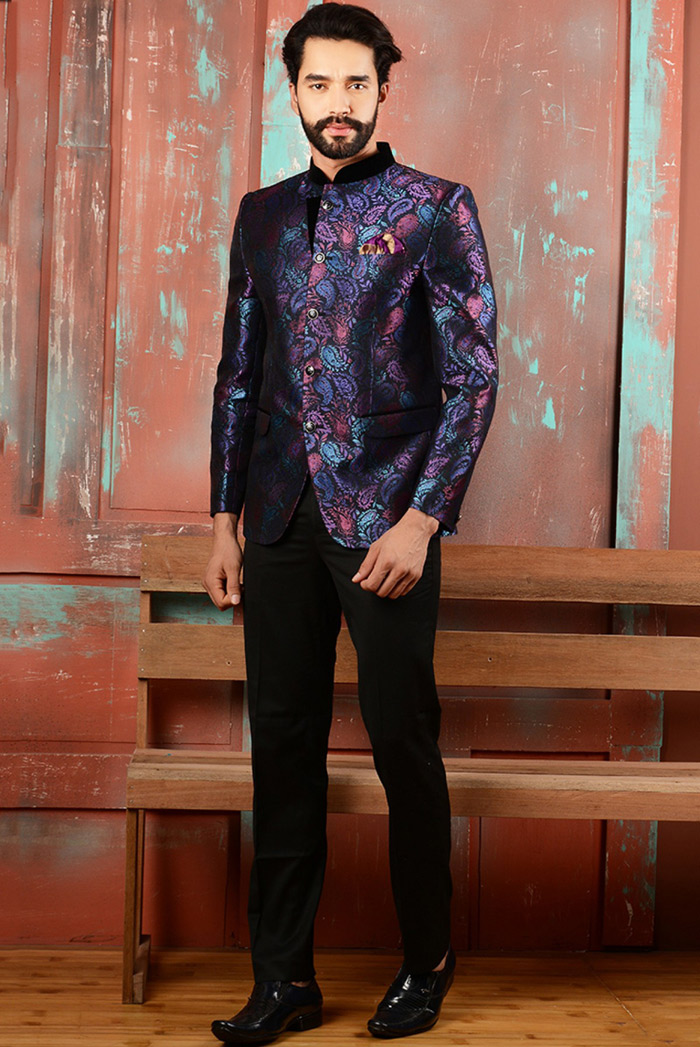 Angrakha: The modern Angrakha is inspired by ancient versions that were worn by males of the royal families. It is a garment with a unique silhouette that has overlapping panels and it is usually worn with long-sleeved kurtas. Angrakha style attires for men are supremely elegant. They are all about bejeweled regalia. Mostly, this style of clothing is worn on special occasions such as weddings, engagements, and more. They are perfect if you want to look like a Maharaja of old times. The recent trend suggests teaming up subtle-colored Angrakha with a contrasting color of churidar is all you need to look your handsome best. 

Fusion Wear: Fusion wear or Indo-western is immensely popular with the younger generation. They are experimenting with bold styles influenced by western wear blended with Indian fashion to look their distinguished best. This fusion wear gives a fresh perspective to traditional wear. This attire does not play by the rules. It is open for experimentation and you can choose to wear the upper wear with a dhoti, churidar or pants. They are perfect for casual wear or formal wear. What makes them an attractive option is their ability to keep the wearer comfortable and make them look oh-so-stylish.

 Pastel Shades: Just like women, men are opting for pale versions of their favorite colors. Gone are the days when blue, black, browns were the color for men. Changing preferences has brought a massive shift in the trends. Men are going for unconventional colors like corals, peach, misty pink, icy blue, sage green, lemon, dull pink and more. And believe us! They are crushing it with these colors. Ethnic prints over pastel shades look like a match made in heaven. They go very well together and create some impressive looks.

Dhoti Kurta: Kurta and churidar have been a popular choice for a very long time. However, men are choosing something more relaxed and traditional. Ready-made Dhoti-Kurta sets are back in fashion. Men are using them to look handsome in the most conventional manner on various occasions like weddings and traditional ceremonies. This look is a little offbeat, yet it is fast catching up with. The pleated dhoti falls perfectly below their waist providing a very relaxed fit making it perfect for the summer season. Make sure that you keep a dhoti in classic white, beige, off-white colors and pair it up with a Kurta of your favorite color. 

 Silk Kurtas: Silk Kurtas are a raging trend. The lustrous fabric and elegant motifs make it an ideal choice for celebratory events where style and traditions must go hand in hand. No matter what color and pattern you choose, these kinds of kurtas will let you make a resilient statement of your own. Subtle and charming, be assured to get ahead in your fashion game with this graceful attire. It is a great outfit if you want to look nothing less than flamboyant on the upcoming event. You can pair it up with a dhoti, salwar, or even churidar. It will look equally attractive to all of them. Meanwhile, you can even choose to wear a linen or cotton jacket over the silk kurta. It is a perfect festive wear attire that will never fail you.

Jodhpuri Suits: Jodhpuri are famously known as Bandhgala and they are always in fashion. It is one of the most sophisticated men's ethnic wear that originated in the Jodhpur city of Rajasthan state. As the name implicates this attire is inspired by the Royalty of western India. The outfit consists of a coat, trousers, and inner shirt or Kurta. The intricate embroidery and neat cuts and silhouettes are what makes it so elegant and popular. This is an extremely royal-looking attire. It gives a classy look to anyone wearing it. It is undoubtedly the most impressive clothing among the rest.

Pathani Suit: Also, known as Punjabi suit, this is a semi-formal style of men's ethnic wear. It is certainly edgy yet a little casual. It looks very smart on young men who love to dress a little casual yet stylish.  It consists of a long kurta and matching baggy salwar. The wide collars and shoulder cuts make it perfect for anyone who would like to flaunt their brawns. It looks best in solid colors like maroon, black, blue brown. And the key to looking impressive in this attire is pairing it with the right footwear.
These are some raging trends in the men's ethnic wear. Be assured that these attires are all you need to amp up your fashion game and turn attention to yourself at that crowded party. So, which one is your pick? Let us know in the comments section below.


Hits: 5023 | Leave a comment