The Ultimate Guide to Styling the Same Suit for Different Looks
A well-tailored suit is the best investment any discerning gentleman can make. You send in your measurements, choose your fabric, establish the cut and style, and then become the proud owner of a perfectly fitted suit. Nothing makes a statement like a sharp, classic suit.
So what is the best thing about your new purchase? Well, it's its versatility. A suit is a great choice for any occasion. Whether you're heading to the office, attending a formal event or just going casual, a suit can be your go-to. But that doesn't mean your simple, statement fashion choice has to be boring. You may wear the same suit to the office and out to Sunday brunch with friends, but that doesn't mean your look has to remain the same.
To rock your suit at any event, follow our tips on mixing it up and styling.
The Shirt
Any fashion-forward man knows the importance of a good shirt. Heading to the office? Matching a well-tailored suit with a classic white button-down gives you a professional and stylish look. But don't get stuck in your ways. Mixing up the colour or pattern of your shirt can transform your look in one easy step. Opt for a blue or pastel colored shirt or, if you're wearing a tweed or lighter-coloured suit, create a bit of contrast by going for a dark navy or green shirt.
If your suit is plain-coloured, you can also try experimenting with patterns and designs. A checkered shirt gives a more casual vibe and can be worn with or without a tie. Stripes are easy-to-wear and elongate your profile to give you the appearance of being taller — the perfect remedy if you're conscious about your height. If you're feeling adventurous, a Paisley design will help you stand out from the crowd.
Bonus tip: Don't neglect your pockets. A shirt without pockets is the more formal choice and should be your go-to for formal attire, but we all know how handy a pocket can be — especially when you're in the office. Once the sign of a working man, a pocket is the perfect place to pop a pen or snack from the kitchen. Shirts with multiple pockets — think military or safari-style shirts — should be reserved only for informal occasions.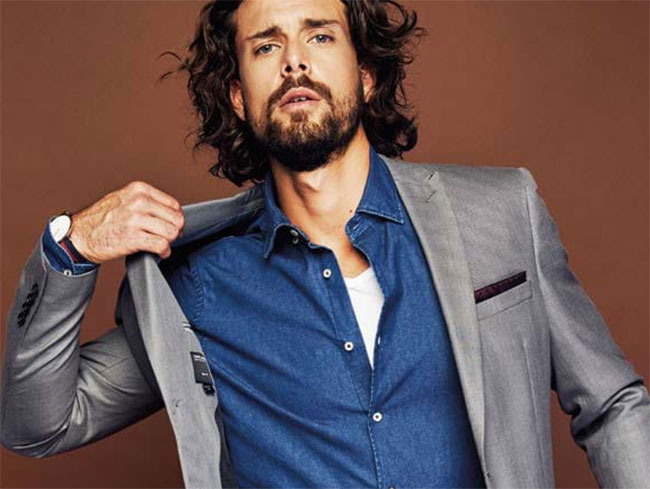 The Alternative
Let's say you have plans for Saturday afternoon drinks with friends or Sunday lunch with the family. You've spent all week working and you don't want to spend a long time deciding what to wear. Your fail-safe? Your suit. There's just one problem — you look a little, well, stuffy. Weekends are for laidback fashion and a more casual approach. All you need to do is substitute your shirt.

Crew cut T-shirts and polo shirts are great alternatives, especially during the warmer months, while a cashmere rollneck looks great when it's cooler. Switching out your shirt is an easy way to achieve a more informal look. The only thing to keep in mind is this: don't overdo it with slogan t-shirts and multi-patterned designs. Just because you're going for something more chilled, doesn't mean that the same rules don't apply. Wearing too many designs will just leave you looking messy.

The Neckwear
Ties are the bread and butter of male fashion. With so many different colours, designs, widths and fabrics, ties are an easy way to mix up your look. But did you know that they're not your only neckwear option? Here are some of our favourites:
- Skinny ties: Made famous by the Beatles, skinny ties continue to grow in popularity. Suitable for both the office and a night out on the town, a skinny tie adds an edgy look to your classic suit.
- Bowtie: Once relegated to the bottom of the style pile, a bowtie was more The Simpson's Smithers than debonair cool. Now, that's changed. A bow tie is a great alternative to a tie and looks particularly elegant with a seersucker suit.
- Bolo tie: If you're looking to channel your inner cowboy or gold miner, a bolo tie is a fun and creative choice. Consisting of a piece of cord or braided leather and aglets (decorative metal grips), a bolo tie is informal and best worn sans suit jacket.
- Cravat: The forefather of neckwear, a cravat, or an Ascot tie, adds a flair of sophistication to any outfit. The perfect compliment to swilling whisky by the fire reading a leather-bound book.
- Neckerchief: While famously worn by Boy Scouts and Bear Grylls, the neckerchief has been neglected in recent years. However, when matched with an informal shirt or t-shirt, it allows you to make a unique fashion statement.

The Pocket Square
It's official — the pocket square is back in fashion. The most dapper of all suit accessories, the charming pocket square may be small, but it can really add a punch to your outfit. Worn in the front pocket of your jacket, there are multiple ways to style your pocket square to match any occasion.
If you're headed to the office, try the Classic or Presidential fold. For something a little more special, such as date night, wow your partner with The Rose. For a formal dinner, you can't go wrong with the Reverse Puff. There really is a fold for every look. The only rule to remember is to match your pocket square and tie. You don't need to stick to the exact same colour and design, but be mindful that they coordinate!

The Shoes
You can tell a lot about a man from looking at his shoes. Oxford brogues, wingtips, loafers, trainers, boat shoes; the list goes on. A suit will perfectly compliment any shoe choice, so work from the ground up. Oxford brogues are a great choice for the office, while wearing boat shoes without socks will give your look a cool, weekend vibe. It goes without saying — keep your kicks sharp. Nothing ruins your tailored look like scruffy trainers or scuffed up loafers.

The Separates
Suits are made up of different components. We know about the two-piece and three-piece suit. But what about a one-piece? For a casual affair, the full jacket and trouser combination may be a bit too formal. Instead, choose a separate and channel high fashion, even in your downtime.

Try a jacket suit paired with chinos or jeans for a classic, sophisticated look, or if you're a fan of perfectly cut trousers, mix it up with a cashmere jumper or shirt.

With so many different ways to wear your suit, you'll never again be at a loss for what to wear. One suit; a look for every occasion — that really is bang for your buck!

Anthony Horner is the director of Empire Outlet, a luxury menswear company that provides high-quality suits and accessories at a price that won't break the bank. Empire Outlet operates online and serves customers from all around the world.


Hits: 6657 | Leave a comment