C.L.A.S.S. proudly announces new exclusive partners joining its Material Hub and Smart Materials Bank: innovation and sustainability have never been so near and easy to access
2020 couldn't start more sustainable. C.L.A.S.S., the influential platform and agency promoting and supporting responsible innovation for the textile and fashion business, after the inspiring experience in Davos with Fashion 4 Development, lands at Smart Creation Premiere Vision with its own booth, announcing new partnerships and expanding its Material Hub and Smart Materials Bank, the cutting-edge platforms and inspirational sources for innovators committed to give 'fashion' a smarter future.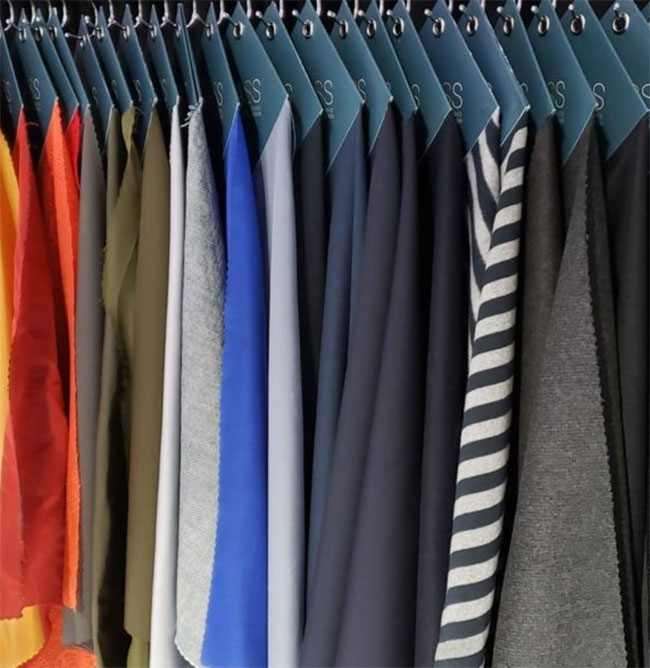 "Our mission is to give voice and visibility to virtuous brands, textiles, ingredients and collections. To connect businesses and inform consumers. To bring forward sustainable messages and communicate high-tech innovation", explains Giusy Bettoni, founder and CEO of C.L.A.S.S. eco hub. "To achieve such goals we have developed and implemented two smart opportunities allowing professionals to become proactive players in the greatest fashion revolution: sustainability".
The C.L.A.S.S. Material hub is our première range of textile and fashion solutions technologically advanced and responsibly designed. The hub features carefully selected innovations from our partners bringing them to some of the most influential events and fairs of the sector so that companies and brands determined to raise the bar in sustainable fashion can be inspired. Among our partners for 2020, two are "special projects - Co.lab and Mending for Good – and two are very special, smart and high performing fabric manufacturers - Dyntex and E.C.O. Kosmos by Italian Converter.
In addition to C.L.A.S.S. Material hub new entries, we also proud to present the news about our C.L.A.S.S. Smart Materials Bank, the educational platform and samples' e-shop designed to allow responsible creatives and emerging brands to discover and experiment with textiles, yarns and fashion components from the most cuttingedge and sustainable producers. Our Bank is constantly updated and travels to the most influential events and fairs across the globe. All products can be purchased in small quantities, from 1 up to 50 m to help everyone starting the business. Our new entries are Candiani Denim, Dyntex and E.C.O. Kosmos by Italian Converter and THE BLUE LAB. To know more about our partners and new entries go on reading!
Last but not least the Smart Talk proposed and moderated by Giusy Bettoni, founder and CEO of C.L.A.S.S "Is the next generation of sustainable fashion in the hands of radical game changers?" scheduled on Wednesday from 1pm to 2 pm that will offer a glimpse of the many directions creativity could venture into going beyond traditional routes. The panel will host some of the most out-of-the-box innovators in the fashion and textile business with a lateral thinking approach who lead unexpected and experimental paths towards a sustainable future.
Material Hub partners for 2020
Co.Lab: a collaborative smart platform and research-lab aiming to create a new way of making fashion smart. Co.Lab is open to companies that want to make the difference in the textile and fashion business. Through the platform, they can access an innovative and smart wardrobe thanks to partners like TINTEX, the leading manufacturer of 'naturally advanced' jersey fabrics, and other leading garment manufacturers such as Becri, Confetil and Pedrosa & Rodrigues. The aim is to give a multileveled service that goes from fabrics making to style development, from production to marketing and communication, all in name of design driven by sustainability. CO.LAB is the unique and precious tool able to give companies for the first time the opportunity to quickly access innovative and "plug and play" sustainable solutions.
Mending for Good: founded by Barbara Guarducci and Saskia Terzani, adopts a holistic approach to redefining honest fashion and provides ethical solutions for fashion waste; it seeks to address issues of excess stock, whilst delivering positive social impact and engendering a new fashion education. Mending for Good works with a network of high-end craft-based social enterprises around the world and creatively repurposes left-over materials, thus offering relevant circular solutions and seeking to promote social justice through craftsmanship. Their collaborations with brands can take the form of capsule collections of re-purposed stock reworked through craft, or visual display concepts that re-use in-house materials, or on-brand upcycled gifting products for VIPS/staff or other. Mending for good's long-term vision is to see fashion waste integrated into the design and production process and to see socially-impactful cooperatives engaged as suppliers of the industry. Mending the planet as well as the people behind the products.
Dyntex, developer and manufacturer of functional materials based in Bregenz, Austria, is specialized in developing and producing new functional and high-tech materials for sports and lifestyle apparel. Through the Material Hub, C.L.A.S.S. will highlight DYNTEX® Biosynthetics, world's first ultralight biosynthetic functional fabrics that took three years of development thanks to the work of specialists from Japan and Italy. These two extraordinary biosynthetic fabrics are: DYNTEX® Biological Origin, made entirely from renewable resources, with the castor oil plant serving as the basis for the ultralight functional fabric. A bio-polymer is extracted from the plant that is then used to produce a particularly high-quality yarn; DYNTEX® Biodegradable, the world's first ultralight functional fabric made of the high-tech
Co.Lab wardrobe polyamide Amni Soul Eco®. The yarn has been developed by the research efforts of the Rhodia-Solvay group and it is biodegradable in 5 years under anaerobic conditions. The fabrics developed from DYNTEX have the highest quality and the lowest weight. In addition, they are water-repellent, breathable, fluorocarbon-free, and extremely durable.
E.C.O. Kosmos by Italian Converter, a leading manufacturer of innovative fabrics for fashion, footwear and accessories joins us as partners with E.C.O. Kosmos, a traceable, transparent and 100% Made in Italy cross-collection whose acronym E.C.O. stands for Ecologic, Conversion, Optimisation, three key concepts and values that truly embody Italian Converter's DNA: sustainability, transformative process and quality improvement. The collection walks through a very complete and balanced range of sustainable materials - from natural to eco high-tech ones - that are transformed, enriched and valued in high-tech cutting-edge innovations through the Italian Converter expertise. E.C.O. Kosmos is more than a collection; it's a system of actions, values and materials that began almost a decade ago and which develops during the entire process of transformation and improvement of quality. Also the new references of E.C.O. Kosmos use materials and processes with the lowest environmental impact and supported by the certification criteria STANDARD 100 by OEKO-TEX®, an independent and uniform control and certification system at international level of the textile sector that examines each level of processing.
The new entries of C.L.A.S.S. Smart Materials Bank
Candiani Denim: Italian denim manufacturer Candiani Denim officially joins the Smart Materials Bank with its ultimate smart collections. In particular:

ReGen, winner of the 2019 ITMA Sustainable Award, is a rigid selvedge fabric composed of 50% Refibra™ fibers and 50% recycled fiber; ReGen comes with the Global Recycled Standard - GRS - certification by the influential Textile Exchange;

ReLast is a stretch fabric composed of organic cotton and with the world's first ROICA™ EF premium stretch yarn made with 58% of pre-consumer recycled content; the ROICA™ EF comes with the Global Recycled Standard - GRS - certification by the influential Textile Exchange; ReLast also has GOTS certification.

Both Dyntex and E.C.O. Kosmos by Italian Converter, after joining us in the Material hub, have also expressed their willingness to support the newcomers empowering C.L.A.S.S. Smart Materials Bank!

THE BLUE LAB: through Tintex Textiles we support the unique initiative created by the NGO Drip by Drip aimed at developing alternative textile solutions with the lowest waste of water, up to 90%, achieved starting from the cultivation of raw materials such as well as in the fabric dyeing process and of course through water recycling. The Blue Lab offers a range of 5 ground breaking water-efficient innovations. The fabric collection has been developed using key smart fibers such as TENCEL™ Lyocell, Modal, hemp and ROICA™ V550, the sustainable premium stretch fiber from Asahi Kasei, a Hohenstein Environment Compatibility and Cradle-to-Cradle Certified™ Gold Level for Material Health product and ingredients certified yarn.


Hits: 2068 | Leave a comment