How To Dress For A Themed New Year's Party
Themed New Year's parties are a great way to see usher out the old and bring in the new in style. From a specific decade through to a TV show and beyond, there's a theme to suit any venue and group of friends. Whatever the theme, we've put together a guide on how you can look good and feel fabulous this New Year!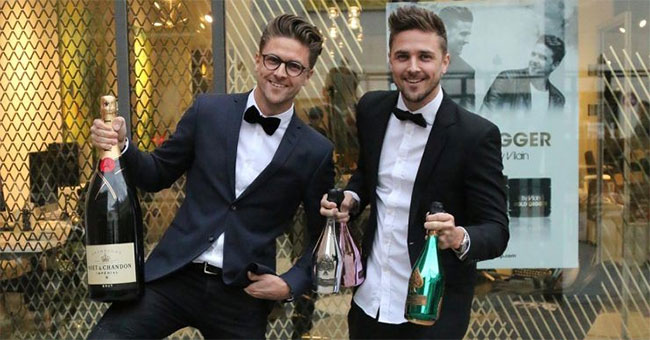 #1. Investigate the Dress Code:
Find out the theme and try to explore the options you have. Some themes, such as black tie, Western or disco are flexible, so you should chat with a few other party guests to find out what they're planning to wear. This will give you an idea of how formal they're going and how much effort they're going to, meaning that you won't feel too out of place in your outfit. It'll also give you some inspiration, as it can be hard to think of an idea when the theme is very broad. If the theme is very specific, then try to be creative and come up with something unique that'll make you stand out and give everyone a laugh.
#2. Consider the Atmosphere:
Along with figuring out the dress code that you'll need to adhere to, it's worth finding out what kind of atmosphere the party is going to have. Things like the decor, presentation and overall look and feel of the party can be a big influence when it comes to choosing what to wear, so don't be afraid to ask your host or people who've been to their parties before. If the party is being hosted by a company or specific venue, then check out their website and photos of previous events to see how they decorate their spaces.
#3. Consider Your Entire Night Out:
When choosing an outfit, don't just think about the party itself – think about anywhere else that you plan to visit that night, too. For example, if you're going out for a meal beforehand, then consider the dress code at the restaurant too, and find an outfit that will work well for both. If you plan to go to a fancy dinner or a posh cocktail bar afterwards, then this could make your outfit more formal than it might have been. If you want to spend the whole night at the party, then you can go wilder with the theme and really make your outfit stand out.
#4. Speak to Others in Your Group:
If you're going to the party with a group of people or on a date, it's a good idea to ask everybody else what they plan to wear, so that you can all choose an outfit with the same level of formality. This can also help you choose your own outfit – the last thing that you want is to end up looking out of place in a tuxedo if nobody else is wearing black tie, or if you dress more casually than everyone else.
#5. Set a Budget:
If you don't already have the perfect outfit at home, then it's a good idea to set a budget for your outfit before you start shopping. A reasonable budget will depend on a number of factors, including your finances and the kind of outfit that you're planning to buy – a designer outfit is going to cost more than a smart casual outfit, or one made from second-hand items for example. If you're planning on getting an expensive outfit and your budget is tight, you might want to consider renting – you can rent a wide range of men's and women's fancy dress wear either online or at certain stores.
#6. Choose Complementary Accessories:
No matter what you're wearing for your party, accessories that complement your outfit will finish it off and pull your entire look together. The accessories that you choose will depend on what you're wearing – if you're sticking to a black tie dress code, then you might want to keep it simple with some classy cufflinks or add a bit of bling to an otherwise plain yet classy dress with a diamond necklace, bracelet or earrings.
#7. Choose the Right Shoes:
Shoes are an important part of your outfit and getting the right pair is important for both comfort and style. Unless you plan to be sat at pretty much the same table all night, then you should opt for shoes that not only look great but are comfortable and supportive too – especially if you are wearing heels. Most men's and women's dress shoes often require polishing before you wear them; if this is needed then you can do it yourself or get it done professionally. If your shoes are part of your outfit then try to go for comfort as well as style so you don't hurt your feet and feel miserable during the party.
#8. Have Fun!:
The most important thing about your New Year's party is that you have fun! Try to immerse yourself in the theme and really enjoy yourself. Even if you're feeling antisocial and don't want to get completely involved in the party, try to embrace the theme and have a laugh with the people you like. So, if you're going to a casino themed night then use sites like this online casino NetBet, where you and your friends can play casino games online even if you don't want to stand around the tables with strangers. You could even breakaway and have your own little party somewhere else later in the night. Whether you're a party animal or a home bird, it's important that you set your boundaries, respect yourself and do the things you enjoy with the people you love this New Year!

Whether you're going with a date, family or friends, a themed New Years is a fun way for everyone to see the New Year in and spend time with the ones they love. These tips will help you to determine the best outfit for your night – let us know what you plan to wear!


Hits: 3555 | Leave a comment