Exciting High tech Makeup for 2020
It's almost 2020 and we're still not zipping around in flying cars or enjoying meals instantly conjured up by a Star Trek-style replicator machine. Sure, humanity has made lots of technological strides, but how much does that affect our day-to-day lives? Instead of crying about our non-flying cars, let's look at the technological innovations in the beauty industry that are revolutionizing the way we look. From smart hairbrushes, scanners to help us pick foundation and magnetic eyeliner to instantly give amazing lashes, technology is making our daily lives easier.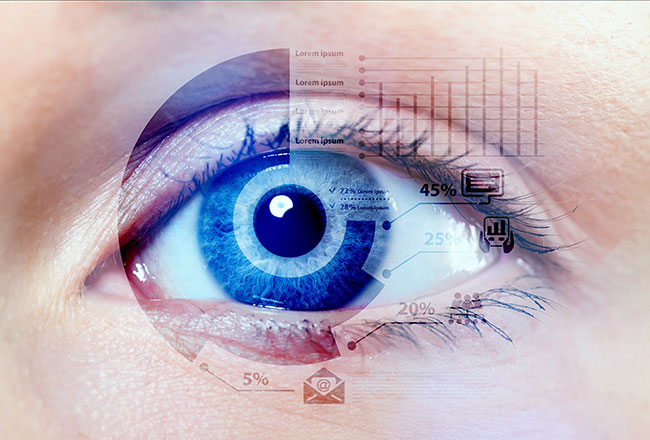 A Hairbrush with its Own Opinions
After smartphones, smartwatches, smart toothbrushes, it was only inevitable that someone would invent a smart hairbrush. What makes it smart? It's got bristles with impressively integrated sensors that gather data about your hair as you brush. It will tell you:
- Measures Tension and compression
- Measures Force applied to the scalp
- Assists with brush pattern identification
- Counts brush strokes
- Conductivity sensors to determine whether it is brushing wet or dry hair.
The brush can also provide feedback if you need to lighten up on your brushing intensity.
Lashes that Last
Everyone loves dramatic eyes, but nobody wants to fuss around. Instead of old-fashioned eyeliner, magnetic eyelashes are an instant way to ramp up your look in the blink of an eye. Eyelash technology has evolved beyond sticky glue strips or drops and painstaking hours trying to pick up lashes with tweezers. Moxielash magnetic eyeliner is a budge-proof eyeliner that contains magnetic pigment (which looks stunning just by itself) which allows you to apply magnetic eyelashes in an instant. Here's how...
- Choose your moxielash magnetic eyeliner (it won't budge!)
- Then choose your eyelash look - flashy, sassy, or classy (everyone likes options)
- Apply mascara to your own eyelashes first, then simply place magnetic eyelashes on the liner and voila!...stunning eyelashes in an instant.
Foundation that's Uniquely You
There are billions of women on the earth today and every single one has a slightly different skin tone. Stocking thousands of shades on drugstore shelves would be terribly impractical. If a hardware store can mix up countless shades of paint, why can't a drugstore do the same for foundation? Custom foundation services, available at Selfridges and Harrods in the UK, work like this:
- A consultant first works out your facial skin tone using a handheld colorimeter - a type of digital scanner.
- The results are then run through a computer, which uses a proprietary algorithm to choose from 20,000 different shades.
- Finally, the computer's findings are sent to a machine that mixes the foundation for you, there and then in the store.
Takeaway
The world has become a better place through technological innovation and the beauty business is no exception. Smart hairbrushes can tell us if we're brushing our hair wrong, magnetic eyeliner allows us to instantly add dramatic eyelashes and foundation shopping now involves a scanner and a customer blending machine. It doesn't look like we're going to have flying cars in the immediate future, but beauty technologies are improving our lives in significant ways.


Hits: 5780 | Leave a comment