Spa Robes Laundering 101: How to Wash Your Terry Cloth Spa Robes Properly
So you listened to various online reviews and chose to get a terry cloth spa robe for its fluffy soft and thick texture only to feel brokenhearted in the end because it only took a few washes to degrade its look and quality. The question is, did you follow the proper spa robe washing tips?
Whether your luxury spa robe is a blend of quality knits, or satin, or it is made from premium Turkish cotton, for it to achieve the most mileage, proper ways of washing it must be followed.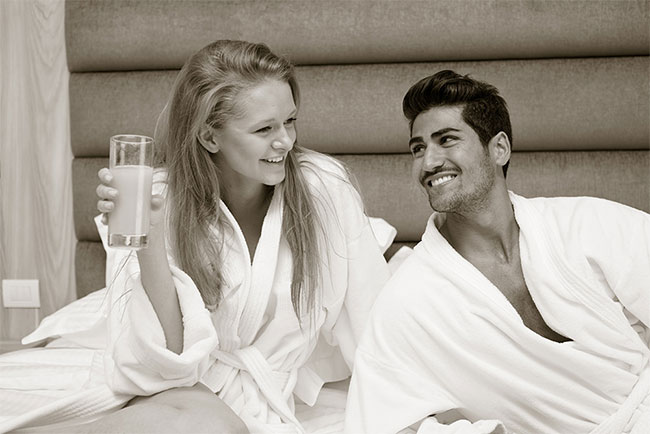 Be informed and follow the tips below:
1. Do not overwash.
In cloth preservation, over-washing is considered a crime and your sophisticatedly crafted spa robe is not exempted of that rule. Consequently, the colors may fade or the fabric might get stretched from washing it more often than it should.
Instead of washing them every day, you may wash them only when they need freshening up, i.e. several days after, like how you wash your bath towels. Also, to reduce the need to wash your robes, one trick is by using a set of spa robes enough for a weekly rotation. This way, over washing can be prevented.
2. Maintain your spa robe's absorbency; keep away from fabric softeners.
Fabric softeners can give your spa robe a fluffier, smoother, and softer feel by fabric coating the fabric's fibers to make it more bouncy and plump. However, its frequent usage can affect the cloth's absorbency.
Since using fabric softeners is hardly inevitable especially in spas and hotels, what you can do is minimize its long term effects at the least by using it only once or twice a month. If you intend to use it regularly to control its effect, you can do a workaround by adding 1.5 cup of baking soda with each wash. The baking soda softens the water, thereby preventing it from making the cloth tougher.
Also a tip: if you think fabric softener residue is still there on your robe after a few water washes, mix the final wish with a cup of vinegar to get rid of the build-up.
3. Spot cleaning is necessary. Use a proper stain removing detergent for it.
Whether your bathrobe is made from satin or cotton, before tossing it into the washing machine, do not forget to spot clean the stains first with a stain removing detergent. This is to avoid damaging the unstained portion of the garment.
4. The inside-out technique works!
After spot cleaning your spa robe, before tossing it into the washing machine, it would be safer to turn it inside out first before proceeding so as to prevent color fading and discoloration on the front of the robe. Besides preserving the robe's beauty, the inside-out technique facilitates a more thorough cleaning of the portion that has direct contact to sweat and body moisture.
5. Follow the right washing machine settings.
Washing
Your washing machine's regular setting is a bit harsher and inappropriate for your robe's type of fabric. Hence, before tossing your robes in, make sure to set the washing machine to its delicate and gentle hand wash cycle first. Doing so limits your robe's wear and tear and avoids unnecessary breakdown of fabric since it uses slower spin cycles.
Drying
In drying your freshly washed terry cloth spa robes, the best and least damaging way to do so is using a dryer for it with a low heat tumble dry setting. Terry cloths can withstand and maintain its texture and fluffiness without shrinking in low heat.
Drying your spa robe under the sun is unfortunately damaging particularly on its color. Nonetheless, if you still intend to dry it outdoors, you can minimize the effects still by using the inside-out technique. This way, only the inner side of the robe can go through discoloration.
6. As much as possible, do not dry iron your terry cloth robe.
Although terry cloth spa robes can hold their shape because of their natural pile and fluffiness, dry ironing them can cause fiber compression, thereby leaving your robes flat.
Instead of dry ironing, use a cloth steamer instead.
7. Your terry cloth spa robes are better hung than folded.
Using hangers in storing your spa robes plays a major role in keeping their integrity and shape. Use ones with pads if your robe is satin or silk to avoid the thin fabric from ripping or snagging.

Meanwhile, when shifting from one type of spa robe to another in between seasons, to keep the freshness of your other robes which are not meant to be used for the next months, you can store them in a zippered plastic bag with cedar chips before putting them in storage.

To preserve the look and quality of your spa robes, read on for more washing tips:
- Wash cotton robes with any laundry detergent on the normal cycle.
- Use a non-chlorine bleach in hot water to brighten your white bathrobes. Also, this might necessitate an extra rinsing to completely remove any residue. Neglecting such residuals can actually affect the soft texture of the cotton.
- If your spa robe is made of terry silk fabric which is delicate, handwashing it with detergent in cold water will keep its shiny finish. If, on the other hand, it is made of terry satin, it is okay to machine wash it but in cold water. Tumble dry using low heat to keep its soft and silky finish.

Meanwhile, if your spa robes are made from polyester and cotton blend, you can machine wash them in warm water. Dry cleaning may be necessary.
- Washing your robes in cold water can help keep the vibrance and brightness of your robe's colors.
- In machine washing, the shorter the cycle you set, the safer as this indicates a lesser soaking time.
- Add a half cup of salt in the water the first time you wash your colored robes. This will help avoid discoloration.
- Do not mix wash your spa robes with garments that are rich in color to reduce the likelihood of damage and discoloration.


Hits: 8074 | Leave a comment