Power Dressing: The 2020 Presidential Race and the Psychology of Style

2020 Presidential Candidates
In politics, optics matter. As the 2020 presidential race heats up, we're diving into the psychology of fashion to uncover what the top candidates are trying to convey.
They say clothes don't make the man (or the woman). But in politics, appearance is a factor, and wardrobe is simply one more tool in a candidate's arsenal. Whether you want a leader who instills confidence in a slick power suit, or someone relatable who gets down at the county fair in a ball cap and jeans, their clothing choices are carefully calculated to influence you.
So what does a candidate's appearance say about their strategy in all-out political warfare? In a study sponsored by jewelry purveyor Laguna Pearl, psychology professor Carolyn Mair, Ph.D., breaks it down.
Behavioral psychologist and author of The Psychology of Fashion, Dr. Mair explains that a candidate's clothing choices can say a lot about who they are (or how they want to be seen). Tie color, suit color, a pearl necklace, a lapel pin, or (gasp) no tie at all can have an impact on how we perceive a political candidate.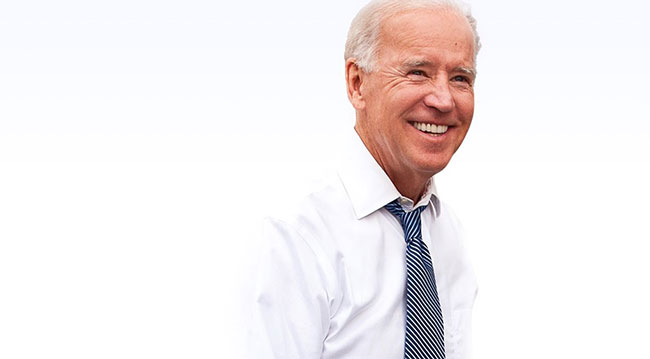 Joe Biden
Take the old blue tie vs. red tie debate, for example. Blue, a standby for the everyman candidate Joe Biden, is "associated with confidence and trust," according to Dr. Mair. President Trump's bright red go-to? Dr. Mair says his signature red tie is a power play designed to instill a different kind of confidence. President Trump's authority is cultivated from a place of superiority she says, in an "I'm the boss, and you can put your trust in me" sort of way.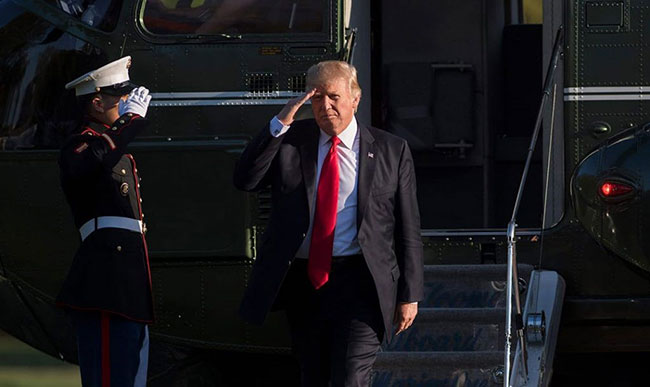 Donald Trump
Though we have yet to elect a female president, several of the top women in the 2020 field are using accessories to communicate too. Two of the Democratic frontrunners, Kamala Harris and Elizabeth Warren, opt for classic jewelry choices like pearls.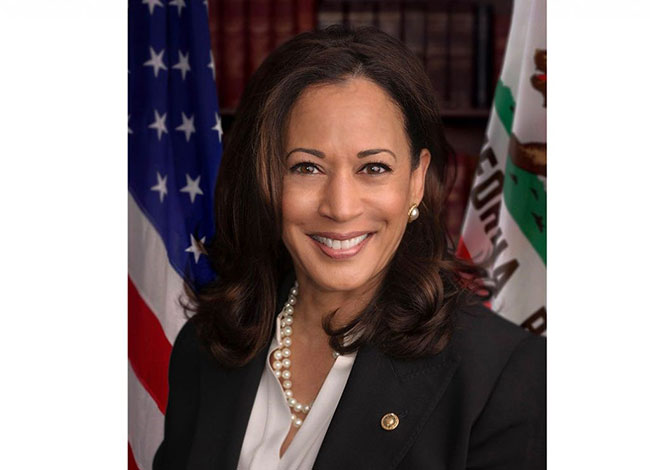 Kamala Harris
Harris gravitates toward a "modern, well-tailored, and smart-casual style" while Warren's wardrobe swings from suit jackets to colorful sweaters. Both candidates, however, finish off their look with pearls. Harris' use of jewelry – the most of any candidate – conveys femininity and draws "attention to her chest without exposing cleavage," says Dr. Mair. To balance her large and sometimes flashy jewelry, Harris opts for stylish, yet understated clothing. This style trick - used by many women in politics - evokes a sense of "listening instead of commanding."
Warren, on the other hand, "is less interested in creating a stylish image through her clothing," says Dr. Mair. Instead, she has turned her pearl necklace and earrings into a calling card that communicates familiarity, trustworthiness, and safety.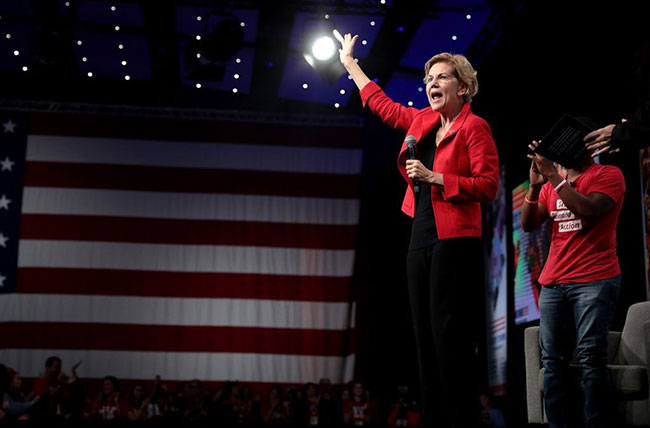 Elizabeth Warren by Gage Skidmore is licensed under CC BY-SA 2.0
So President Trump wears a power tie, Biden shows up looking confident, yet relatable in blue, and Warren and Harris both tap into smart and timeless accessories to slightly different effects. What about a wild card like Bernie Sanders?
Dr. Mair likens Sanders to "your favorite uncle" who cares more about authenticity than anything else. His unkempt hair and oversize suits compliment his zany character, and though they feel sincere, his fashion faux pas may not be by mistake. Dr. Mair thinks that Sanders' "non-choices" could even be endearing to voters who are tired of candidates trying to use fashion as a political tool. He's a take it or leave it character with years of experience behind him, and he doesn't seem to be concerned with looking cool.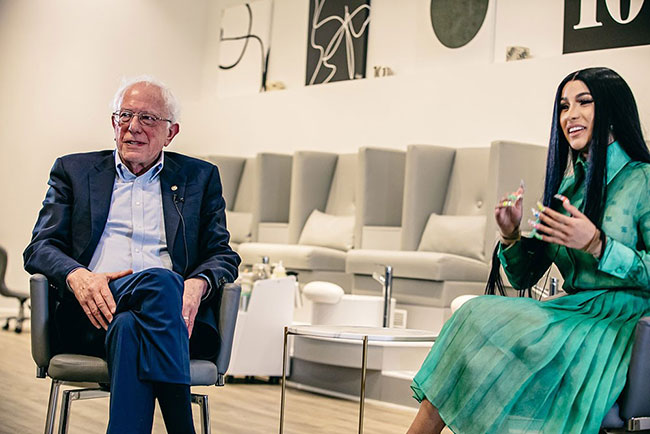 Bernie Sanders and Cardi B via Bernie Sanders Facebook Page

Speaking of looking cool (or failing at it), battleground states like Iowa have long attracted presidential candidates to the state fair. Some candidates shine, while others fail to relate to the common man. One thing is for sure, however. Stumping in front of the lumpenproletariat is nothing compared to eating a corndog with cameras all around. There really is no graceful way to go about it and keep your dignity intact.

In addition to mustard-laden opportunities for embarrassment, offbeat political appearances give candidates a chance to show their casual sides. Dr. Mair thinks that candidates who work casual wear best can convey openness and friendliness. Harris' white blouse and sneakers at the Iowa State Fair, for example, made her feel more approachable than her tailored, televised debate style.

Whether you've got your favorite candidate already picked out, or you're waiting to find out who looks the most convincing eating carnival food, keep an eye on campaign trail fashion. Take Dr. Mair's insider information, and see if you can spot politicians utilizing the psychology of style.


Hits: 1992 | Leave a comment

We are looking for men's suit tailors, fashion designers, managers, fashion consultants who want to share their knowledge and tips in an article or video and contribute to the site! Please email us at contributor@bgfashion.net Don't miss the opportunity as this will be a free advertisement for yourself and your menswear brand!