Fragment Design and Travis Scott Collab for Another Air Jordan Retro
Since its inception in 1985, Air Jordans have been highly prized by basketball fans and shoe collectors alike. Michael Jordan, who is arguably one of the greatest basketball players ever, lent his popularity to hype up the first ever Air Jordans. Now, even fifteen years after his retirement from the courts, shoes branded with his name still scorch the sneaker market. Eager enthusiasts await announcements of newest releases and line up hours early at stores to get their hands on a pair (or more) of Air Jordans.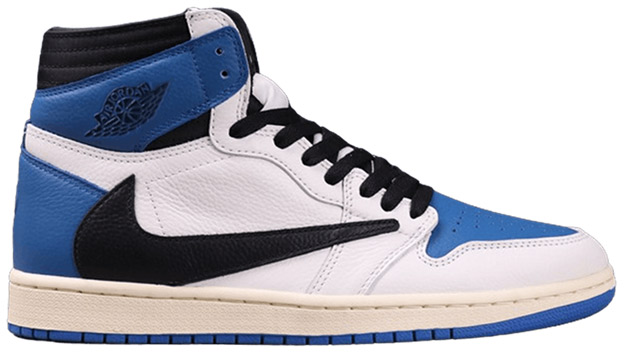 The most anticipated Air Jordan release in 2021
This year is looking at a variety of new releases, which means there is something for every style and taste. The range of colors is astonishing, from red to ghost green to bordeaux, and the designs are strikingly attractive.
In this year's lineup and touted as the most anticipated release this year is a style statement: the Fragment Design x Travis Scott Air Jordan 1. This creative project once again combined the artistry of Fragment Design and Travis Scott. In this design, the base white sneaker is in white tumbled leather with an inverted swoosh in black leather. A nice contrast is afforded by the royal blue on the toe box, collar flap, and heel overlay. On the right and left shoe are Fragment Design's lightning bolt logo and Scott's La Flame's Cactus Jack smiley face, respectively. The main tongue is branded with a woven Nike Air logo, and the classic Jordan Wings are on the shoe's lateral ankle. The shoe looks retro because of the rubber cupsole with pre-yellowed sidewalls. To be released on July 29, this shoe is up for sale for a cool $2,495.
This is not Travis Scott's first work with Air Jordans. The artist has previously released several sneakers with different designs, utilizing colors and themes such as "University Blue", mocha, and camo. Meanwhile, Fragment Design, one of the most influential Japanese fashion brands, is also no novice to the world of Air Jordans; its most popular creation was a shoe modeled after the Air Force 1.
Air Jordan designs through the years
Historically, the Air Jordans have undergone several design changes and retained its trademark look throughout the years. The first ever pair, worn by the legend MJ himself, had the classic red-white-black color combination and was the only one to ever have the Nike swoosh logo. The now familiar 'jumpman' logo, designed by Tinker Hatfield from a famous photograph of MJ going for a dunk with the sun and sky in the background, made its debut in Air Jordans in 1988.

Primarily, Air Jordans had MJ as their muse. His story over the years – from his basketball triumphs and heroics, his style of play, his retirement and comebacks, to his love of motorcycling, his switch to baseball – were highlighted in shoe designs.

However, over the years, Air Jordan designs were also inspired by numerous iconic influences: a World War II Mustang fighter, a black panther, a Ferrari, fighter jets, and a Bentley. Functional changes in its material and design, such as mesh for breathability, straps across laces, carbon fiber plates for support, and a leather toe for a more formal look.

In addition, collaborations on Air Jordans have become more frequent since 2005. Previous collaborators include musicians, artists, athletes, and brands such as Eminem, Dave White, Levi, and Olympian Jayson Tatum. Working with fashion designers, such as Travis Scott, and creating distinctive shoes for celebrities, dignitaries, and special occasions have kept the Air Jordan brand relevant even with the ever-changing trends in sports and fashion. Appeals to nostalgia with shoes that possess that retro flair and crafting shoes for all ages, including babies, definitely make Air Jordans a brand that will soar through the years.


Hits: 2482 | Leave a comment