Alessandro Squarzi
Founder and Director of Alessandro Squarzi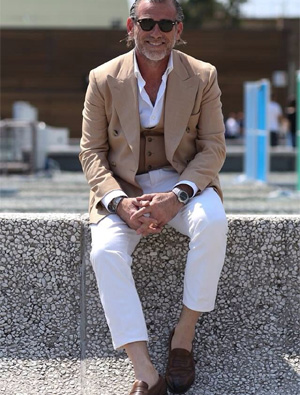 Where is he from: ,
Alessandro Squarzi, born in Forlì in 1965, is an Italian entrepreneur in the fashion industry, a talent scout and one of the most photographed men by street style bloggers around the world.
His activity in the fashion business starts in the 90s. First as boutique manager, then as an experienced salesman Squarzi cultivated his passion for fashion. He's not only a brilliant business man, he also understood before others the potential of some of today's well-known brands , that at the time were still finding their spot in the industry.
From the early 2000s, Alessandro Squarzi has created many brands and baptized others that continue to be very successful and marketed all over the world. Between 2011 and 2013 he has designed three new labels: Fortela, AS65 and Atlantic Stars.
As a big fan of vintage , he is one of the largest collectors in Italy , as well as collector of vintage cars and motorcycles.
His photos , a signature of his friend Scott Schuman , the most famous street style photographer and author of the book The Sartorialist , have made him a well-known face in the web fashion community.
More stylish men