Silhouettes of the Season: Jeans and Pants for Women of All Shapes and Sizes
Now that the fall season is in full swing, you're probably looking through the bottoms in your closet. What is your preferred style? Straight and relaxed or slim and snug? For the next few months, you'll likely be wearing every type of jeans (and pants) out there. As you breathe in that chilly Autumn air and even make treks through the snow once it gets properly cold, you want to wear bottoms that help you feel comfortable and confident.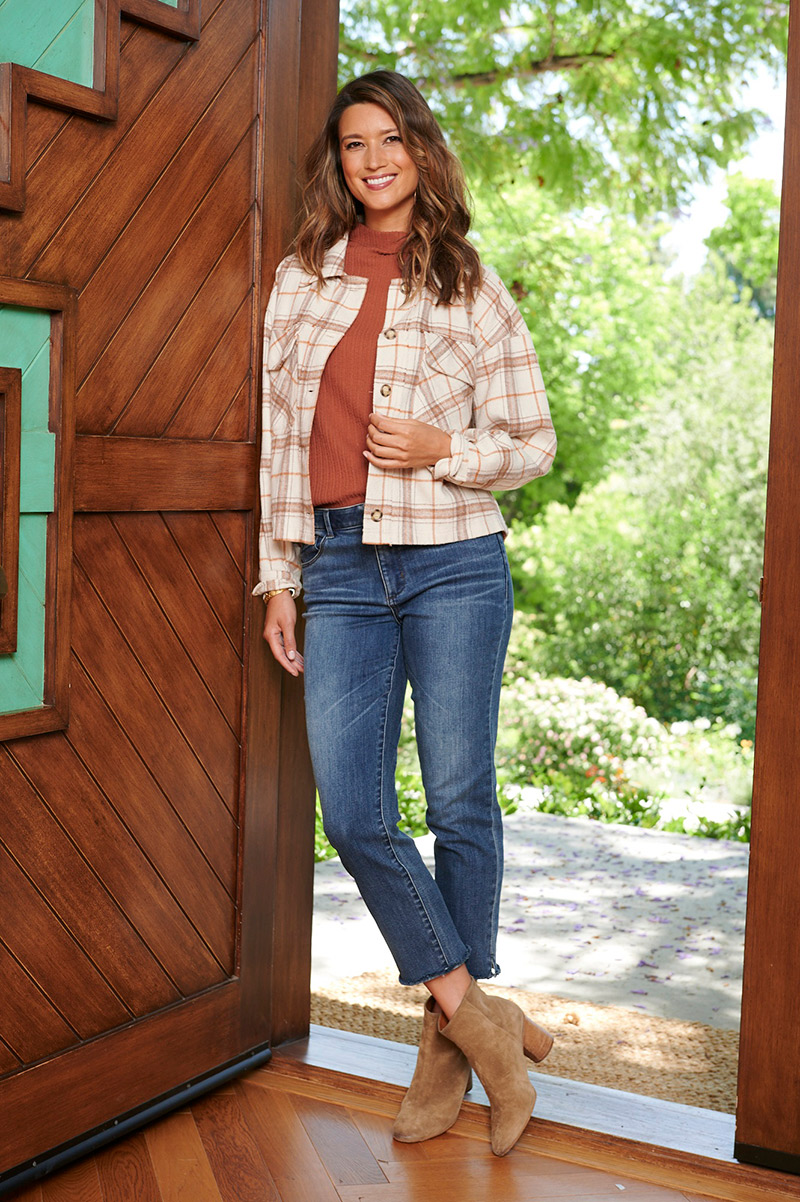 Maybe you liked high-waisted jeans before they were even in style. Or maybe you're into a girlfriend jean silhouette that's relaxed like a classic boyfriend jean but still enhances your curves. Perhaps you're thinking about how you can stay on-trend in jeggings. Guess what? Jeans and other pants can be some of the most versatile pieces in your wardrobe. You can wear a dozen different classic styles with modern twists and stay fashion-forward. Here are some silhouettes to keep your eye on this season.

Try a Variety of Jean Styles

The only way to know if you like the latest styles is to try them for yourself. When life gets busy, you don't have to let your love of fashion fall by the wayside. You might be surprised at how great you look in styles you never thought you'd wear. Your taste in clothing can also change over time, so don't hesitate to embrace new styles. Ride high in your cropped, high-rise skinny jeans in a grey wash. Rock your booty lift jeggings like they're going out of style. Get the hottest flare jeans of the season. Maybe some fray hems or touches of embroidery are calling your name.

Whatever styles or designs you choose, the best jeans are made with premium, super-stretch denim and innovative construction. Women of all shapes and sizes can enjoy features such as tummy-smoothing panels and strategically placed back pockets. With these design elements, your jeans are sure to fit perfectly.

On-Trend Boot Cut Styles

Boot cut jeans are one of the hot trends of the season, so make some room for them in your wardrobe. The newer boot cut styles offer a comfortable fit through the hips to the calves with a boot cut leg opening, a flattering fit for all shapes and sizes. Look for new colors, updated washes, and high-rise options. High-rise styles in darker washes offer a '70s vibe and look effortlessly cool and comfortable. Another ultra-chic look for fall and winter is a crisp white pair of boot cut jeans. It's a great way to elevate your denim collection. Choose a pair with raw hems for an edgy element to your everyday look. White, off-white, and neutral colors are all in style this season, so pair them with your favorite fall colors to create fun fall outfits.

Relaxed Girlfriend Jean

With their laid-back vibe, girlfriend jeans are another essential piece for your fall wardrobe. You never have to sacrifice style for comfort again with a great-fitting girlfriend jean. This popular style is relaxed through the hip and thigh with an easy leg opening that looks great cuffed. You can find a middle ground with girlfriend jeans because they aren't too tight or too baggy.

Try a vintage indigo wash for the perfect weekend-ready pair of jeans this fall and beyond. An effortlessly casual girlfriend jean is easy to dress up with heeled booties or for dressing casually with sneakers. The lived-in look of your favorite girlfriend jean doesn't mean you have to sacrifice an exceptional fit. The feminine cut helps you feel confident enough to rock them in nearly any setting.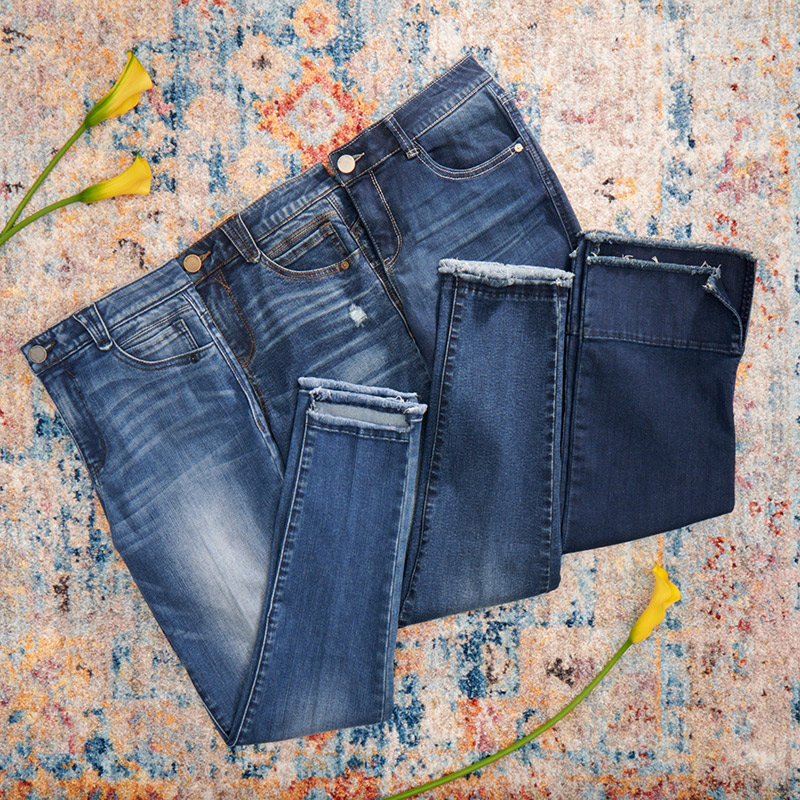 'Go-To' Straight Leg Jeans

Straight leg jeans are a staple in most women's wardrobes. They're a practical, classic jean that can be worn for a variety of occasions. From cropped or ankle length styles to long jeans for tall women, straight leg jeans can be dressed up with heels or dressed more casually with black boots. Check out vintage washes with slight distressing or grey denim jeans with a hem you can cuff. Whether you're tall, petite, or plus-sized, straight leg styles are great for everyone. Figure-flattering styles made with details like a sweetheart-shaped yoke above the back pockets offer a "booty lift" effect. For your timeless winter looks, count on straight leg styles.

Classic Jeggings

Don't underestimate the power of jegging jeans. The best jeggings are designed as a legging-like skinny jean with a figure-hugging fit that molds and holds your shape with the inner elastic waistband for a "no-gap" fit—making them perfect for all-day wear. If you prefer a more-fitted jean style, leggings are a great option. Jeggings constructed with soft-stretch denim and tummy-smoothing panels in the front help you enjoy an unmatched fit. If you prefer an exceptional-fitting pair of jeans that celebrates your curves, classic jeggings are for you.

Colored Jeggings

It's fun to wear pops of color when you want a break from blue jeans. Bottoms made with soft twill, such as colored jeggings in seasonal colors, like orange, green, and brown hues, are a great option. Soft, stretchy, ankle-length colored jeggings look excellent when paired with sweaters or tunics and flats or boots. Silhouette-slimming jeggings should be made to contour your curves and feel perfectly comfortable to wear all day. Once you find your perfect fit, you may find yourself buying several colors because of how great you feel wearing them.

Modern-Day Carpenter and Cargo Pants

For those who love the utilitarian look, you'll be happy to know carpenter and cargo pants are two must-have styles of the season. From cargo pants for women to denim cuts, you can find a variety of new styles, including carpenter pants with the signature hammer loop on the side. Expect to find high-rise and slim straight styles made of stretchy woven twill and an abundance of utility pockets. As with all jeans and pants, it's a good idea to look for figure-flattering features that offer a "no-gap" fit at the waist, tummy-smoothing panels, and a sweetheart-shaped yoke above the back pockets for a "booty lift" effect.

Cropped Flare Jeans

When you think of flare jeans, you may be reminded of the '60s, '70s, and even the '90s. Today's modern flares can have anything from a moderate flare to an exaggerated flare. The leg opening is typically wider on flare jeans than a boot cut jean. The overall fit through the leg is also looser. Cropped flare jeans are exceptionally stylish this season. You can find elevated flare jeans with smart design choices to help you feel your best. For a playful vibe, look for reverse fray hems and subtle distressed details.

No matter what styles you decide to try this season, keep in mind that no pieces in your wardrobe will probably get as much use as your jeans. From straight leg jeans to girlfriend jeans to boot cut styles, you can't go wrong with your choice as long as you love the fit and how they make you feel when you wear them.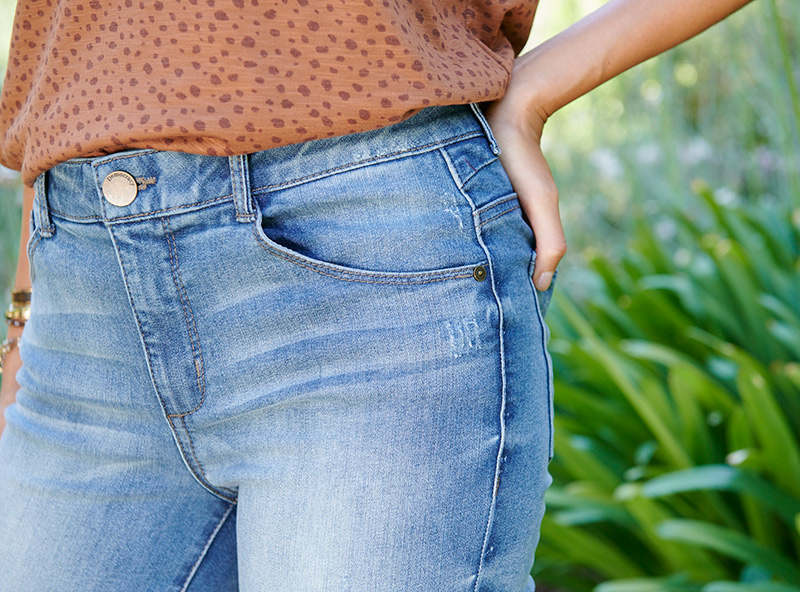 About Democracy Clothing

Democracy Clothing is dedicated to designing clothing for women of all shapes and sizes. This casual denim lifestyle brand crafts on-trend, comfortable clothing to enhance your curves. All women are created equal, and Democracy Clothing's principle of Curve Equality helps celebrate your unique shape with clothes that blend style, comfort, and innovation. Renowned for their "Ab"solution fit technology, Democracy Clothing combines an effortless aesthetic with a universal fit you're sure to love. As they celebrate women of all shapes and sizes, Democracy Clothing curates fashion-forward pieces to empower you with the confidence and freedom to be yourself. When you want to explore the latest trends in women's fashion, like flare jeans, tall jeans, and straight leg jeans, or reimagine your entire wardrobe, Democracy Clothing has you covered.

Find all your favorite pairs of jeans for any occasion from Democracy Clothing at Democracyclothing.com


Hits: 5226 | Leave a comment