Colored Contacts on Dark Eyes Guide
Getting the right coloured contact lenses for your eye colour is super important as it seriously affects the finished result. It makes total sense when you think about how colours mix together. For those with dark eyes it can feel like an endless quest to find the perfect coloured contacts to cover your eye colour but with advice on websites such as colouredcontacts.com, finding lenses to suit your eyes just got a little bit easier.
Sometimes those with dark brown eyes simply want to add some light brown shades to their iris to add definition to their gorgeous natural tone. With colours such as hazel and honey coloured contact lenses, you can add subtle colour flecks to your eyes while still maintaining an overall brown eye colour.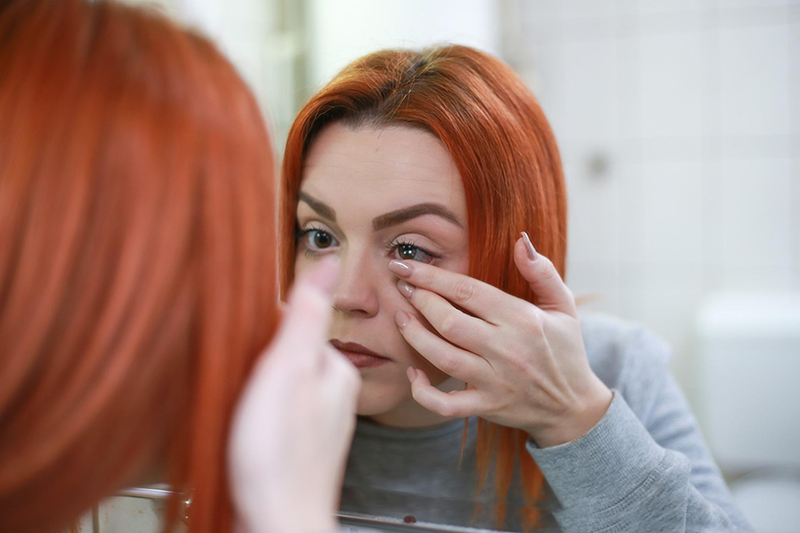 If you want to completely change your eye colour it can be difficult to find the balance between a striking vibrant colour and a natural realistic look. Lenses that only cover the outer ring of the eye are unlikely to give you the effect you are hoping for but natural lenses with detailed iris designs offer you better coverage. The multi-toned iris and dark limbal ring ensure the lenses look realistic and the vibrant colours will help to cover your brown eyes.

1 Tone and Circle Lenses are usually designed to cover the outer ring of the eye with colour, for a subtle blend with your natural eye colour. This means they are better suited to pairing with naturally light eye colours.

2 Tone and Mystic Lenses offer a colourful iris with a dark limbal ring but there are often areas where your natural eye colour will show through so these are usually not suitable for dark eyes.

Tri Tone Lenses are designed to cover dark eyes thanks to the detailed colouring on the iris that is designed to look as realistic as possible. Just like a real eye, the lenses have the main eye colour paired with colour flecks and a dark limbal ring for a realistic finish. These lenses are usually the most pigmented so are best for dark eyes.

If you are looking to really dazzle with your new eye colour then costume and cosplay lenses will give you a colour change that is hard to miss. These costume coloured contacts are designed with block colours which give excellent colour coverage. 

At Coloured Contacts, there are a few tools available to help you choose the perfect lenses for you. The first place to check is the transparency scale. You can either use the filter or section to see products that are in a certain transparency category or you can check in the product information. The scale ranges from Enhancing to Opaque. Enhancing and Tint are for our lightest lenses that aren't suitable for covering dark eyes. Vibrant is the category for you if you are looking for a natural style that will offer the best coverage to dark eyes. Opaque is reserved for costume contact lenses that have full block colour however some customers with dark eyes do like to wear lenses from this range such as the Aqua Blue Ice Walker Lenses for a bold light blue eye.

Remember, the results will still vary for each person but ColouredContacts.com aims to provide as accurate information as possible. The product pictures are for illustrative purposes only but if you visit the Gallery, you will see real-life examples of makeup artists wearing the lenses. This is the perfect place for inspiration but also gives you an idea of how the lenses may look on your eye colour.

In addition to this, Coloured Contacts has a section dedicated to Coloured Contacts For Dark Eyes so you can find everything you need in one place. Whether you need non-prescription or prescription lenses, you will find styles that are available for dark eyes in the natural and costume ranges. 

When your Coloured Contacts arrive, check the lenses in their packaging. If they are going to cover dark brown eyes, they should look bold and vibrant in the packaging. If your lenses look light and have transparent sections, they may not give you the results you are hoping for. The team at Coloured Contacts is on hand to help to advise you on the best lenses for dark eyes so make sure to get in touch if you need help with your coloured contact lenses. Once you have found your perfect coloured contacts for dark eyes, you can keep coming back for more without the worry that the lenses won't cover your eye colour so why not give it a try with a few different pairs of coloured contacts to start the search for your dream eye colour?


Hits: 11009 | Leave a comment