6 Ways Clothing Retailers Can Help Customers Find the Perfect Clothes
The world of fashion and clothing is changing rapidly, and more customers are always looking to add to their look at reasonable prices. Thanks to the coronavirus pandemic, shopping habits for customers have changed too, and more people are buying online than ever before.
While this is great for retailers, especially specialist retailers that cater to certain looks, it can be hard for customers who are faced with getting both different garments and different sizes to what they ordered or thought they ordered.
Meeting Customer Expectations
The online boom has also exposed the way some retailers and brands think about their customers and how they respond to them, especially over social media. Building a relationship with your customers should be one of the foundations of a business and should be something brands revel in, but this isn't always the case.
Here are six ways your clothing brand or store can make shopping online easier for customers and build up  good rapport that's beneficial for your business..
Ensure Your Sizes Match Up
Product sizing issues are one of the main reasons that customers get annoyed and disheartened with brands. Research shows that size is one of the main reasons shoppers return orders online. In the UK alone, forecasts state that fashion e-sales will rise to £29 billion by 2022, and this is likely to increase the issue of e-returns given that approximately £60 billion worth of retail goods are returned in the UK. Smart retailers know that to reduce product returns, adopting a size solution is the best way forward to increase brand loyalty and ensure shoppers buy with confidence online.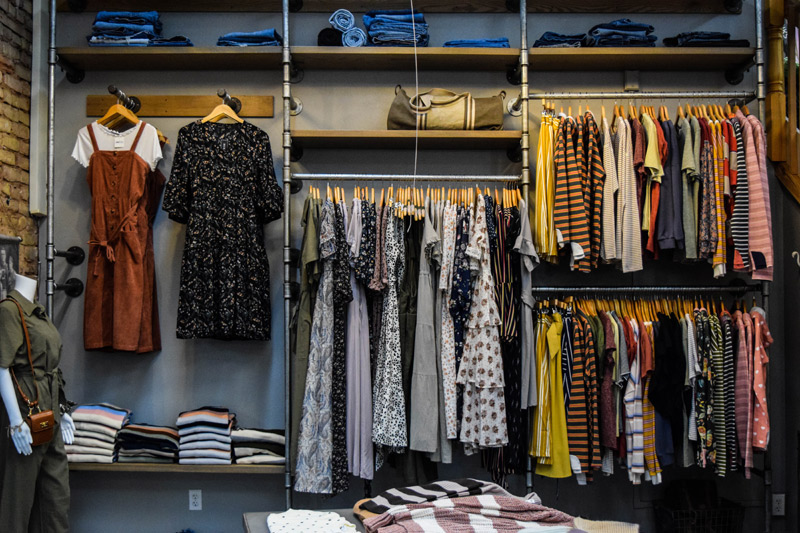 Ask Your Customers What They Want
This sounds like such a simple tip, but, honestly, when was the last time you reached out to your customers to ask them what THEY want rather than just creating clothing that you think they want?
Take ladies' tops, for example; if the fashion is for very high neck tops and you bring out a line of them, do you know if your customers actually want them? Are there enough customers that actually would still prefer a better cut to suit their body shape?
Speaking of body shape, are you thinking about how your clothes will fit different body shapes? Is this something your customers want?
A good marketing campaign will help you discover what your customers want and help you create garments just for them.
Think About The Eco Score
Fast fashion is becoming a dirty phrase in the fashion industry, and for good reason, the industry contributes to a huge amount of pollution and carbon emissions, as well as the poor working conditions of many thousands of the world's poorest workers.
This is why more and more retailers and brands are taking action to ensure their products' eco-credentials and investigate better ways to bring in  sales without risking exploiting either people or the planet.
This is a great business practice  for you to think about, especially as it will give you the opportunity to get your message out to new markets.
Explore Different Markets and Styles
Speaking of new markets, have you considered who your ideal market is?
Some clothing brands have a very clear vision of who their market is and who their target audience is. For example, brands who sell vintage-inspired clothes know who their target audience is and who is likely to be buying their clothing, people who like a a sustainable and retro-conscious look!
If your brand is more generic, you may be struggling to think of ways to expand into new audiences and explore different styles, especially if that presents a financial risk.
Try to think only slightly outside the box, introducing a line of clothes for children if your target market is young people, or perhaps add an additional line of semi-formal wear during party season to see how it goes.
Upsell With Additional Products
Upselling can be difficult when it comes to clothing, but there is definitely a place for upselling within the fashion sector, and the best way to do it is to consider what accessories match.
For example, if you are selling formal wear for women, why not begin to recommend the shoes and bags that would match perfectly? Even hair accessories and jewelry might work well here.
If you're selling shoes, recommending a shoe care kit is a great upsell opportunity to bring in more revenue and to actually help your customers out with things they may need.
Make Online Buying Easier
Finally, you really do need to make sure that buying online is easier for your customers, especially as not having an online store can lead to serious financial issues in this day and age.

One way of making shopping easier for your customers and reducing returns online is by adding more photos of your product and ensuring the photo quality is top-notch. This way shoppers can get an accurate idea of your items which increases the conversion from browsers to buyers.


Hits: 5182 | Leave a comment