Sartoria Latorre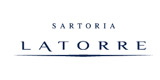 Sartoria Latorre offers its customers tailor-made service with a wide choice of fabrics. Delivery in 3/4 weeks.
Services: Made to measure
Company type: Fashion brand, Manufacturer
Products: Made-to-measure suits, Ready-to-wear suits

The production processes of the Sartoria Latorre are numerous, coming from the ancient tradition of a tailoring of times gone by. Needle, thread and thimble: they are the soul of their work, the heart of a meticulous and overwhelming work; These simple and fundamental objects have evolved over the years through a mix of tradition and innovation. The use of ultra-modern technology from clever hands guarantees tailor-made production that seeks to perfection. A Latorre boss is recognized by the dressmaking, with numerous and unmistakable details, the elegance of a custom-made cap, all of the key ingredients for a unique style and in keeping with the times.

The finest fabrics, the finishing touches to the smallest details, a meticulous care in the choice of combinations, a perfect fit: this is The Sartoria Latorre. Today, it is proud to make its headlines totally in Italy, in what was once a small family-run business in Locorotondo, where now about 150 skilled workers create unique and high quality garments.

Connect with Sartoria Latorre