3 ways to wear a silk scarf, depending on the occasion
Silk scarves are trendy, as demonstrated by the biggest stars walking the red carpet at the 2023 Cannes Film Festival! Do you feel like a silk accessory is too extravagant for your wardrobe? Or do you dream of impressing your colleagues and friends with your elegant style this holiday season? An Italian silk scarf is the accessory you need!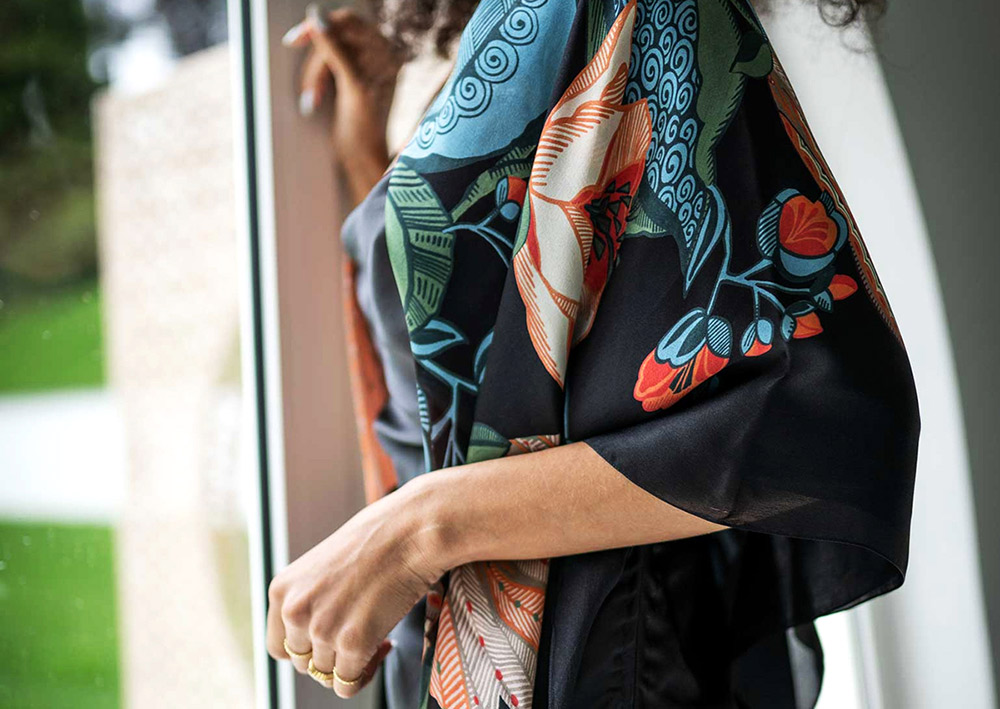 Not convinced yet? Here are our tips for wearing a scarf with as much charisma as your favorite A-list celebrity, on 3 different occasions.
Choosing the perfect scarf
Before wearing the scarf, you must know how to choose one. And to ace the style game, it should be an impeccable accessory, both in terms of the fabric used and the quality of the manufacturing. It goes without saying: we forget the polyester and other synthetic rags!
Here are the prerequisites for wearing your scarf properly:
• Opt for a silk scarf, as nothing beats how silk falls, feels and looks
• Prefer handmade models; an eye for detail shows
• Choose a style or print that suits your taste; go for a simple ombre or a bright graphic/floral print
Lucky for you, it's not difficult to find a beautiful silk scarf online!

Can you wear a silk scarf at work?
The short answer is yes! But at work, you'll want your colleagues to notice your elegance, without giving the impression that you're trying too hard to stand out with your style. Effortlessly chic is the way to go!
An ideal knot for wearing your scarf to the office is the underground:
- Loop over your neck
- Cross the sides on your chest
- Slip the scarf under your blouse
Be careful not to use a fabric that is too thick or too long, otherwise, it will give the impression that you're stuffing your bra. Pair a colorful or floral scarf with an even dark outfit for instant elegance.
How to wear a silk scarf in everyday life
It is entirely possible to be elegant every day, whether to go shopping, to go out to a restaurant with friends, or simply walk in a park to enjoy a beautiful day. The versatility of the silk scarf means that you can wear it in many distinct ways, but here are the two easiest ones of them already:
Draped. Pass your scarf behind your neck, and let the sides fall on each side. Simple and elegant, the drape allows you to wear a scarf when it's not cold (indoors, or on a sunny day). Consider casually draping one end over the shoulder and leaving one in front.
Rolled up. As its name suggests, simply wrap your scarf around your neck and let the sides fall. Perfect for having style and protecting yourself from the cold! This casual choice looks good with even a simple sweater and can brighten up the dullest outfit.
How to wear a silk scarf for a special occasion
Perhaps you will never parade down a Parisian boulevard, but for special occasions like a wedding, a Christmas cocktail, or a formal evening, your silk scarf brings an undeniable "casual chic" touch.

Wearing a silk scarf or an evening wrap is a perfect accessory to sleeveless dresses and other evening wear. This way you'll be classy and comfy at the same time. Draping a shawl over your shoulders can be strikingly elegant, especially when done with a beautiful Italian silk scarf.

As you can see, a silk scarf may seem somewhat extravagant, but it's actually a very versatile fashion accessory. We hope you're prepared to receive many compliments on your style.



Hits: 6400 | Leave a comment