What Makes Investing in a Premium-Quality Leather Travel Bag an Intelligent Choice
We all need to travel occasionally. Some of us do it for business purposes. And here, our appearance during meetings with professional partners will be essential for professional success. In contrast, others travel mainly for tourism purposes. Whatever your reason for national and international trips, one thing is sure: you will need a high-quality leather travel bag. Why leather? Simply put, because it is one of the most versatile materials nature has to offer, and in the hands of a skilled craftsman, it could be the building block of a fine work of art.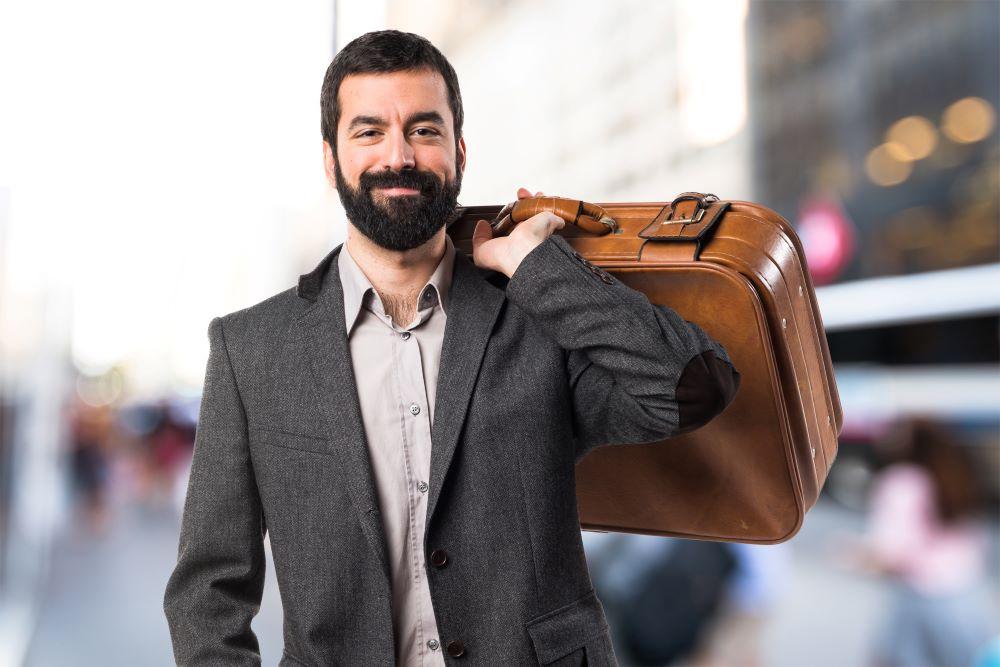 A premium men's travel bag could be an essential accessory for any serious traveler considering longevity and cost efficiency. A beautifully made leather bag crafted from Italian hide could help you make an excellent first impression, spark the envy of your business colleagues, and be a tool that will accompany you on all your travels for the rest of your life. When you buy a high-quality bag, you purchase an asset that will stay with you for decades. And a product that comes with a minimum twenty-five-year warranty can only be considered a successful investment.
A premium quality leather travel bag could be the ideal cabin luggage for your needs and represent the perfect pairing to your distinct fashion style. Want to impress? Strike a chord? To enjoy a timeless design that will be as relevant in 2050 as in 2023? In that case, a men's travel bag, created from the finest Italian leather by skilled craftsmen, can be the absolute highlight of your investments.
Why Choose Premium Goods? 
When you purchase a quality product, you are investing in your tomorrow's well-being. Think you can't possibly spend $1000 on a leather bag? With high costs comes the guarantee of a product that will be with you for the rest of your life. Do you need to travel at least a few times a year for business purposes? Do you like to journey to the farthest corners of the planet? In that case, you'll need a premium men's leather bag that combines your aesthetic sense with practicality. And buying a more expensive item could paradoxically save you money in the long run.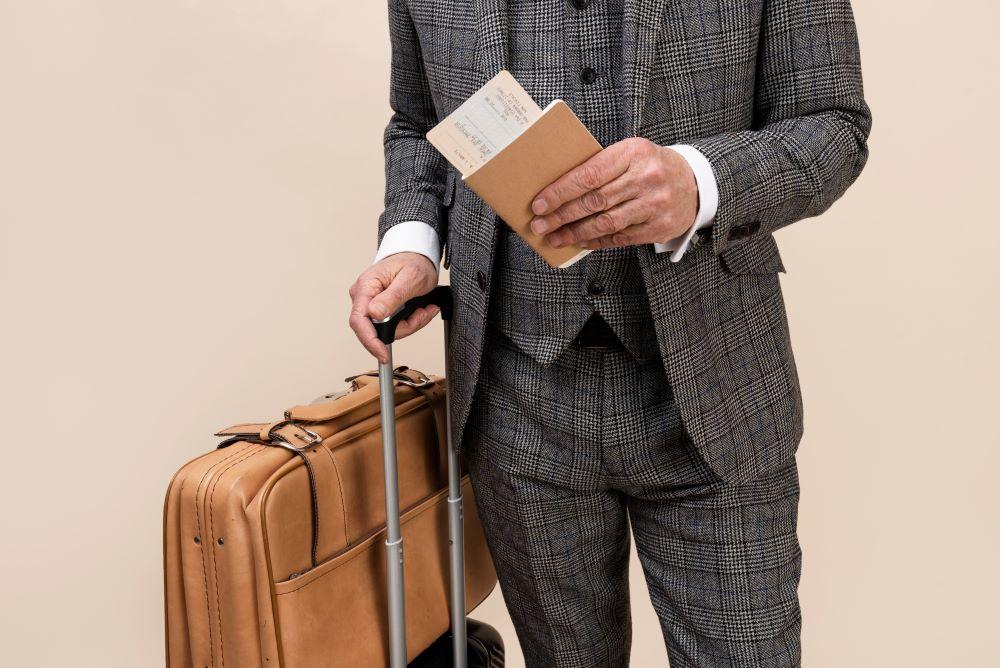 Let's say, for example, that every five years you have to change your travel bag as its quality has declined to an unacceptable level. If you spend $300 each time, then in twenty-five years, your investment in new bags will amount to $1500. If, instead, you buy a quality travel bag, which comes with a lifetime warranty, you will automatically be better off financially. A premium leather travel bag manufactured from sought-after Italian hide could be great for your comfort and lay the foundation of your professional success.
What's Unique About Italian Leather? 
Are you interested in a leather men's travel bag? In this case, you are most likely interested in one made of Italian hide by craftsmen with years of experience behind them. Italian leather, especially the one found in Tuscany, is renowned for its exceptional quality and versatility. Italian cows graze on only the finest possible pastures, which is reflected in the unique traits of the hide. Moreover, the leather tanning techniques used by the Italian craftsmen are unique and combine traditional methods, such as vegetable tannage, with industrial processing techniques that can accelerate the shaping process of the product.
Italian leather bags are created by artisans who are experienced in designing timeless creations, boast an international reputation for exquisite quality, are extraordinarily durable, and, not least, are comfortable and can conform to any fashion statement. Leather bags are more versatile than those found in mainstream stores, are roomy and water resistant, present a distinctive look that will never go out of style, and can be customized according to customer preferences. The perfect men's travel bag should be made of genuine leather, as a premium Italian hide has all the properties needed to create a fashionable and long-lasting travel accessory.
How Can a High-Quality Travel Bag Help with Work? 
A premium-quality men's travel bag could enhance your professional image and increase the success of the deals you broker for your company. A leather travel bag could allow you to organize your travel abroad, attract the attention of the people you meet, demonstrate to your business partners that you are a serious individual, and protect your confidential belongings and documents.
High-quality leather goods are versatile, can be used for any fashion preference, are comfortable, and above all, are durable and keep their appearance intact, even after decades. Carrying a premium quality leather bag could increase your business partner's perception of the company you work for, help your reputation grow, and send a positive message to the department you manage. A quality travel bag represents a tool that combines practicality with style and could help you take your professional relationship with your business associates to a heightened stage.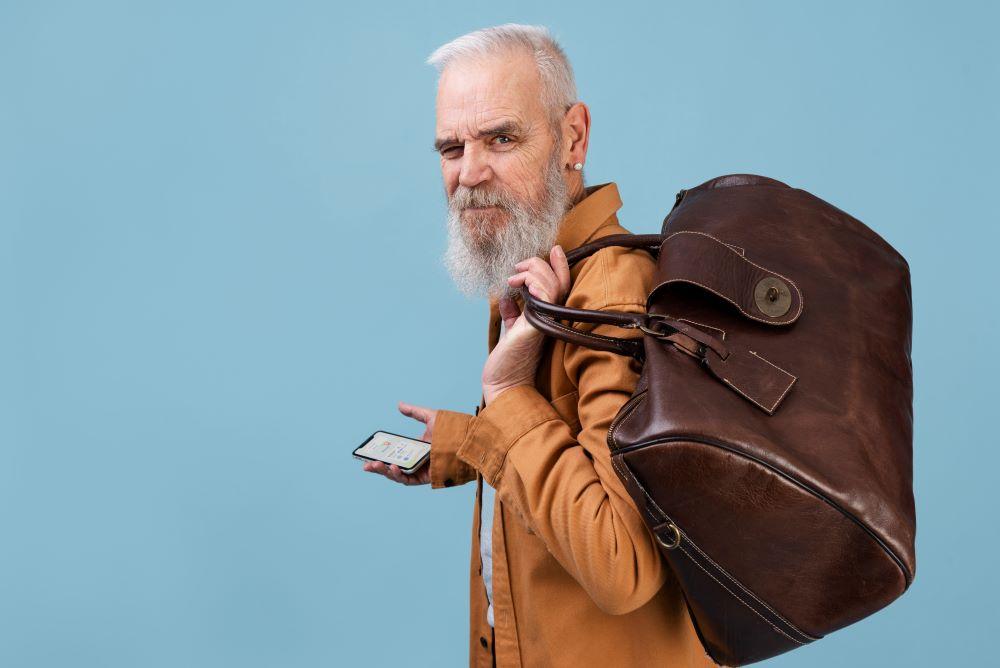 It's the Best Investment You Can Make 
A premium men's travel bag could be an upscale investment. But at the same time, it could also be one of your most well-considered decisions. A leather travel bag created from genuine Italian hide by trained craftsmen could be an accessory that will be with you for the rest of your life and take your personal and professional success to a new state. Will genuine leather man bags be expensive? Yes, but at the same time, they are a purchase you will only make once. And their value will increase as the years go by because antique leather goods are considered true works of art.

The skill of making quality leather goods is going away. And for this reason, products created by genuine artisans should not be overlooked. Leather goods will be in demand even a hundred years from now. And the boost they can give your professional appearance should not be ignored. A quality travel bag can be a practical tool to carry your belongings, an accessory to take your style to the next level, and an aid that you can use to speed up your company's negotiations with third parties.


Hits: 5064 | Leave a comment