Top 10 Denim Trends to Follow This Autumn
Denim is a staple in everyone's wardrobe because it's versatile, comfy, and can be worn on many occasions.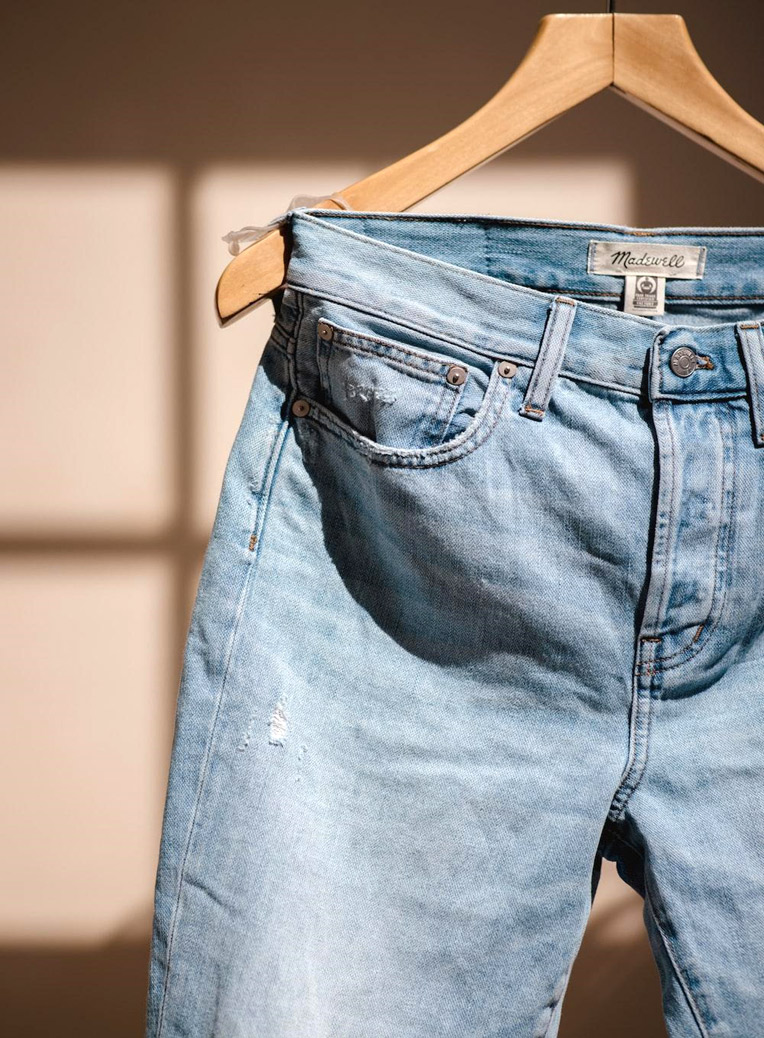 With the trend of drainpipe and skinny jeans on its way out, we have a plethora of nostalgic denim trends coming back into the world of fashion to look forward to this autumn.
And with fall fast approaching, it's only natural to begin wondering what styles of clothing we should be preparing to wear.
For the lowdown on the top 10 denim trends for next season, here are the jeans you'll need in your wardrobe.
1 - Stacked Denim
Inspired by streetwear, the stacked flares denim look consists of jeans with an elongated inseam from the knee to the ankle, allowing the wearer to create mini folds tapered up the leg, creating the desired stacked look.
To maintain the stacked appearance this fall wear high-tops or boots to hold the style in place.
2 - Printed Denim
While plain denim jeans still have their place, for the adventurous, consider trying and buying some printed denim to amp up your outfits this fall.
From subtle feminine florals worn with a loose white blouse to a much-loved paisley design coupled with a plain tee and overcoat.
If you're yet to add printed denim to your closet, the time is now.
3 - Double Denim
Dare to wear double denim this fall?
Wearing head-to-toe denim is the epitome of fashion this fall, and has made many appearances on the runway this year.
Designers like Stella McCartney opted to revive and provide a fresh take on denim ensembles, so take a look to see what you think about this trend.
4 - Flared Denim
The desired silhouette of denim is changing, with flares, a must-have in the 70s, making its way back onto the catwalk, into the stores and wardrobes of everyone's homes.
Flared denim comes in high and low-waisted designs, hugging the curves down to the calves, which is where the denim takes a turn and flares outwards.
This style of denim is perfect for balancing out wider hips and shoulders.
5 - Denim Maxi Skirt
Who said denim is only suited to jeans and jackets? This autumn, you can expect to see denim skirts taking center stage in maxi form.
Giving you the opportunity to invest in the perfect apparel to transition your wardrobe from summer to autumn effortlessly.
To style your denim skirt, see the SS23 Altuzarra runways for inspiration.
6 - Modified Jeans
If you're creative, you might like to know that modified jeans are making a comeback this autumn. So why not attempt at redesigning some of your old jeans to give them a new lease of life?
For inspiration, check out a flashback of Beyonce's modified jeans.
7 - Loose, Long Denim
For chic, relaxed, effortless style, opt for long and loose-fitting denim jeans that glaze past the hips to the floor.
The wide-leg look gives a retro feel which is popular on the SS23 runways.
To add some structure to the outfit. Think of pairing it with a fitted knitted top and gold jewelry.
8 - Cargo Denim
Loose, army-style pants, with pockets running down the leg, in denim, is a look not to be ignored by the fashion forward. 
Cargo-chic has its place in your wardrobe this autumn, and it's a versatile piece that with the help of heels and a crop top transitions from day to night.
9 - Frayed Hem Denim
Recreate a model off-duty look, by investing in some frayed jeans.
Denim in this style works perfectly with statement pieces, such as graphic tees and vibrant-colored handbags. If you don't believe us, try it.
It's better to be prepared for the upcoming season, as opposed to rushing around last minute to find the staple pieces of denim that will take your look from drab to fab.
10 - Relaxed Rise Denim
The height one wears their jeans is personal to them, and what suits their physique. But high waisters should know the relaxed rise (low to mid styles) is gaining momentum as the go-to style this autumn.

Loosely hanging off the hips. This style of jeans is comfortable to wear from the end of summer and throughout autumn.

With the trends above, it's time to begin experimenting with different looks to see what works for your style. Good luck!


Hits: 7118 | Leave a comment