Are Homecoming Dresses Supposed to Be Short?
Shopping for a Homecoming dress is often the first time in a school year that you go shopping for formal attire. You may have heard that Homecoming dresses are supposed to be short, since Homecoming is typically a semi-formal occasion not quite as fancy as Prom.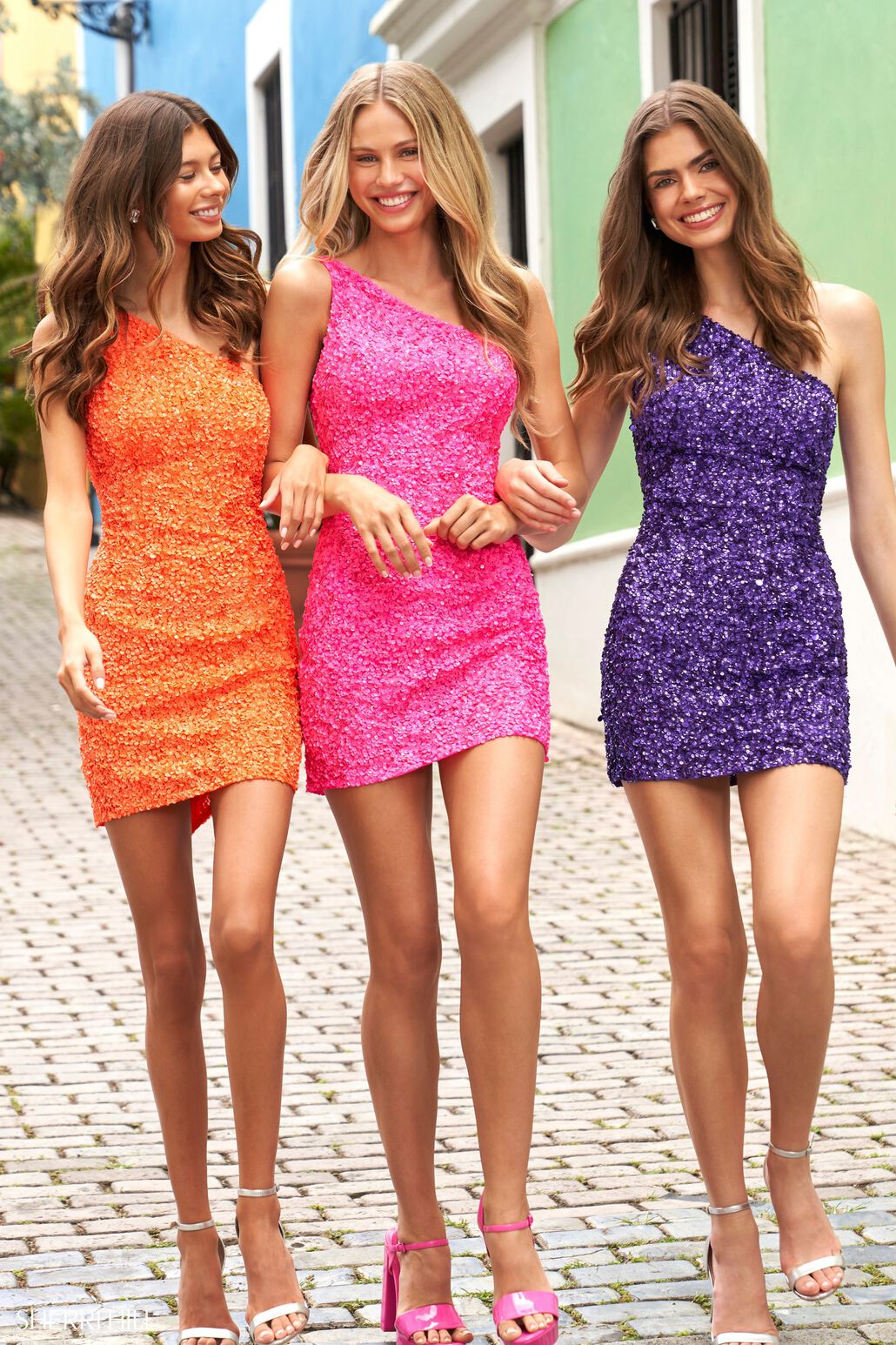 But popular dress designers like Sherri Hill showcase a variety of homecoming dress styles - so what's the deal?
The truth is, any length of dress will be suitable for Homecoming, but there are definitely pros and cons to keep in mind.
Pros of Wearing a Short Dress to Homecoming
Short dresses have the benefit of allowing for more movement and being able to get on the dance floor without worrying about your dress being stepped on. Homecoming is a dance, and since it usually has a more playful atmosphere than Prom, you'll likely be dancing the night away! This is probably where the misconception of a short Homecoming dress requirement comes from.
Short dresses also have the benefit of being able to be made from any material regardless of the temperature, since a shortened hemline allows for more airflow. Additionally, because short dresses tend to be on the semi-formal side, they may be a bit less expensive than a gown (even if they're just as intricately detailed and fabulous!)
Cons of Wearing a Short Dress to Homecoming
Some schools have a strict dress code when it comes to skirt length, though, so if you have a short dress in mind for the occasion make sure you double-check the code.
Think about your comfort levels as well–if the idea of dancing in a short dress makes you self-conscious, try dancing in it when you try it on (or dancing in a skirt of a similar length) and see how it feels!
Wearing a Long Dress to Homecoming
Long formal dresses are always exciting to shop for! If this is your first Homecoming, it might be the first time you've ever had a chance to go formal dress shopping–and why not take it? No matter what style you end up going with, long dresses always make a dramatic entrance.
When you're trying on (or taking the measurements for) a long formal dress, remember to wear the shoes that you're planning on wearing to Homecoming! Having the right measurements can keep your dress from dragging on the floor and getting in the way. It's also good to note that dresses cut closer to your body may be easier to take on the dance floor than a princess-type ballgown. Luckily, there are lots of fitted options that have slits on one side for easier movement!
Depending on the weather, a long dress made from heavy material might get overly warm, so make sure you keep your state's climate in mind. Long dresses can also sometimes be more expensive, as they tend to be a bit more formal than short dresses.
Other Homecoming Options
Since Homecoming is less formal than white-tie events, it's a great place to mix it up and experiment with less traditional attire if you feel the inkling to! There are tons of alternative options that are just as fabulous as formal dresses. Here are some of our favorites:
Formal Two-Piece Sets
Two-piece sets are increasing in popularity because of their ability to be elevated aesthetically while still maintaining a playful vibe. Most two-piece sets are composed of a crop top and a high waisted skirt that can be any length! Even a long skirt will maintain that playful vibe because of the sliver of midriff two-piece sets show!
Two-piece sets can have just as much style variety as dresses when it comes to color, fabric, sleeves, and skirt length. Since they do typically show a bit of tummy, double-check your school's dress code as well as your own comfort levels before you commit to your set.
Rompers
A formal romper is a great option if you're not super into dresses, but you do still want to make a splash on Homecoming night! Rompers are one piece, the bottom of which tends to be the length of a pair of shorts. The top of the romper can be anything from long sleeved to spaghetti straps, and since Homecoming is more of a semi-formal event, any sleeve type will be suitable!
Some rompers can even have a skirt attached at the waist for an extra feminine flair! If you go with a skirted romper, keep the length in mind just like with long dresses. Remember to wear the shoes you plan on attending Homecoming in when you take your measurements or try on your romper to avoid the skirt dragging on the ground (or being too short!)
Jumpsuits
Jumpsuits are similar to rompers in that they tend to be one piece, but unlike rompers, most jumpsuits are full-length pants as opposed to shorts. Because of their construction, they balance the best of both worlds when it comes to making a dramatic splash while still allowing for movement.
Jumpsuits can be very feminine, just like rompers, but certain styles, especially those with long sleeves, can also bring an elegant androgynous vibe (think Miley Cyrus or Saoirse Ronan.) When you're choosing your jumpsuit, keep the temperature in mind–long sleeves and long pants can get hot to dance in, even on mild days! Luckily, jumpsuits offer halter, tank, and even strapless options!
The Big Night!
When you're shopping for your Homecoming dress (or dress alternative) the biggest factor to keep in mind is to stick with your school's dress code. Other than that, the sky's the limit, so long as the look you choose makes you feel confident and beautiful!

Photo: Sherri Hill models


Hits: 8711 | Leave a comment