Officewear Official: The Best Office Wear Looks 2023
In 2023 it seems that more and more people are finding themselves back in the office, either for hybrid or full-time nine-to-five office days, so instead of working from bed or the sofa in our comfiest sweats, we need to get back into something that many of us have forgotten about almost completely: office wear.

Office wear is no longer what it was when our mothers and fathers left for their office jobs back in the day. All the eighties movies we watched growing up showed women in three-piece suits wearing sneakers on the train and donning heels at the office. For men, nothing but a suit and tie would cut it. These days, and depending on the dress code at your office, sneakers might be something you can wear all day without even glancing at a pair of heels. Suits may be overkill; a nice pair of jeans or chinos might make the cut instead. Womens watches, and jewelry on men, these standards have changed as well. We can now express ourselves more freely in many office jobs, and we should take advantage of that! We've got some sartorial suggestions for the best things to wear to your office this year, so let's take a look.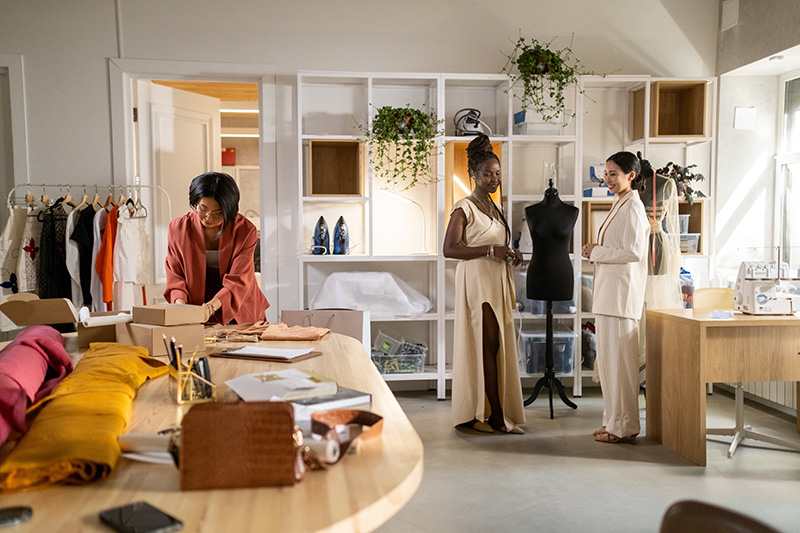 Image by Ron Larch via Pexels
Casual office wear
If your dress code for work is casual, you're the luckiest office worker out there! While the casual code gives you a lot more latitude with your outfit options, never stray as far as plastic flip-flops and sweatpants. After all, you still need to create a good impression!

For casual office wear, there are so many excellent options to choose from. Let's start from the bottom and work our way up. Some excellent shoes to have on hand for mixing and matching include:

- Clean sneakers (not just any old dirty running shoes) in a neutral color or color palette
- Brogues or loafers in a dark brown or black
- Fisherman sandals in a color that makes sense for your wardrobe or neutral
- Ballet flats

This is a cross-section of very wearable shoes that, if the colors are neutral enough, will go with most things in your wardrobe. Having a few dresses on hand in whatever print or style you prefer is a nice option: just steer clear of anything more than a hand width above the knee; the same goes for skirts and shorts. Tops can definitely have bare arms and a scoop or V-neck, but nothing bearing cleavage. If your office is very relaxed, distressed jeans are OK, but we would say, in general, to steer clear of those just to be on the safe side. You can probably wear whatever jewelry you like! Try a fun ladies' watch that matches your outfit and a small pair of earrings. Our favorite casual office look is a pair of simple, wide-leg jeans, a fitted round-neck tee, and fisherman sandals.
Business casual office wear
Business casual seems like a boring option, but if you bring a little flair and creativity to your closet it doesn't have to be! Instead of opting for plain black pants and a white button-down, have a few of these options on hand:

- Color-blocked knit dress
- High-waisted, tailored, wide-leg trousers
- Slightly oversized button-downs
- Slightly oversized blazer
- Doc Marten Chelsea boots
- Brogues or loafers

Let's start from the shoes again. Instead of pairing the brogues, Chelsea boots, or loafers with stockings, why not try an ironic, brightly colored sock? Oversized button-downs can work with fitted pants, and fitted button-downs or tops can work with tailored, wide-leg trousers. It's all about what you do with what you have! Wear a heavy, oversized women's watch to add a little masculinity to your knit dress or a slim, slender watch to bring femininity to blocky, tailored looks. Create interesting shapes and textures with your oversized blazer over the knit dress: mixing and matching is key.
Corporate office wear
A corporate office dress code is the most restrictive one, but fear not! Many workwear designers are coming to the table with corporate-friendly options that still offer an expressive, creative spark and let you feel like yourself when you wear them. Things you should have in your corporate wardrobe:

- Ballet flats or heels, depending on your preference
- Reasonably conservative ankle boots – nothing too overt
- A trench coat
- Modern power suits in similar cuts and neutral colors
- A slightly oversized blazer
- Button-down shirts
- High waisted, wide-leg trousers

While this may all sound standard, it's the prints and cuts that you choose that will make a difference. Contrast textures and colors without being so bold that your outfit is the talk of the day rather than the upcoming business deal. Bring your personality in with your color and print choices, but remember that less is more. Mix and match your high-waisted power suits with button-down shorts, boots, and flats. Pair a trench with a classic white shirt and tailored wide-leg trousers. Team your simple, oversized blazer with a brighter, printed shirt. Keep your watches simple and classic, in silver or gold.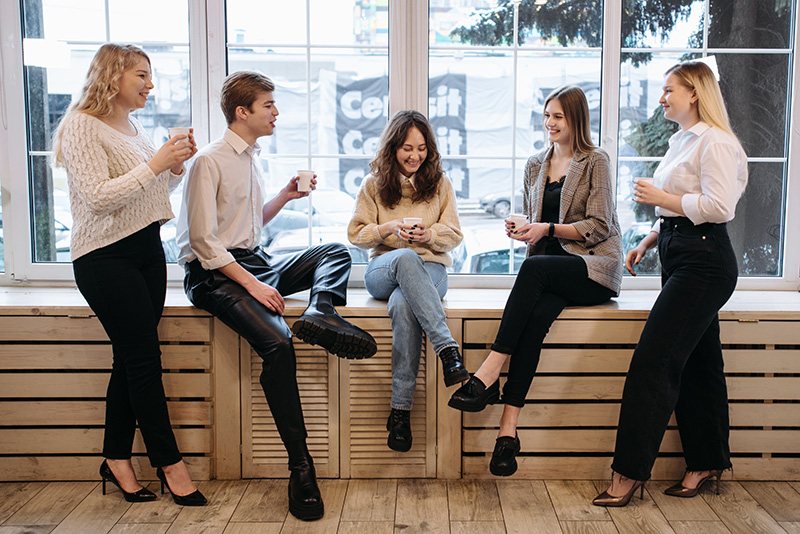 Image by Pavel Danilyuk via Pexels

It's easy to make office wear fun, appropriate, and still expressive if you know what you're doing! Take our advice, and you'll be office fabulous every day of the week.


Hits: 1027 | Leave a comment