How to Choose the Right Ear Tunnels and Gauges
While many people think that stretched ears are a trend that started in the 2000s amongst punks and emo kids, this couldn't be farther from the truth. Stretching piercings is a tradition that dates back thousands of years!
If you've been considering stretching your ears, you're in good company.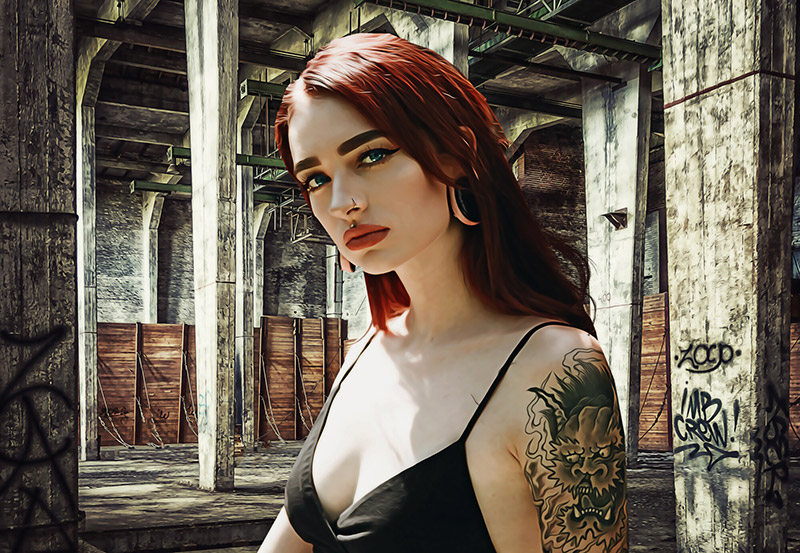 Many people worry about finding jewelry after stretching their ears. How do you choose ear tunnels and plugs? Can you still wear dangling jewelry or hide your piercings at work?
Let's talk about it. Read on for a brief overview of jewelry for stretched ears.
First: Choosing a Goal Size
If you haven't yet stretched your ears, or you haven't stretched them enough, now is a good time to consider your goal size.
Ear gauges aren't really pieces of jewelry that go into your earrings. The gauge is the size of the jewelry. Technically, every piercing that you have is a gauge, not just the large ones.
Some people love the look of tiny jewelry, so they keep their earring size close to what it was when it was initially pierced (which, most of the time, is between 18g and 14g).
Other people love the look of stretched piercings. If this sounds like you, you have to determine how large you want to stretch your ears. After a certain point, it's difficult to go back without surgery. Luckily, it takes a long time to get to this point, so it's unlikely that you'll overdo it by accident.
Note that sizes will look different depending on the size of your face and your ears. A 0 may look large on you but small on someone with larger lobes.
If you have other piercings on your ears, or you're planning other piercings, it's a good idea to talk to a professional piercer about your size goals before you start stretching your ears.
The Stretching Process
Be careful when you're stretching your ears. You need to let your ears rest or you'll risk blow-outs that can ruin the appearance of your ears in the future.
Only go up by a single size at a time. It might be tempting to skip sizes, and it might not even hurt, but you'll be doing long-term damage to your ears. Give your ears several weeks to rest between size jumps.
Massage your ears with oil when you're getting ready to go up a size. It's a good idea to do this right after a shower so your skin is warm and soft.
Don't move up a size if your ears are still feeling sore. It's far better to take your time and end up with healthy and happy ears, even if it takes longer to get to your goal.
Ear Tunnels and Plugs: What's the Difference?
Newbies to ear stretching may not know that tunnels and plugs are actually not the same! The difference is obvious once you know it. "Plugs" literally plug the holes that your piercings make. There's no space to put anything through. The jewelry is solid (though it may be transparent). Tunnels create literal tunnels through your ears. Instead of plugging up the hole made by the piercing, the jewelry lines the hole.
Subtle Work Jewelry
If you're someone who has to keep your jewelry subtle (or even invisible) at work, choosing plugs and tunnels is likely stressful. You can't hide gauged ears!
You have a few options depending on how strict your employer is.
If your employer doesn't mind the holes themselves, but doesn't like the appearance of flashy jewelry, silicone tunnels are a perfect solution. The holes will be obvious, but the jewelry is almost invisible.
Silicone tunnels are also very comfortable, making them great for people who perform heavy labor at work.
Clear plugs are also a good solution. Clear glass plugs are durable and invisible. If you aren't supposed to have gauged ears at all, you can use skin-colored plugs. They won't look exactly like your natural ears, but they're subtle enough that no one will think that you're wearing jewelry unless they spend a lot of time with you. If you have large-gauged ears, they won't be as subtle. You shouldn't attempt to trick your employer.
Casual Jewelry
Your casual everyday plugs and tunnels should be comfortable, body-safe, and suited to your personal style. Luckily for you, there are thousands upon thousands of plugs and tunnels to choose from.
For short-term use, you can use jewelry with materials such as surgical steel and even plastic. For long-term wear, however, we recommend using gold, titanium, natural stone, and silicone.
These materials are less likely to cause irritation. Beyond this, the world is your oyster. There are plugs in all colors and even shapes. You can even get plugs with your favorite characters on them.
When you're buying your everyday jewelry, make sure that you check sizes carefully. Understand that when you're buying handmade products, there may be minor size differences.
Jewelry for People Who Like Dangling Earrings
People often think that they have to give up dangling earrings when they stretch their ears, but this couldn't be further from the truth. You could wear weights. Weights are heavy dangling jewelry pieces that hang on saddles (an alternative to tunnels and plugs) or just in the ear piercing itself. If you don't like weights, we have a perfect solution. Start with a pair of gold ear tunnels. Find a pair of dangling earrings that have a hoop closure. Put the hoop through the tunnel and you'll have stylish dangling earrings that work with your stretched ears! Bonus: if you have sensitive ears, this is a great way to use cheap earrings that would irritate them if they were touching your skin.
Style Your Ears With Plugs and Ear Tunnels
Plugs and ear tunnels come in so many varieties. How will you style your ears? Start stretching your ears and putting your favorite plugs and tunnels on your wishlist!
Are you looking for more fun articles about style, fashion, and more? Check out the rest of the site!


Hits: 6916 | Leave a comment