Custom Bridal Set Rings
Custom bridal set rings are becoming more popular than ever. Many brides want to have something that is individual and personal to them, and wedding rings are certainly no different.
One way to show your personality and style is to go for a custom set of rings and there are many options open to you. You could go for a shape designed by you with different metals or stones or maybe you would prefer something as subtle as an engraving.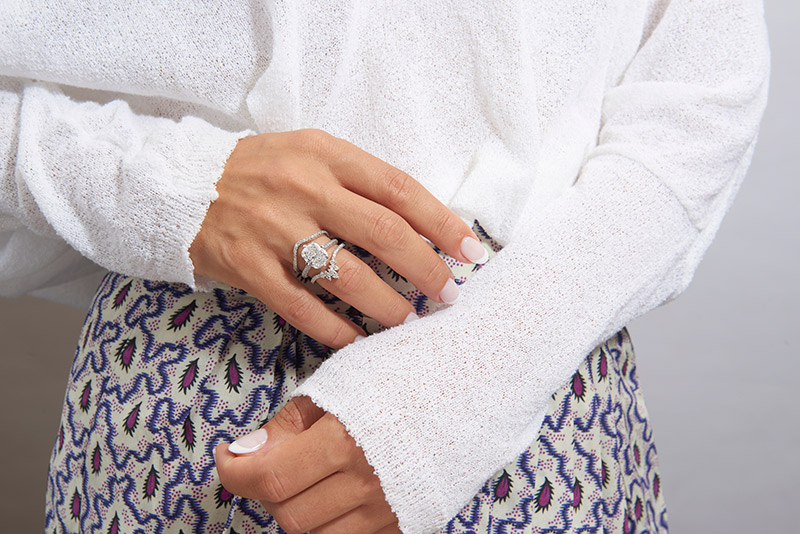 Read on to find out more about custom rings, and what to expect if you decide to create a bridal set.
Can you customise a wedding ring?
Many people might not realise that there is even the option to customize a wedding ring, when in fact most jewellers will offer this option. The easiest and most subtle way to do this is with an engraving. Many brides will opt for their other half's initials and wedding date inside their band as a thoughtful memento of the day and this is a nice option if your groom wants to match with something similar in their ring. Engraving is also a quick and easy way to add some customisation with most jewellers offering such services. If you are looking for a more drastic transformation to your wedding and engagement rings, you may be better off starting from scratch. Research jewellers and have a chat to them about what you are looking for. When it comes to custom rings, the options are endless from the overall style to stones and settings so it really is possible to create the ring of your dreams.
How much does it cost to get a custom ring made?
Custom rings can greatly vary in price depending on the complexity of the design but do not tend to be much more expensive than buying something off the shelf as you are still paying for the same metals and stones. Many designers will offer a free initial consultation to get to know the sort of style you are looking for and your budget so make sure to do this beforehand.
Adding an engraving or adjusting a ring size be very inexpensive, although exactly how much it will cost depends on the individual project. When it comes to creating your own design, the price will again depend on the metal and of course the type of stones and carats used. Prices can be more if the design requires a particular amount of work and craftmanship and this is often the case with custom rings as the client has had the freedom to create something more complex and unique.

The demand for custom bridal set rings does not seem to be slowing down anytime soon. It's the perfect way to add individuality to something that you will have for a lifetime and therefore holds a lot of sentimental value for most brides. From engraving and resizing to designing something completely new, there are options for all styles and budgets.


Hits: 1820 | Leave a comment