How to Get Started With Mountain Biking
Mountain biking is a fun and stimulating activity, giving you a chance to interact with nature and get some exercise at the same time. For some people, it's all about the exhilaration of risky and thrilling maneuvers. For others, it's more about challenging yourself to improve.
Whatever your motivation, mountain biking is exciting – but it's also a little intimidating. How can you get started in this complex and nuanced activity?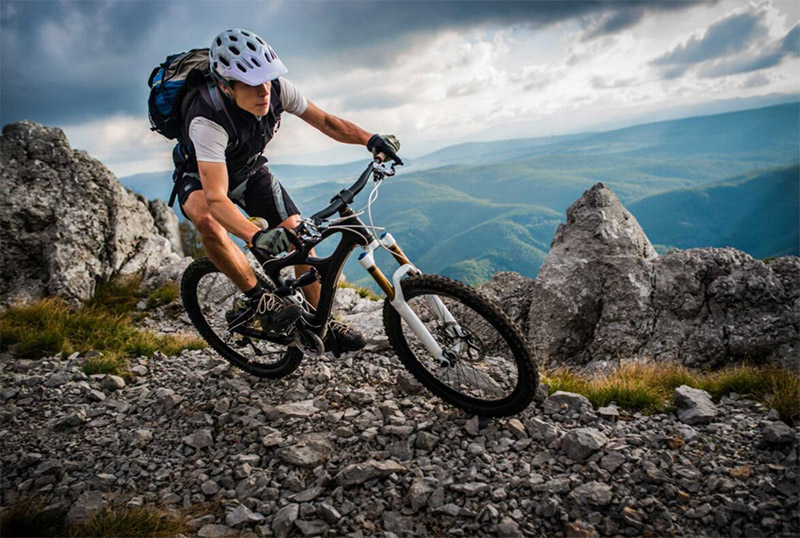 Start With a Vision
Start with a vision of where you want to be eventually. Do you picture yourself vacationing regularly, hitting up the top mountain biking destinations in the United States? Do you see yourself in competition with other professional mountain bikers? Do you see yourself riding with friends and family members, enjoying group outings? Or do you see yourself off on a solo adventure, free from the rest of the world?
There are many different reasons to get involved in mountain biking and many different worthwhile goals you can chase after. Knowing what you're looking for at the very beginning will help you determine where you start and motivate you to continue working toward your goal.
Watch the Pros
Next, consider watching some of the pros at work. Watching people mountain bike will give you a better idea of what you can expect on the trail and help you observe some of the habits that keep them safe and balanced.
A great place to start for a newcomer is watching YouTube videos of people on mountain bike trails. If you're lucky enough to have a friend already in mountain biking, you can ask them to tag along to their next adventure.
Choose a Style
Once you've set some expectations, you'll be ready to choose a mountain biking style. There are several different ways to approach mountain biking, each of which demands a different skill set, a different type of bike, and a different mentality.
These are some of the most common:
- Trail riding. Trail riding ranges from simple to complex, and is arguably the most common form of mountain biking. Here, you'll follow an existing trail from one point to another, occasionally navigating obstacles over the course of a few miles.
- Cross country. Cross country mountain biking, as the name suggests, is more focused on distance. Though similar in some ways to trail riding, cross country riding sometimes takes you dozens of miles across mildly to moderately challenging terrain.
- All-mountain. All-mountain biking is much more intense, demanding you to navigate tough obstacles, steep climbs, and extremely fast downhill areas.
- Downhill. Downhill mountain biking is all about navigating a challenging course while speeding downhill. These courses often have assisted lifts, much like you'd find while skiing.
- Fat tire biking. Fat tire bikes are equipped to handle all types of terrain, including snow and sand. They are a perfect fit for certain climates and certain regions.
Get the Right Bike
Mountain biking depends on you having the right type of bike. Any mountain bike will hypothetically be able to support you, but some bikes are better than others. One of the most important things you'll need to consider is size; you can work with an expert to determine exactly what size bike you need to make sure it's both comfortable and easily maneuverable. You'll also need to consider the suspension; suspension bikes tend to be more expensive and harder to maintain, but they also tend to be more comfortable while riding.
Prepare for Your First Ride
With a bike in hand, you'll be ready to prepare for your first ride. Take things easy and choose a trail that's approachable for beginners.
- Dress. Make sure you wear comfortable clothes that provide some degree of protection, and always wear a helmet.
- The trail. Choose a trail made for beginners, and preferably one that isn't heavily trafficked.
- The gear. Bring plenty of water, and emergency repair kit, and some first aid items at minimum.
- The support. Consider bringing along a friend or family member to support you in your ride.
Getting More Experience
Finally, you'll need to work on getting more experience. You've already ridden at least one trail and you're starting to get more competent on your bike. Now is the time to gradually scale your efforts, riding more frequently and exploring more complicated trails. Always make safety one of your top priorities and don't try to take on more than you can reasonably handle; that said, it's important to keep challenging yourself if you want to keep improving.

There's no such thing as a true master of mountain biking. Even the most experienced and most impressive riders understand that there's always room to improve. If you like it, mountain biking can be a lifelong activity, filled with opportunities to challenge yourself and see new things. All it takes is a bit of effort to get started.


Hits: 559 | Leave a comment