Sunglasses Guide: What Types of Sunglasses are there?
Sunglasses come in diverse shapes and are manufactured with different materials and lenses. From ageless models like the square, round, and cat-eye to more flamboyant styles like the club master and butterfly, there are so many options for both women and men. With limitless styles of sunglasses to make a pick from, everyone must certainly find the ideal glasses that will match the shape of their face and personal preference.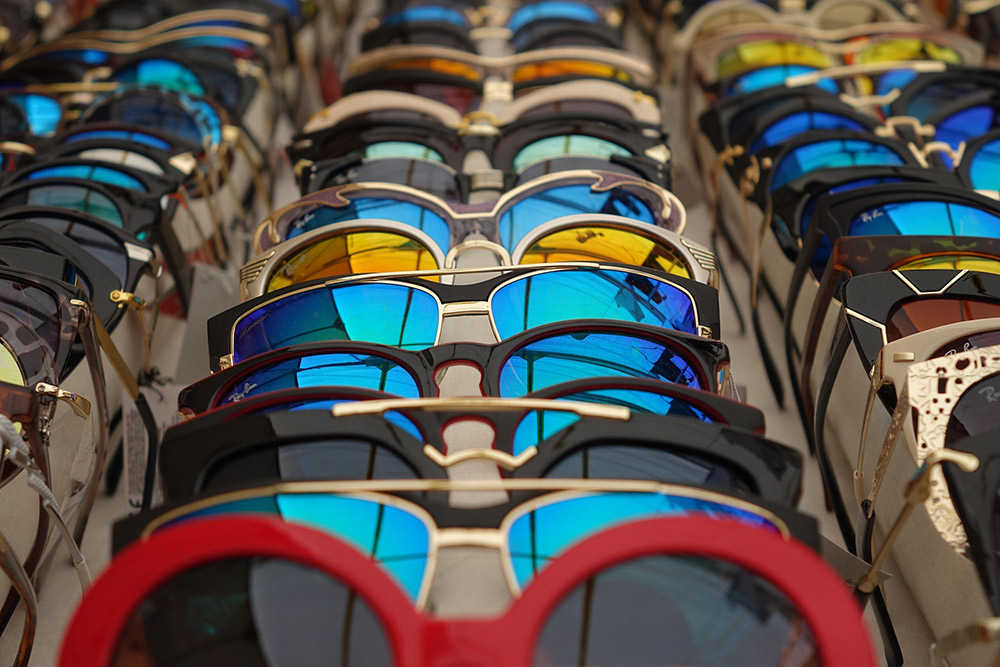 At Just Sunnies, everyone can come across sunglasses from the top brands in the world which include luxurious glasses that can match the personal likes of everyone. These sunglasses are made with different types of frames, materials, and lenses. Here are some of the different types of sunglasses.
Aviator sunglasses
At first, these sunglasses were made for pilots to use in protecting their eyes while flying. Aviators have left the sole functional safety feature and are now a fashionable item. They have this vintage thin metal frame and are reflective which makes them distinct and easy to spot. As a timeless piece, they are quite popular amongst most individuals and quite fashionable too.
Round sunglasses
At Just Sunnies, the round sunglass will always be available because of how trendy, festive and chic they are. The thin round frames give out this traditional but classic vibe while the thicker frames come up with a contemporary and elegant look.
Diagram of Sunglasses Parts with Definitions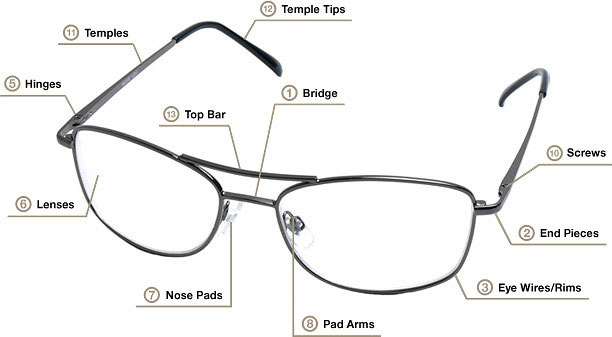 Cat-eye sunglasses
This pair of glasses is a good reflection of the liveliness and sophistication of the 50s. They are suitable for all face shapes and come in different types depending on the personality of the user. They are cat-eye sunglasses for the calm, gallant, poised, and daring. They can be easily spotted from the upper outer curve which pops out like a cat's eye hence the origin of its name.
Clubmaster sunglasses
Also known as bowline sunglasses, the Clubmaster has a unique framing that sets them apart from other frame styles. Quite popular during the 50s and 60s, they are a good choice for people who love to wear bright colors.
Wrap sunglasses
These sunglasses are equally referred to as shield sunglasses and are good for sports events. Their design is made to fit those with active lifestyles with their frames wrapping around the head which provides partial facial coverage while giving room for the user to have a clear view of their environment. It is good for people who enjoy sports and are common amongst athletes and swimmers.
Square sunglasses
These sunglasses offer flexibility and are quite classical in style. The square frame glasses are a good fit for all face shapes but are perfect for those with round faces. Looking forward to being chic and elegant, make sure to own a square sunglass. 
Oval sunglasses
These frames have a round structure but appear wider. They are super comfy and cover up the eyes well especially when it is sunny. The sunglasses are an amazing fit for all events – be it formal or casual, they provide this incredible chic look especially with the thicker frames.
Rectangle sunglasses
These frames are a modest alternative to square frames. They always draw a lot of attention to the center of the face which makes them a good choice for people with long-shaped faces. Rectangle glasses come in different styles, like retro, sporty, vintage, and casual designs.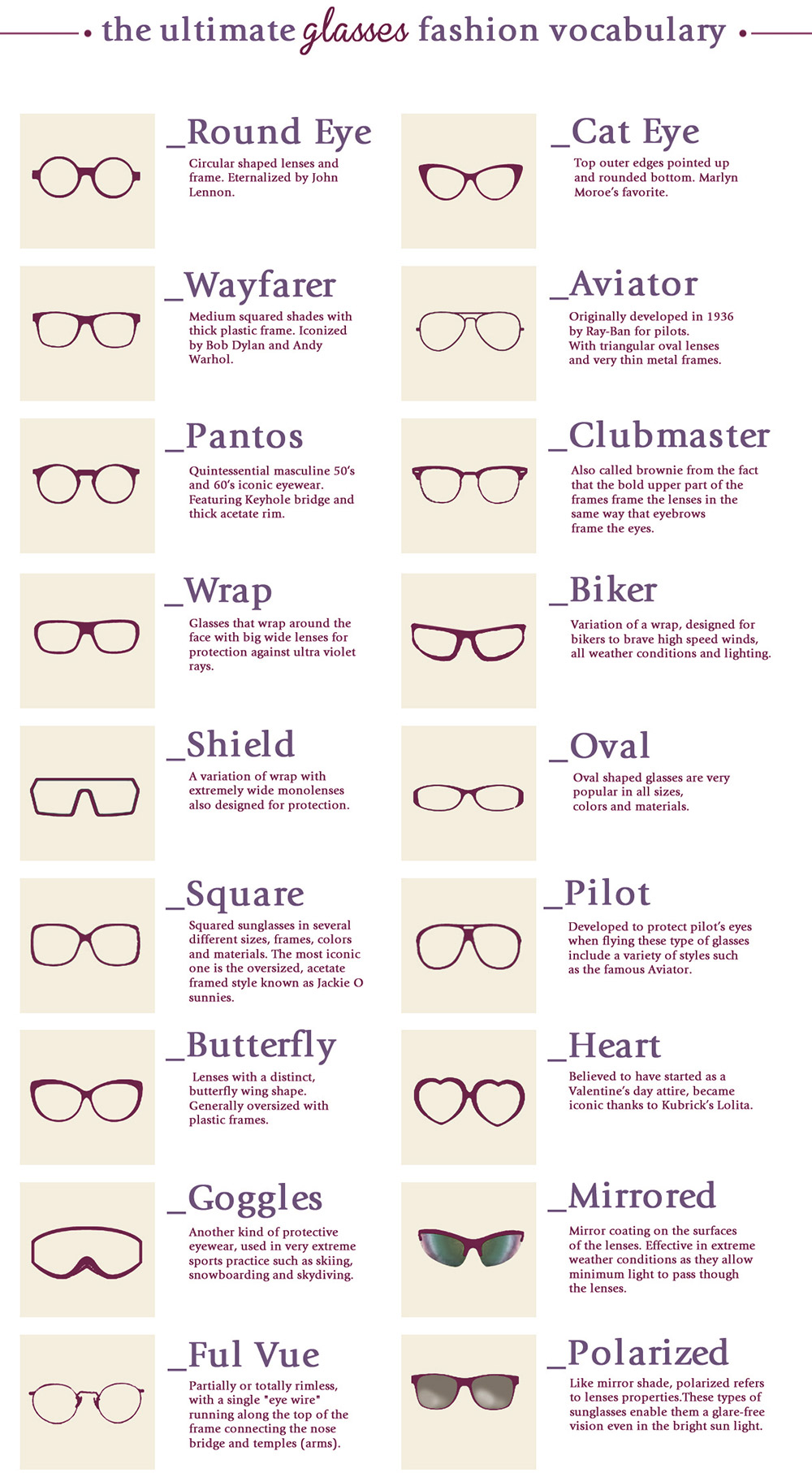 The ultimate glasses fashion vocabulary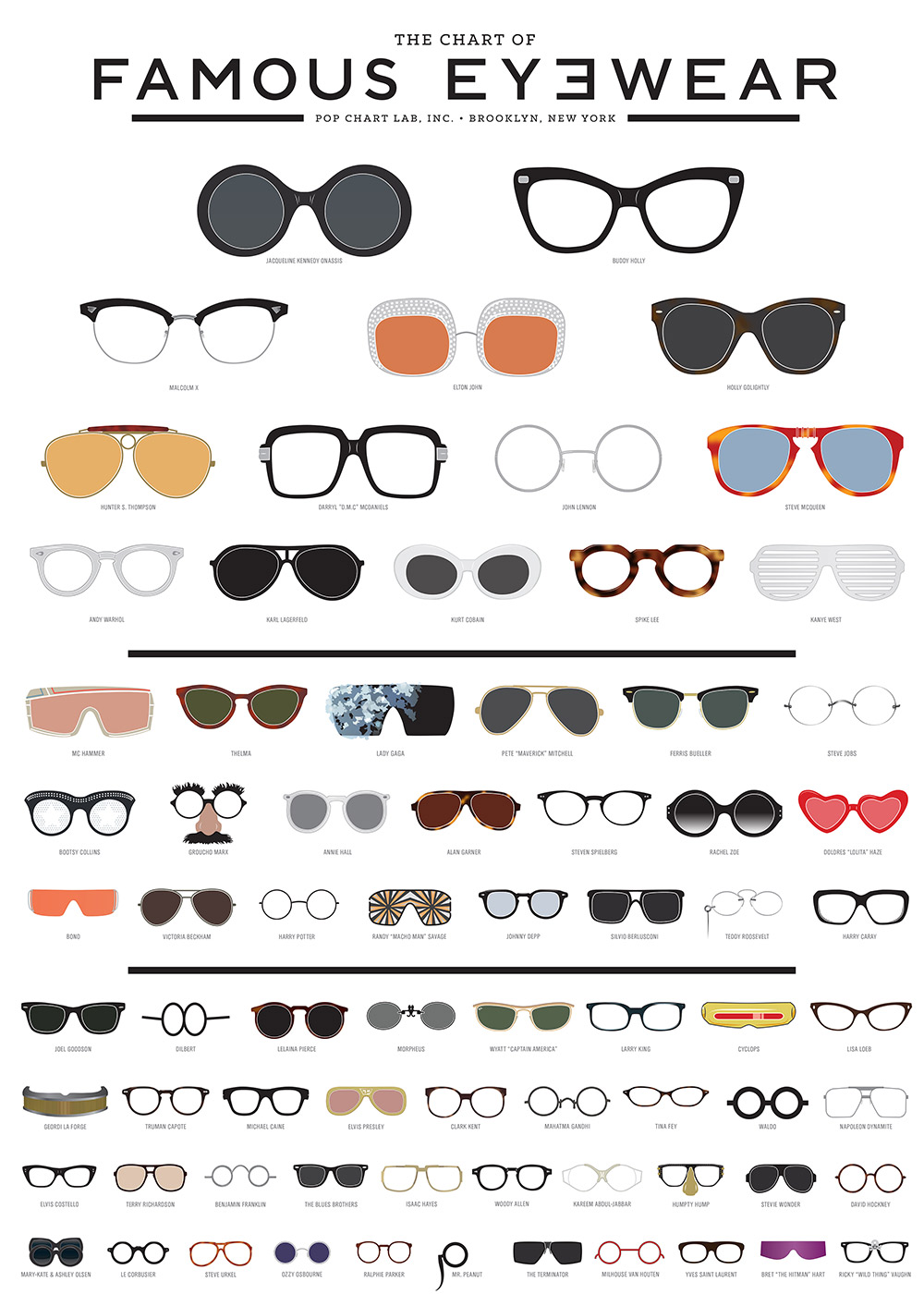 The chart of famous eyewear


Hits: 7653 | Leave a comment