Kings of Style: How to Wear Cufflinks to the Next Wedding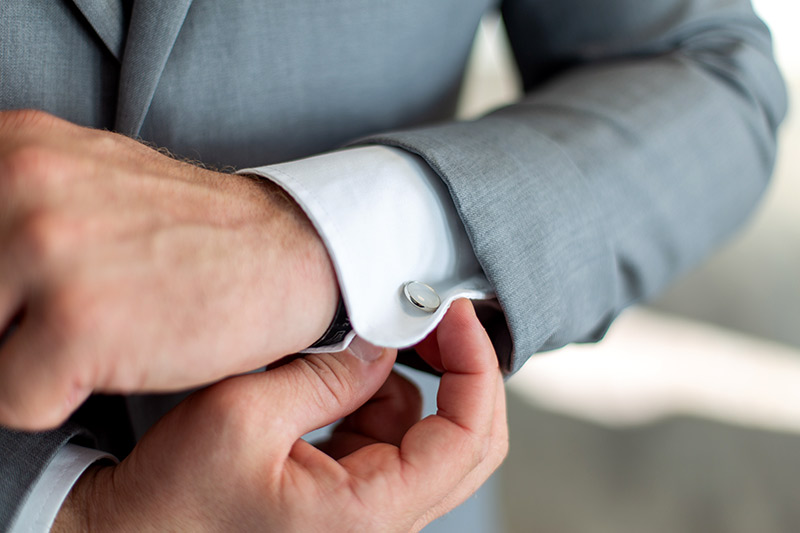 Take your black suit or a casual shirt to the next level by adding a touch of elegance and style with the range of cufflinks for men. The cufflinks market is expected to grow by $1.35 billion, with the rising popularity of online retailing.
Be it a formal or casual wedding celebration; cufflinks are the one accessory that can help you finish off any look while also providing you the opportunity to express your taste creatively. However, if you are confused about the correct way of using cufflinks to your advantage at the next wedding, read on to find out more.
What are Different Types of Cufflinks?
A cufflink is an accessory that is used to fasten the cuff of a shirt. Instead of buttons, a shirt cuff with buttonholes on both sides is held together by cufflinks. Some of the basic types of cufflinks are:
Bullet Back Cufflinks
Bullet back is the most common and popular type of cufflink mechanism. It involves the design piece on one end and a bullet-shaped clip on the other end. Once you wear this cufflink, the clip at the end can be rotated by 90 degrees to keep the cuff fastened.
Stud Cufflinks
There are no moving parts in the stud cufflink. Both ends of this cufflink will have the same design, but they will differ in size. You wear this cufflink by threading the smaller end through the front buttonhole. They are one of the more durable types of cufflinks available.
Chain Link Cufflinks
The two ends of the cufflinks are held together with a small chain. If you want a less restrictive type of fit, a chain link would be a good option.
Ball End Cufflinks
As the name suggests, one of the cufflink's ends has a ball or sphere attached to it. You wear this cufflink by threading the ball-shaped end through the buttonhole. They are relatively easier to wear and offer a relaxed fit.
How to Wear Cufflinks for a Wedding?
Cufflinks for men are available in various designs, styles, and colors. Consider the below factors when deciding on how and what cufflinks to wear.
Type of Shirt
The type of cufflinks you choose depends on the shirt you are wearing to the wedding. For example, the French cuff is the most popular type of shirt to style with cufflinks.
These shirts have cuffs twice the size of standard cuffs. They do not have buttons, but there are button holes available that can be used to wear cufflinks. You can fold the cuffs backward to create a double-layered cuff look. While fastening the cufflinks, ensure to display the design on the outer side of your arm.
You can also use cufflinks to style a convertible cuff shirt. This type of shirt will have an additional buttonhole wherein you can wear the cufflink. You can take one of your regular shirts to the tailor and have them customize the cuff for you to wear the accessory of your choice.
Consider Outerwear
What clothing item are you going to wear on top of your shirt? Will it be a formal blazer, tuxedo, suit coat, or woven sweater? Opt for classic materials like silver, gold, or platinum if you want to go for a traditional look. Small stainless steel cufflinks pair well with blazers and provide a sleek finish to your look.
If you are attending a pre or post-wedding intimate gathering, you can style your cuff shirt with knitwear. Square-shaped copper or brass cufflinks can elevate your understated look.
Explore Designs
If you want to add color or a fun design element to your otherwise formal look, you can use cufflinks for men to do so. For example, if classic geometric shapes are not your thing, you can explore cufflinks in different designs and textures.

There are cufflinks available with intricately carved designs like flowers. In addition, you have cufflinks by premium brands with their signature logos. Instead of the plain finishes, you can opt for a textured finish like a thatched or grainy.

If you want to draw attention to your hands, using colored cufflinks would be ones to go for.

Whether you are attending a traditional wedding ceremony or a beach-side wedding reception, cufflinks for men are available for every occasion. If you want to go for a classic and formal look, you can use a circle or square-shaped cufflinks with sterling silver or gold finishes. For a casual look, opt for brass or steel cufflinks. You can also explore various colored, textured, and design cufflinks to up your fashion ante for the next wedding that you attend.


Hits: 2114 | Leave a comment