Feel like a San Francisco Local Through Their Fashion and Style
San Francisco, California, isn't all sunshine and rainbows every single day of the year. Contrary to popular belief, this large city next to a big desert has a while microclimate that makes it foggier and cooler, which is why most locals always wear layers. So if you want to start dressing like a true San Francisco native, try out these outfit and clothing ideas for each season.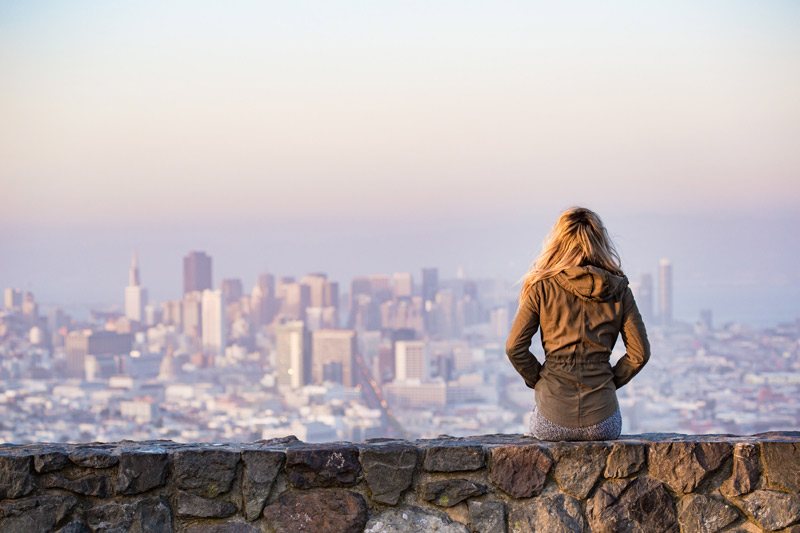 January to March: San Francisco Winter
A San Francisco winter is usually pretty wet. There are weeks on end where it will rain all day, every single day, which makes the surrounding area thick with fog. As the chilly wind comes off of the bay and starts to whisk the rain around, the Winter will feel frigid and unforgiving.
- Rain Boots: Knee-high rain boots are perfect for keeping your toes warm.
- Rain Jacket: Purchase a raincoat that covers your butt for more protection.
- Warm Sweaters: Turtle neck or oversized sweaters are a favorite. 
- Skinny Jeans: Great for most body types and can be tucked under boots.
- Jumpsuits: When put over a sweater, they're fashionably cute.
- Scarves: For really chilly days! Infinity or blanket scarves are popular.
April to May: San Francisco Spring
Spring in San Francisco is incredibly beautiful. The trees are blooming with pink cherry blossoms, which may inspire you to start ordering online for flower delivery in San Francisco. San Francisco spring is similar to spring everywhere else: some days are cold, others are hot.
- Light Sweater: A pull-over long-sleeve sweater or cropped sweater works.
- Maxi Dress: Too cold for a dress that sits above the knee. Floral prints.
- Cardigan: Perfect for weather that constantly changes its mind.
- Loafers: Quick to slip on. Buy one with a small heel in pink or blue.
- Small Bag: Not too big, not too small. Small purses are stylish.
- Cat Eye Sunglasses: Keep these with you for the rest of the year.
June to August: San Francisco Summer
In California, June to August is cold, cold, cold. It isn't summer here like it is everywhere else. In fact, if you walk out in shorts, you'll freeze to death. San Francisco isn't like Los Angeles, so expect another season of cold rain, fog, and lots of layers and big wool jackets.
- Ankle Boots: Patterned booties work perfectly with neutral-toned outfits
- Maxi Skirt: Wear With a thick pair of tights or nylons.
- Wool Coat: A knee-length wool coat will serve you well this summer.
- Mom Jeans: High-waisted mom jeans are comfortable and warm.
- Fuzzy Sweaters: A long-sleeved fuzzy sweater adds personality.
- Leather Bag: Use a water-resistant leather bag for your travels.
September to October: San Francisco Indian Summer
While the rest of the world is putting on their winter jackets and breaking out their boots, San Francisco gets two full months of 70+ Fahrenheit weather that makes dressing up more fun! Keep that jacket with you in case the fog rolls in. Otherwise, put on that dress and swimsuit!
- Over-Knee Black Dresses: Put on your most stylish little black dress.
- One-Piece Swimsuits: Opt for a one-piece in case the fog comes back.
- Tent Dresses: Fun to move around in and catches the breeze.
- Jean Skirts: Looks great with a t-shirt and a pair of bicycle shorts underneath.
- T-Shirts: A fashion staple, the t-shirt can finally be utilized.
- High-Heels: Local women typically wear 4" red high-heels.
November to December: San Francisco Fall
Fall in San Francisco reflects the rest of the country. It's crisp but not too cold, and it's possible for us to experience a couple of hot days before Winter. Be sure to wear your holiday dresses and winter coats, because you'll basically be wearing what you did back home.

- Wide-Legged Pants: These pants look great with a tucked-in shirt.

- Lace Blouse: Turtle neck blouses are in, especially with lace.

- Beret: Sit that hat on top of your head or at the side.

- Slip-On Dress: A red slip-on dress fits in at a holiday party.

- Toms: Slip-on black toms are stylish and comfortable.

- Winter Jacket: Just in case the weather gets worse.


Hits: 5493 | Leave a comment