This Is How to Wear Sneakers With Skinny Jeans
How to wear sneakers with skinny jeans is something you need to study to wear both like a boss. First off, your sneakers make a statement about who you are. Second, your skinny jeans show off your fit physique and your sneakers at the same time.
The two together tell the world something about your sense of style. So let's jump in with both feet, and check out how to wear this great combo.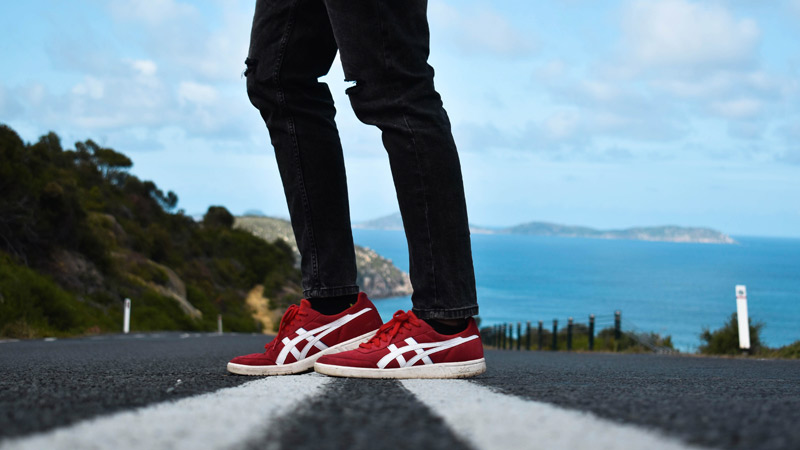 The Length of Your Jeans
There are three basic lengths you can get away with:
- Just above the ankle
- Hem of the jeans leg, just touching the top of the sneaker heel
- Hem of the jeans leg tucked in the sneaker, and under the tongue of the sneaker
It's also cool to roll or cuff your jeans, mainly so that you can show off the designer logo on your sneakers. If you prefer straight-cut jeans to slim-fit or skinny jeans, rolling or cuffing is the best way to give the limelight to your sneakers.

How to Wear Sneakers With Skinny Jeans and Rock
The first step is to get a pair of sneakers that speaks for themselves. The collection you choose is all-important. There's nothing so gratifying for the wearer as having more than one pair from the same collection.

It's great to have the choice before you start strutting your stuff on the street. And, once you find a look that is trending and also suits your feet, you know that you always have a go-to pair ready to slip on at a moment's notice.
Rocking those sneakers means always keeping them clean. Spotless. Hence the tip about owning at least two pairs.

Some sneaker styles look better with black jeans, others with blue. If you branch out to grey or white jeans, then you might be heading back to the store to add to your stylish shoe rack at home.

Do I Wear Socks With My Sneakers?
Er, no. Unless they're those no-show socks, forget it. No-show socks are great because they let your feet breathe.
This means that you won't damage the ozone layer with those smelly feet if you have the occasion to remove your sneakers. Wearing no-show socks is a discreet way to keep the romance alive. Trust us on this one.
Bulky mountaineer-type socks are great with ankle boots. With sneakers, not so much. Besides, you absolutely cannot spoil the fine silhouette you cut sporting those skinny jeans.

Coordinate
Sneakers come with their own carefully thought-out designs and colors. Take care that your shirt, jacket, or hoodie follows the theme of your sneakers. Pick out one or two colors from your sneakers and use that as a basis for whatever you wear on your torso.
If you're still clueless in the color department, stick to just black or just white, depending on the dominant color in your sneakers. Or ask the sales assistant in the store what they think.

Born to Be Together
We've given you a few tips, but honestly, skinny jeans were made to be worn with sneakers. And they're so popular, they're not going out of style anytime soon.

How to wear sneakers with skinny jeans, you ask? Often - every day, if possible - is probably the best answer. That way, you'll soon get into the groove.

Check out the other articles on our site. We've got stacks to say about how to stay on the frontline in men's fashion trends. We've got a feeling that they'll inspire you.


Hits: 3696 | Leave a comment