The Origin Story of Santa Claus
Christmas is all about gifts, cakes, and spending time with each other. While the grownups engage in wining and dining, the children still wonder and wait for Santa Claus to come and leave them presents in their stockings.
Betway online casino has taken a look into the legend and history of Santa Claus and come up with the best facts for you to know.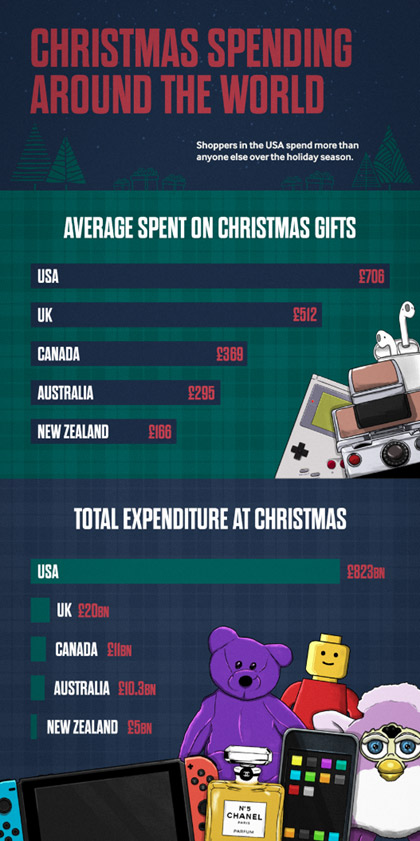 Christmas spending around the world. Image Credit: Betway
The Story of Santa Claus
It is still one of the most significant question marks in most of the hearts whether Santa Claus is real or not. Kids believe the pot-bellied, white-bearded, red dress and a cap-wearing man comes down on his sleigh from the North Pole to give them gifts. 
Also known as Father Christmas, the idea of Santa Claus is actually based on the benevolent Saint Nicholas of Myra, Turkey. He was an Anglo-Greek bishop of Greek descent who was a kind soul and had the best interests of everyone in his heart. 
Saint Nicholas had lost his parents at an early age of five. From then onwards, the world had been lucky enough to get sprinkles of his kindness towards the needy and the poor. However, Saint Nicholas had got an incredibly soft, affectionate corner for the little children. 
He was a blind devotee of the Christian religion, so he gave away presents and gifts from his share of the estate, earning him the moniker, the gift-giver of Myra.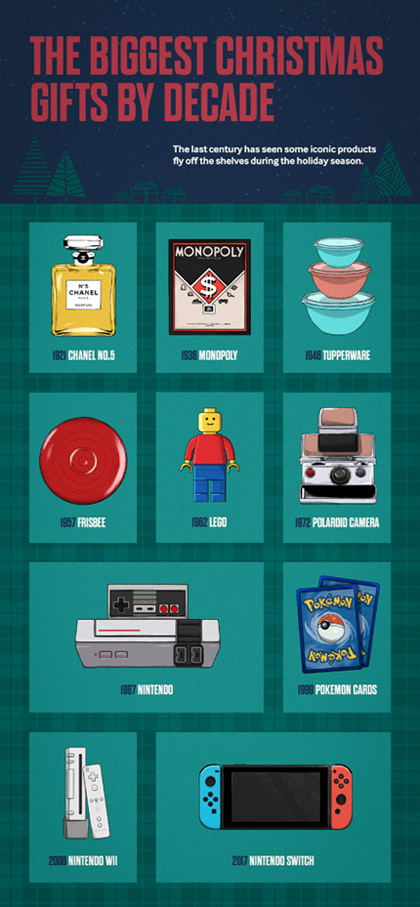 The biggest Christmas gifts by decade. Image Credit: Betway
Fun Facts about the Origin of Santa Claus and His Story 
- Saint Nicholas was as kind and pure as Christ himself, and so many people mistook and considered him as Jesus. But Saint Nicholas was a believer in Christ, and never Christ himself. 
- Everyone believes Santa Claus is an actual older man in a red outfit and a red sack on his back full of presents. But his current look is taken from across the ocean. American historian and writer Washington Irving described Santa as the pot-bellied, bearded, elderly man with round glasses and a smoking pipe who comes down the chimney. 
This picturization of Santa Claus has been immortalized forever after. Thomas Nast, the Father of the American Cartoon, also helped cement this look with his drawing Santa Claus as a symbol of truth and peace in 1863 in a similar manner. From then onwards, people, including children and adults, started believing Santa Claus to be an older man with such an appearance.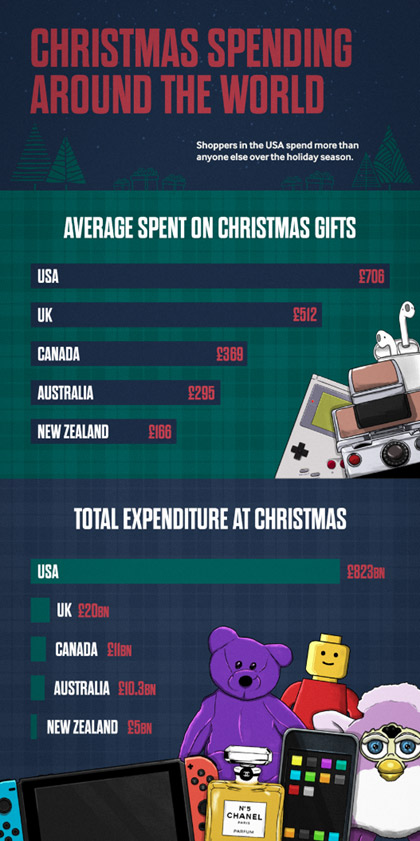 Christmas spending around the world. Image Credit: Betway

- Santa Claus has different names in different countries. In Belgium and Netherlands, he is known as Pere Noel and de Kerstman respectively. 

- Santa's reindeers came from Clement Moore's 1822 poem A Visit From Saint Nicholas, more commonly known as 'Twas The Night Before Christmas. The 56-line poem defined many chief characteristics of Santa Claus, but mostly that he drove a sleigh which was pulled by eight tiny reindeers. 

- Rudolph, the red-nosed reindeer and the most famous of Santa's reindeers, came to the origin when a department store asked their copywriter, John May, to come up with a special character suitable for a children's drawing book. The book had a red-nosed reindeer on the cover. The book was given out to kids visiting the store for Christmas that year. Nearly 2.5 million copies were distributed and it was a huge hit. 

Whatever the world might run into, Santa Claus and his reindeers would live forever in all the hearts!


Hits: 5419 | Leave a comment