Qualities to Look For When Buying Shoes
Shoes are essential in everyday life. Despite choosing the right length and width, there are several factors you need to consider before making the final purchase. Depending on the occasion, the type of shoe and make matters a lot, followed by other requirements. Don't just go and buy shoes because they fit you. Below are some factors you need to consider when purchasing your footwear.

Photo: Unsplash
Shoe Size
Shoes should fit you comfortably. When we say fit, we don't mean that they should get in your feet, and that's all. They should be the right size, both in length and in width. Let the shoes adapt to the shape of your feet and not vice versa. Depending on the type of shoes, they should fit comfortably on the feet, leaving some space for the toes. However, shoes like heels may need to be firm to stick on your feet. Ensure you get a perfectly fitting shoe that won't cause pain or discomfort when walking. Check the image below for Women's and Men's Size Conversions from US Sizes to Euro and UK Sizes.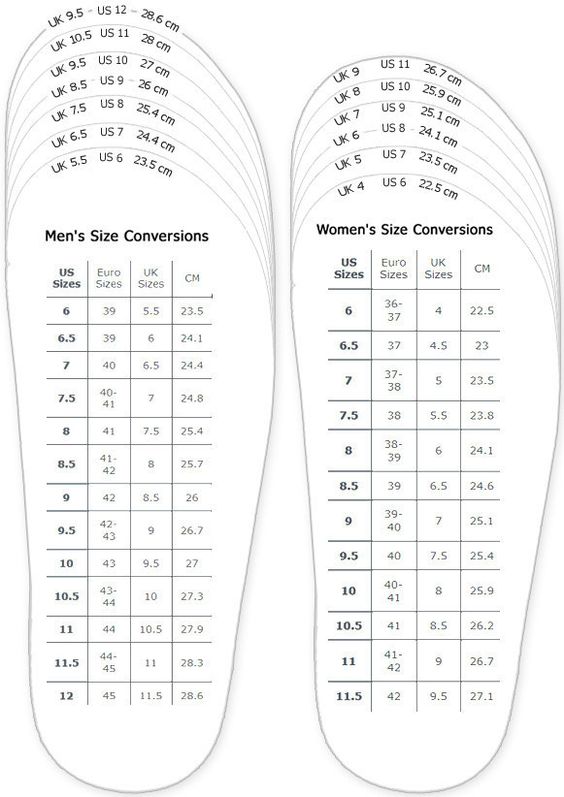 Photo: Pinterest
Expectations
Always get shoes that will exceed your expectations. Do not buy shoes just because they fit or what you heard from advertisements or what the buyer tells you about them. A buyer will give you the positives of the shoes just because they want to sell. Words like 'the shoes are comfortable,' or they will fit you with time' aren't enough to make you buy the shoes. Shoes must perfectly fit your feet or nothing else. When you fall for these marketing lines, you end up getting cheap shoes or something that will destroy your feet. Get into the shop, check on their quality, fit them, and ensure they are comfortable before paying for them.
Take your Time when Shopping for Shoes
With an increased demand for shoes, many companies and sellers have different brands and varieties. Some of these brands are substandard, or they imitate other original brands. Before getting shoes, check on their reviews and quality. How do you check on quality? You need to check on their interior, exterior, finishing, seams, bulges, and other vital areas. Get these shoes that are fully lined and those that have proper finishing and fit you comfortably. Ensure the quality is genuine and meets your expectations. High cost doesn't translate to quality. Check on all the aspects above to come up with the best shoes.
Get Shoes with Flexible Soles
Do not only focus on the fitness and make of the shoe. You should also check it's sole. Other than finding shoes with soft leather, look for one that has got a flexible sole. With flexible soles, your fit will fit properly, and the shoes will be comfortable to walk on. Flexible soles don't break or crack easily, thus lasting longer. A shoe with flexible sole and soft leather does not rub the feet or cause blisters as long as it's of the right size. It also does not cause pain when walking. How do you know a shoe has a flexible sole? When checking for a flexible sole, try bending the shoe. Bend the heel part and the toe part until they touch each other. A flexible sole will easily bend and form a V.
Get as Many Flat Shoes as Possible
Most women prefer high heels as compared to flat shoes. While it is the trend, high heeled-shoes aren't as comfortable as the flat ones. The flat shoes are very comfortable. Experts recommend you get anatomically and orthopedically flat shoes if possible. When you get flat shoes, the walking will be as natural as possible, and you will have an even distribution of body weight at your feet. High-heeled shoes should get worn on special occasions and for the shortest time as possible. If sitting, you can remove them and let your feet rest. Ensure you balance your shoes every day, giving priority to the flat ones.
Try Both Shoes When Purchasing
We all have that one habit of trying one shoe, and if it fits, we ask the seller to pack them all as we make payments. That is wrong because, at times, feet aren't of the same size. The size that fits on one foot might not fit the other and vice versa. Ensure you try fitting the shoes on all feet and making sure they are comfortable before leaving the store. Do you know legs do differ depending on if you are right-legged or left-legged? Yes, they differ, and that's why experts recommend you try both shoes before walking out of the store.
Timing is Crucial
When do you plan to wear your shoes? Is it in the cold or hot season? The reason for asking this is that different seasons require their types of shoes. According to experts, our feet tend to expand a bit on hot seasons and contract during cold seasons. It gets recommended that you jog a little bit before trying on the shoes to attain the working temperature. Do not buy shoes on a hot summer day. Your legs might have swollen slightly, and you may end up buying a bigger size.
Know the Manufacturer
There are several manufacturers of different types of shoes and brands. Some are well known, while others are new in the market. There are some shoes you won't even find the name of the manufacturer. Other than the craft, you should check on the material used to make the shoe. See how the leather is tanned and how the shoe is stitched together with its finishing. Be concerned about the sustainability and origin of the leather. Know how to differentiate between original leather and synthetic material. From the expert's reports, our feet do breathe and sweat. Get shoes that will enable your feet to breathe by getting ones made from the best leather material.

Other things to consider are; checking on the finishing and checking on recommendations from individuals who have used the shoes. All in all, comfort comes first. You don't need to lose all your savings buying shoes that aren't comfortable since it will be a waste. We hope you will consider these factors next time you visit a shoe stall.



Hits: 3377 | Leave a comment