Iconic Hollywood Movie Jewelry
Hollywood might be famous for its films and shows, but sometimes it's the jewelry that takes center stage. A few iconic jewelry pieces have garnered a reputation as some of the most famous pieces of jewelry to grace the big screen. Curious about those pieces? Let's dive in!
Titanic
The film dedicated to reenacting the Titanic's doomed maiden voyage broke hearts in several ways. However, it was watching Kate Winslet's "Heart of the Ocean" — a heart-shaped diamond necklace — that sank to the bottom of the ocean that hurt the most (that and the controversial door!).
However, it surprised many to learn that the film's necklace was nothing more than cubic zirconia set in white gold. It cost less than $7.5k to make.
Though Winslet's Heart of the Ocean necklace wasn't a blue diamond, it was modeled after one. The "Hope Diamond" is a famed blue diamond with deep shades of indigo weighing a whopping 45.52 carats. However, when it came time to make a "real" version of the necklace, a 171-carat sapphire stone and 103 diamonds were used.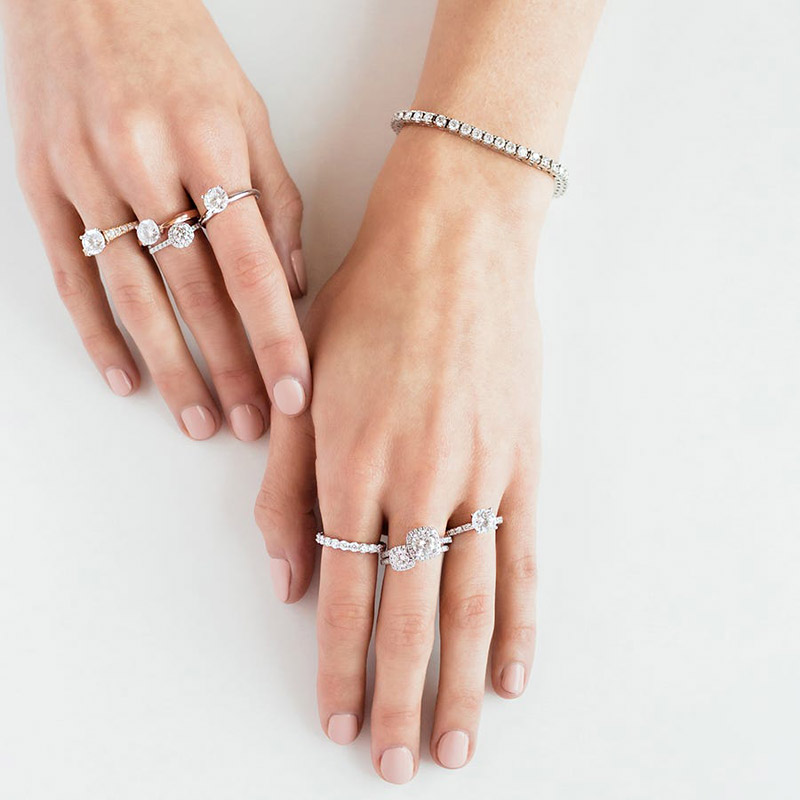 Tennis bracelet and rings by Clean Origin
Breakfast at Tiffanys
French jewelry designer Roger Scemama is responsible for what is arguably one of the most famous necklaces in history, Audrey Hepburn's iconic pearl necklace in the opening scene of Breakfast at Tiffany's.
This necklace features five rows of pearl strands that combine with a diamond brooch starring as the centerpiece. One thing that made the necklace so noteworthy is how well it paired with Hepburn's Givenchy black dress.
The cutouts at the back curved in a way that emphasized the necklace's curve that draped across Hepburn's back as she gazed through the window's of Tiffany & Co. The dress and necklace combined for a sophisticated style that hasn't been replicated by any film that followed.
Gentlemen Prefer Blondes
"Diamonds are a girl's best friend." The iconic phrase sang by the timeless Marilyn Monroe was one of the defining moments of her career. However, it was her Moon of Baroda diamond necklace that stole the show as Monroe was on publicity tours for the film.
The massive 24-carat diamond shone as the centerpiece of Monroe's necklace. However, she wasn't the only famous woman to wear the stone. Marie Antoinette and the Empress of Austria, Maria Theresa, have both worn the stone during their lifetimes.
Besides a reputation for gracing the necks of famous women whose name is some variation of Mary, the Moon of Baroda stone doesn't have much more to its reputation. It was sold into a private collection for over $1.3 million in 2018 and has not made headlines since.
And, although both Marilyn Monroe and Jane Russell were decked out in everything from diamond tennis bracelets to diamond-studded crowns, most of the other pieces in the movie were simply costume jewelry.
Pretty Woman
Everyone is familiar with the iconic ruby and diamond-encrusted necklace Richard Greer's character gives Julia Roberts character to flaunt for an outing. The gorgeous necklace wasn't just a prop either! It was a real necklace featuring diamond-encrusted hearts with over twenty rubies and 18k white gold.
It's not surprising that the piece featured in this romantic gesture has French roots. French jeweler Fred Joaillier crafted it. Today, this necklace would set you back at least seven figures, as it's estimated to be worth around $1.35 million.
How to Lose a Guy in 10 Days
Kate Hudson wore the famed Isadora Diamond, named after French-American dancer Isadora Duncan. Arguably the most famous yellow diamond in existence, the Isadora Diamond was owned and designed by iconic jeweler Harry Winston. The diamond is over 80 carats and was matched with Hudson's lovely yellow cocktail dress for the iconic "frosted" look!
Final Thoughts
What are your favorite pieces of jewelry from major films? While we may not ever own the expensive pieces, there's no reason not to dream! Some even go so far as to purchase lookalikes at far more reasonable prices online. Regardless, these pieces will live on in the hearts and daydreams of jewelry lovers worldwide.


Hits: 2922 | Leave a comment