Basic tips for buying a new pair of shoes
When it's time to make a new addition to your wardrobe, it's time for some tricky decisions. There is a lot more to buying new items of clothing than a lot of people think (if you're like me, that is) and it's more complex than walking into a store and picking up the first thing you see. This is particularly the case when you're going to buy a new pair of shoes, helped in part by the fact that there are so many pairs out there to choose from. This is why I believe doing a little bit of research could help you a lot when it comes to choosing your dream pair of shoes, both in terms of how they look at how they feel. I'm here to help with that, so here are some basic tips for buying a new pair of shoes. 
Where are you going to buy them from?
There are a few things to think about when you're buying some new shoes. For starters, you need to have a think about where you're going to actually buy them. There are a lot of shoe stores out there and a lot of them tend to sell the same shoes, so it's not as easy as choosing the only store that sells the pairs you want. Of course, you may already have a favorite store and if that's the case, feel free to continue buying from there. If not, you need to think about a few things. For instance, choose a store that sells a variety of kinds of shoes you want. Do you want a pair of Girls Converse Shoes, for instance? If so, go and have a look at a site that sells lots of girls converse shoes. That'll give you a better chance of finding the pair you want.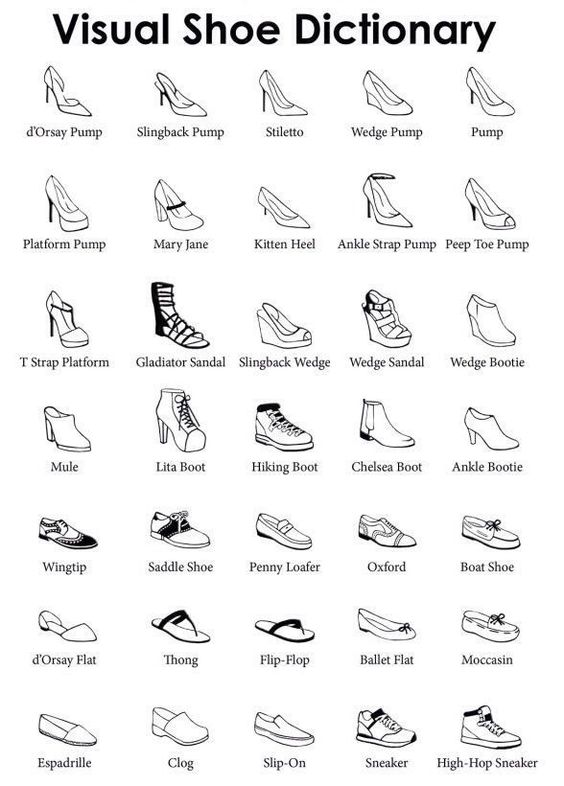 Women's types of shoes. Photo: Pinterest
How much do you want to pay for your shoes?
When you're buying anything, you have to have to think about the price you want to pay. This is no different from shoes, and I'm sure you're aware that shoes can be pretty expensive. Being safe in this knowledge, you can start to have to think about finding good deals on the market. Some people enjoy spending hundreds of pounds on shoes, but I am not one of them. Instead, you need to have a look around as many stores and websites as possible until you find a good price for the pair you desire. The chances are there will be at least one company that sells them for a lower cost than others, so try and keep a lookout for that.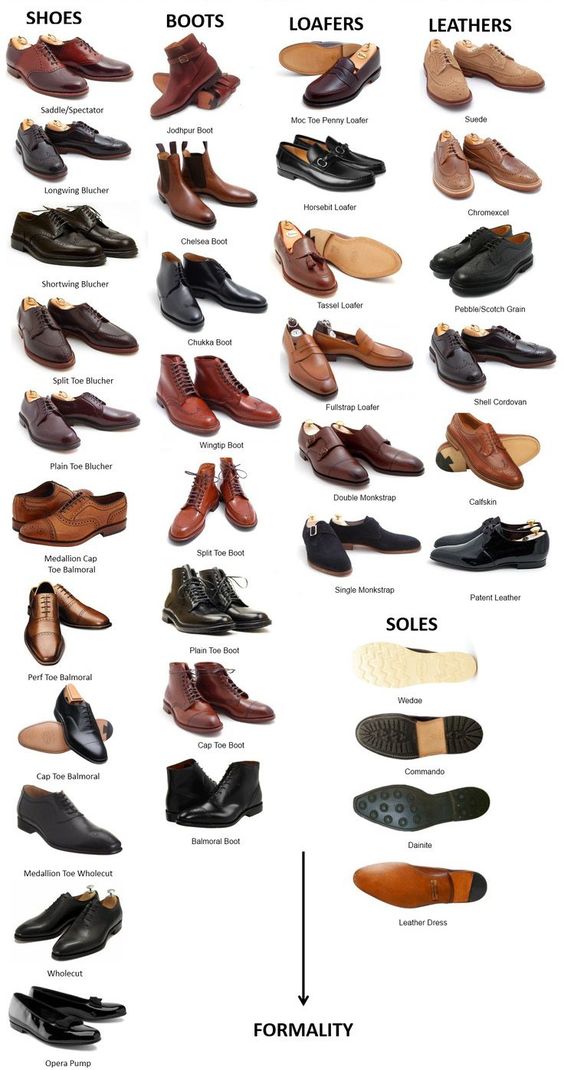 Men's shoes infographic from fashioninfographics.com

Make sure the shoes you buy are comfy

It's obviously important that your shoes look good, but they need to be comfortable as well. If they're not, you simply won't want to wear them and it'll be a complete waste of money. This is where visiting a store in person can be very worthwhile- you can actually try the shoes you want on and have a walkabout, seeing if they'll be a good buy for you. 


Hits: 6519 | Leave a comment