How To Style Dickies Pants
A good pair of pants will cure plenty of your fashion woes, as it is a versatile piece of clothing that you can wear for just about any occasion. Whereas a pair of skinny denim jeans dominated wardrobes during 2010, the end of the decade saw a shift in preference. Nowadays, people are dumping their uncomfortable, tight-fitting jeans in favor of more relaxed fit options. At the same time, denim is becoming essential for everyday wear.
One of the best alternatives, but equally versatile bottoms that you can get is a pair of Dickies Pants. Although the brand makes a wide variety of styles and fits, they are notable for the skater scene. That means that they are comfortable, strong enough to withstand friction against the ground, and most importantly, fashionable. If you are not sure of how to style them, here are some tips to help you.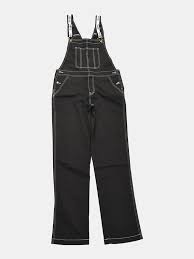 Wear Them To Formal Occasions

Dickies Pants come in a range of styles, but most are loose, slim, straight, or cargo in terms of fit. Although you can wear all four fits on a variety of occasions, the first three are the most versatile. The brand typically makes pants that look like trousers, so they will give you a polished and put-together look when dressed up with a classic top. Consequently, they can be worn to work or formal occasions when paired with a dress shirt, blouse, or turtleneck. On days when you have nothing to wear, dress things down by pairing your Dickies Pants with a plain white top and gold jewelry. Add a blazer for some chic energy, while a vintage handbag will complete the effortless Parisian look.

Wear Them Casually

For a more casual fit, pair your pants with a graphic T-shirt and platform sneakers, and top the look with a beanie for skater vibes. You can also wear a pair with a glittery or mesh top to complete your ensemble for a night out with friends at the club. The composition of these pants includes a blend of cotton and polyester. Therefore, they are easy to move around in, making them great for any purpose. A style tip is to pair tight tops with a looser pair of pants. In contrast, oversized hoodies will balance the silhouette of slim-fit pants.

Wear Them In Cold Weather

Looser fit pants are a lot friendlier when the cold weather rolls in, as they can accommodate multiple layers underneath. This feature is something that skinny jeans could never achieve without feeling bulky and uncomfortable. As a result, if you live in a place with harsh winters, then a loose fit pair of pants is a no-brainer. Pair your pants with heat tech leggings, tights, and a layer of wool socks to keep you warm. And when the summer is at its peak, wear the same pair of pants on its own.

Wear Them With Your Thrift Finds

Thrifting has recently boomed in popularity, and some of the most sought-after pieces of clothing are pants. But stocks are low, and shops cannot replenish them without donations. So if you cannot find any at your local thrift store, then you are likely out of luck. However, Dickies Pants are surprisingly excellent contemporary alternatives to thrift favorites as they fall within every popular criterion: high-waisted, comfortable, and fits like a vintage piece. Plus, they pair well with almost any treasure you find from your local consignment store. Whether you wear it with a '90s baby tee or a '70s grandma cardigan, a straight fit pair of pants will pull the look together by giving it a 2020 teen's imagination of a vintage outfit.

There are an endless count of ways in which you can style a good pair of pants. Finding one that fits perfectly may feel like trying to win the lottery, but the best way to start your search is by looking through options from reputable brands. Regardless of what fit you choose and how you decide to style it, what matters the most is feeling comfortable in your clothing of choice.


Hits: 3724 | Leave a comment