How to Wear Baroque Print
The church and fashion – who knew?! Not many people actually realise that Baroque is a French word referring to an extravagant style of the arts including music and dance in the 17th and 18th Centuries. Even fewer people know that the origin of Baroque print has its roots in a style of ornate architecture that was originally made popular by the Catholic Church to display their return to growing power after the Reformation (remember your history lessons anyone?!).
As a result, Baroque was soon adopted by the Royal courts of many countries as a literal symbol of their wealth and strength and it infiltrated not only the arts but their clothing too which is how the crossover was made into fashion even if it was nearly 300 years ago.
It didn't stop there though because Baroque print was made iconic by Versace in the '90s, which is not surprising since this international, over-the-top fashion house could be described as Baroque itself. They took the baroque print and spun it into a pop-art kind of theme that connected music and fashion in one like never before and baroque quickly filtered down from celebrity wear to the street.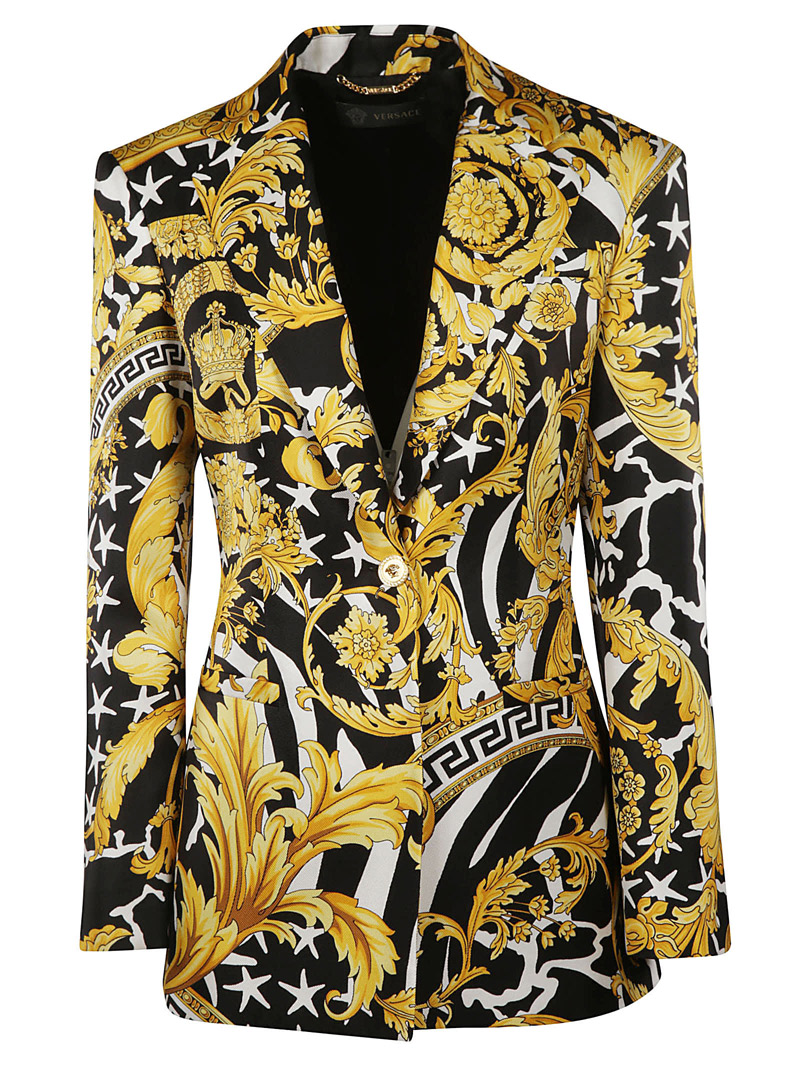 Versace baroque print blazer
Baroque is Back
Yet everything that goes around comes back around and fast forward to 2019 where Baroque has become fashionable yet again; thanks to the retro revival trend. 25 years on however and prints and styles have changed. Baroque is still bold but no longer brash and has evolved to a new level of sophisticated glamour. Here are 5 different ways explaining how you can keep up with the style stakes and wear this old iconic print in a new contemporary way, from wholesale dresses to playsuits in the Baroque style.

1.     You might not associate lace detailing with Baroque, but a scalloped lace bodycon mini dress with Baroque print detail looks simply stunning worn on a girls' night out or for a more formal occasion. It would also be great to pack in your suitcase for a sunny holiday too. White always sets off a tan beautifully and you will certainly turn heads wherever you go whether its a beach party, restaurant dining or sipping cocktails till dawn.

2.     A Baroque playsuit is where vintage meets new. The scarf print pays homage to the iconic 90's Versace style but the playsuit is a modern style staple that should be hung in every woman's wardrobe. A wrap-over front and low neckline mean it would look fabulous worn with a chunky statement necklace, and the belt and loose-style shorts add glamour so that it can be worn night or day.

3.     There is no doubt about it - metallic fabrics make perfect party dresses and an LBD with a metallic baroque print makes a striking yet simple statement all by itself. There is nothing more that really needs to be said but little details like ruching and dainty straps add a touch of elegant and feminine sexiness too.

4.     Baroque AND sequins must be the ultimate symbol of style and glamour especially in the colour purple which could once only be worn by high ranking members of the Church and Royalty! A purple sequin, long sleeve mini dress is a dress fit for a queen and will certainly make you feel like one!

5.     If you really want to ooze glamorous sophistication then a baroque sequin sheer panel midi dress will help you to do just that. In white and gold with a bandeau style top and skirt overlaid by sheer fabric decorated liberally with gold sequins – a dress like this really does have the WOW factor and help keep you cool on the dance floor.

If you're looking to make a statement this season, why not bring a bit of Baroque back to your wardrobe?


Hits: 3183 | Leave a comment