A Guide to Interview Style for Women
Even if you're a natural 'plain Jane', dressing up for an interview is a must. You know what they say: 'first impressions count'. When we're speaking of interviews, the impression you leave is not only determined by your skills and experience, it is also largely determined by your appearance, your professionalism and whether or not you're a culture fit. These points can easily be ticked off with a ten out of ten by simply choosing the right outfit.
While you're completely responsible for positively projecting your skill-level and experience, we'll take on the responsibility to make sure you look professional and perfect for your interview. However, we have just one tip before we drill down into the ideal interview outfits; and this is: dress appropriately for the role. For example, a person interviewing for a waitering role is not going to dress the same as the person interviewing for a corporate role. Therefore, first identify the level of the role you're interviewing for (is it junior, mid-level or senior), and dress accordingly.
Find out how to dress for your interview, with our helpful tips.
Interview style for junior roles: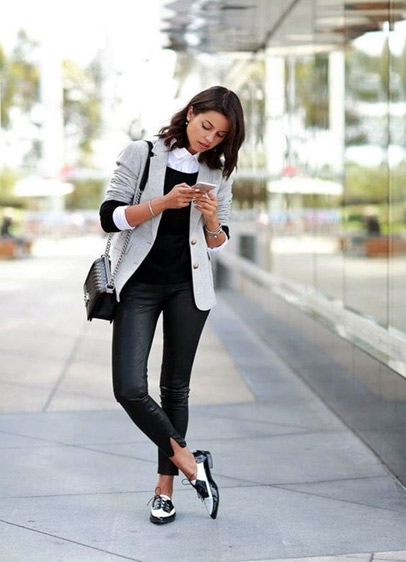 Source: Pinterest
Now don't get me wrong, some junior roles will require you to dress up, especially if you're in the hospitality field for example. However, you would know whether or not the field you work in is predominantly smart regardless of level. But for those who are unsure of whether their role would require them to dress up every day for work, we're here to help you out.
1. Don't wear high heels. You don't want to over-dress and look too smart. High heels can often 'smarten' an outfit a little too much, however, a pair of kitten heels (low heels) would be just fine. 
2. Jeans are a no, unless they're work appropriate. This means no holes or faded fabrics - your best bet is a pair of dark denim or black jeans. Zara have great women's jeans that are well fitted and their variety is pretty impressive.
3. No low-cut tops and definitely no T-shirts; instead, opt for a simple but sophisticated blouse.
4. Don't over accessorize, nor should you pack on the make-up. Keep it simple.
Interview style for mid-level roles: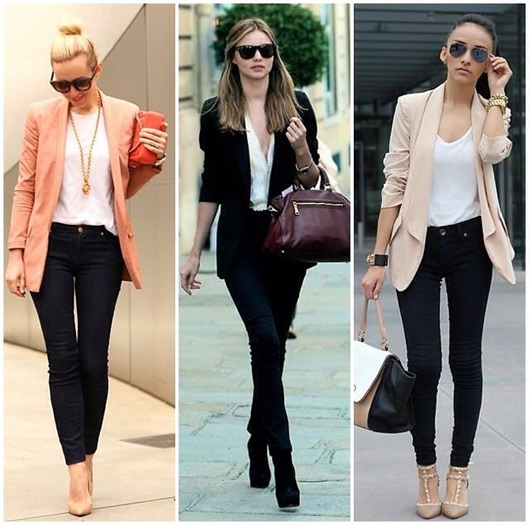 Source: Guest of a Guest
A mid-level role means just that - it's in between junior and senior, which means that you're earning a little more, and you've been given more responsibility than that of a junior. You're also in the position to be scouted for a promotion for a senior role, which means you need to always look put-together and professional, especially if you're working in the corporate world.
1. Wear high heels. But still, not too high that you look like you're going on a girl's night out!
2. Instead of jeans, opt for fitted/tailored trousers. Perhaps consider a pair of trendy ankle length trousers. Get your hands on some fabulous pairs at House of Monatic as well as Topshop.
3. Wear an elegant blouse, and perhaps consider wearing a blazer too. To soften the look, opt for a blazer of colour rather than a black blazer as it may smarten the look more than is needed.
4. Add a few accessories such as earrings or a striking chain. Some lipstick won't do any harm, either!
Interview style for senior level roles: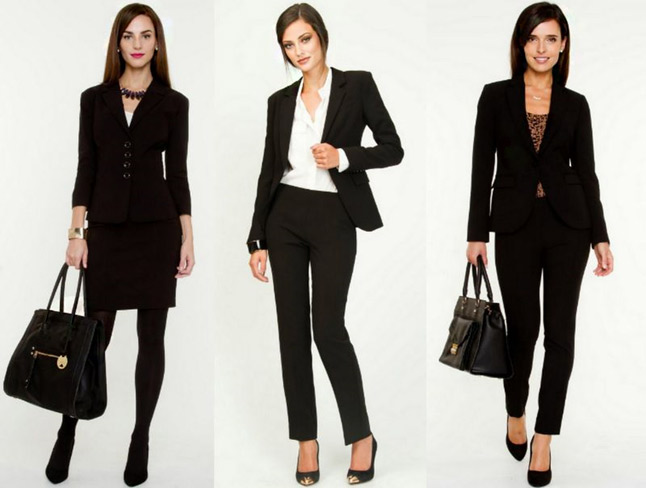 Source: Fashable

Senior level roles often call for smart attire, unless you're a senior working in a relaxed industry. Corporate senior roles, however, don't just require one to look professional, but powerful too. This can be achieved through your choice in colour, style and even fabric. As we know, black is a smart colour, which is why we highly recommend you choose an outfit that is predominantly black, however, feel free to accessorize with some colour. When it comes to style, we suggest opting for tailored styles such as tailored trousers or pencil skirts, and a shirt and blazer. Fabric is also important as it gives away the quality of the garments. Always seek out quality items as they'll not only look more professional, but they'll also stand the test of time.

1. Wear a ladies suit or dress ensemble. House of Monatic have fantastic corporate wear options for almost all industries; body types and preferences and they're committed to offering only the finest quality garments.

2. Wear high heels.

3. Accessorize with some colour, but again, don't overdo it. Too many colorful accessories could make the outfit appear unprofessional. Make-up is a must, and don't be afraid of some fierce red lipstick!


Hits: 22731 | Leave a comment