Studio JUX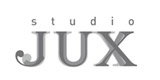 Studio JUX = design + eco + fair. The studio JUX collection is made in our own factory, women empowerment projects and social enterprises that are based in Kathmandu, Nepal. We only use high quality materials that are organic, natural or recycled.
Company type: Fashion brand, Manufacturer
Products: Overcoats, Ready-to-wear suits, Shirts, Slim fit suits, Waistcoats


Menswear collections
Studio JUX is an Amsterdam-based brand offering sustainable eco fashion for both men and women. Its style can be defined as 'Dutch design - minimalistic and comfortable with a little twist'. 'Jux' is a German word for 'Fun' and according to Studio JUX, fashion should be fun 'not just for the consumer and the designer, but also for the tailors'.