SUCCESSORI REDA S.p.A.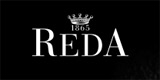 Reda selects Merino wool from sheep ranches it owns in New Zealand: traceability is guaranteed from the very start. Reda Rewoolution follows the progress of its wool from shearing on, managing the processes during every stage. Thanks to the voluntary cert
Sustainable fabrics
The new Reda Autumn/Winter collection is fuelled by the Romantic Movement known as Sturm und Drang - storm and drive: the rigid constraints of rules and customs are shattered by pure passion and freedom of expression.