Margaret Howell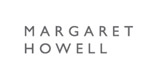 I've always wanted clothes to be the way I drew them - relaxed and lived in, a natural look. I find men's clothes interesting in their structure, feel and functionality.
Company type: Fashion brand, Fashion designer, Manufacturer
Products: Overcoats, Ready-to-wear suits, Shirts, Slim fit suits
Connect with Margaret Howell


Menswear collections
The designer established a studio in 1970 making men's shirts, quickly attracting a loyal clientele who appreciated the quality fabrics and attention to detail.