Garcia Madrid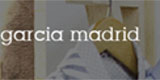 GARCIA MADRID was created by Manuel Garc?a in 2006 to make men's life easier. Watching, listening to what his friends and clients asked, anticipating their needs. Offering collections that bind the tailoring traditions with a contemporary twist.
Services: Bespoke garments, Custom Fit
Company type: Fashion brand, Manufacturer
Products: Bespoke suits, Made-to-measure suits, Ready-to-wear suits, Slim fit suits, Waistcoats
Connect with Garcia Madrid

Menswear collections
Celebrating brand's 10th anniversary, Garcia Madrid launches Spring/Summer 2017 collection with a fashion show in 080 Barcelona, mixing art and fashion and a touch of madness.
Bespoke Men's Suits
Label's creations always have an artisanal attention to detail, in the details, finishes and fabrics of the highest quality: Premium cottons, cashmere and superfine merino wool, silk.