Popular Styles and Benefits Of A Custom Made Shirt
A custom made shirt, also often referred to as a bespoke or tailored shirt, is a garment that is specifically crafted to fit an individual's body measurements. Unlike ready-to-wear shirts that come in standardized sizes, a custom made shirt is designed keeping in mind a person's unique body profile. This ensures a superior fit and comfort, leading to a refined and polished appearance.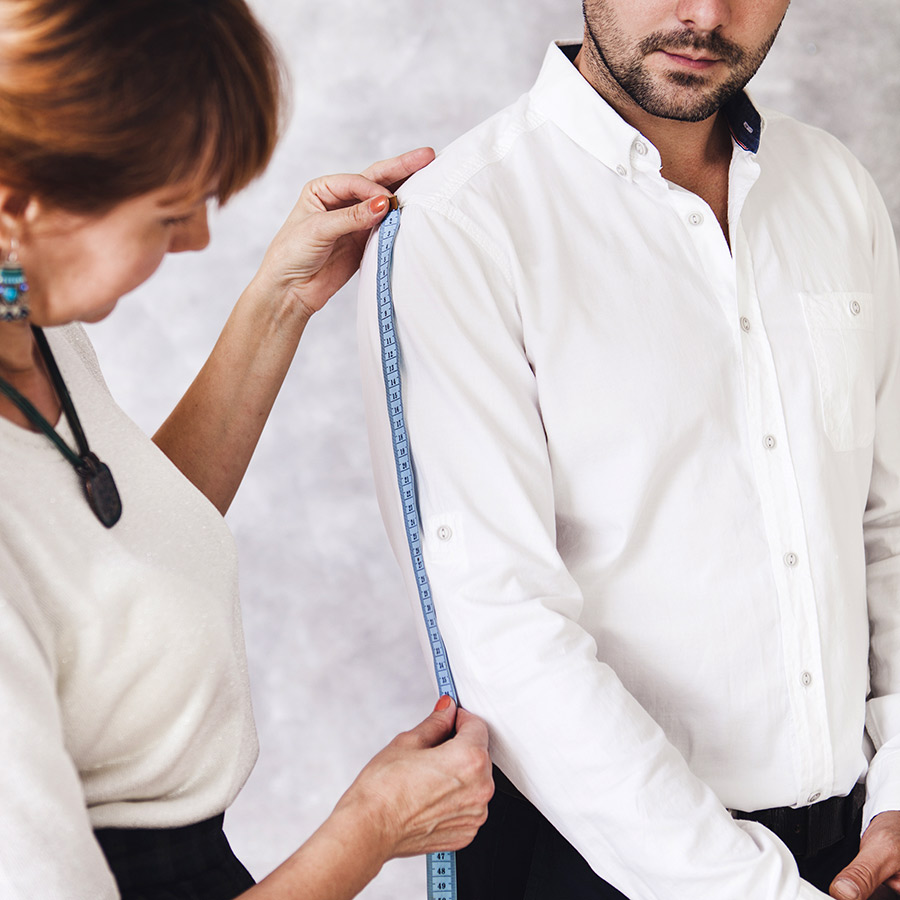 Photo: Depositphotos
The process of creating a custom made shirt involves the customer providing their specific measurements to a tailor or shirt maker. These measurements take into account various aspects such as neck size, shoulder width, chest circumference, waist, arm length, and even the preferred fit of the cuffs. The customer also has the freedom to choose from a wide variety of fabrics, colors, patterns, and styles. The resulting shirt is a product of meticulous craftsmanship, personalized to meet the individual's preferences and needs.
Benefits of Opting for a Custom Made Shirt
custom made shirts offer a myriad of benefits that set them apart from their off-the-rack counterparts. If you're someone who values quality, fit, and personal style, these benefits will certainly appeal to you.
Perfect Fit: As custom made shirts are tailored based on your specific measurements, they provide a perfect fit. You no longer have to worry about shirts being too tight or too loose in certain areas. Every detail, from the neck size to the arm length, is tailor-made for your comfort.
Personal Style: custom made shirts provide an opportunity to express your personal style. You have the freedom to choose from a vast range of fabrics, colors, and patterns, allowing you to create a shirt that is uniquely yours.
Higher Quality: custom made shirts are synonymous with quality. With high-quality materials used and attention to detail in the crafting process, these shirts are designed to last longer than mass-produced ones.
Attention to Detail:  The process of creating a custom made shirt involves multiple fittings and adjustments to ensure that every aspect is tailored to perfection. This level of attention to detail ensures that the final product is flawless.
Time Efficient: While the initial process of getting measured may take time, subsequent orders become significantly easier and quicker. You can simply reorder your perfect fit without the hassle of searching and trying on multiple shirts.
Less Waste: Tailored shirts are a more sustainable choice as they are made to order, reducing waste caused by overproduction in the fast fashion industry.
Comfort and Functionality:  custom made shirts are not only aesthetically pleasing but also functional and comfortable. The fit is designed to allow for ease of movement, making them ideal for everyday wear.
Long-Term Investment:  custom made shirts may be slightly more expensive compared to ready-to-wear alternatives, but they are a worthwhile investment. With their superior fit and quality, they will last longer, saving you money in the long run.
Opting for a custom made shirt is not only a statement of your personal style but also a commitment to quality, comfort, and sustainability. It may seem like a luxury initially, but the long-term benefits make it a worthwhile investment.
Popular Styles and Trends for a Custom Made Shirt
When it comes to custom made shirts, several styles and trends can make you stand out:
Monochrome Magic - Solid color shirts, particularly in monochrome shades like black, white, or gray, have always been a timeless choice. They offer versatility and can be worn in both formal and casual settings.
Checks and Stripes - Checked and striped shirts are classic patterns that never go out of style. Whether it's the traditional gingham check or pinstripes, these designs add a subtle flair to your custom shirt.
Contrast Collars and Cuffs - This style involves having the collar and cuffs in a different color or pattern from the rest of the shirt. It adds a stylish twist to the otherwise simple shirt.
Bold Colors - While neutral colors are a safe bet, bold and bright colors are making waves in the custom-shirt world. They can add a pop of color to your wardrobe and are perfect for those who like to make a statement.
Floral Prints - With the rise in popularity of more expressive and unique wardrobe pieces, floral prints have found their place in custom made shirts. These patterns can range from subtle to bold, depending on personal preference.
French Cuffs - A classic style choice, French cuffs add a level of sophistication and elegance to your tailored shirt. They are typically worn with cufflinks, adding a touch of personal style.
Mandarin Collar - A trend borrowed from the East, Mandarin collars offer a modern and minimalist aesthetic to custom shirts.
Remember, the beauty of custom made shirts is the freedom to choose a style that truly represents your personal taste and fashion sensibility. With endless possibilities and the promise of a perfect fit, there's no better way to elevate your wardrobe.  Make the switch to custom made shirts today and experience the difference yourself!  Don't hesitate, visit your nearest tailor or online shirt maker and embark on your journey towards owning a custom made shirt.
Contemporary trends
In the contemporary fashion world, a few trends are particularly noticeable among custom made shirts. The Sustainable Fabrics trend is gaining momentum, driven by increased consumer awareness about the environmental impact of clothing production. Organic cotton, bamboo, and other eco-friendly materials are becoming popular choices for custom made shirts.

Tech-Infused Fabrics, such as moisture-wicking, wrinkle-resistant, and even UV-protective materials, are also finding their place in the custom-shirt realm, catering to the demands of the modern, tech-savvy consumer. Finally, the trend for Mixed Prints is paving the way for more adventurous style experiments, with consumers mix-matching different patterns and colors in a single shirt. Remember, the key to rocking these contemporary trends is to adapt them to your personal style, ensuring that your custom made shirt not only fits you perfectly but also reflects your individuality.


Hits: 5905 | Leave a comment