Warmth and Style: Navigating Winter Fashion with Confidence
As the crisp air of winter sets in, the challenge of staying warm while embracing style takes center stage. Winter fashion is not just about layering up against the cold; it's an opportunity to showcase your sartorial savvy through a blend of cozy textures, elegant layers, and statement pieces. Here is your guide to conquering the colder months with flair. Whether you're braving the frosty outdoors or enjoying a cozy indoor gathering, this guide will arm you with tips to make your winter wardrobe as stylish as it is warm.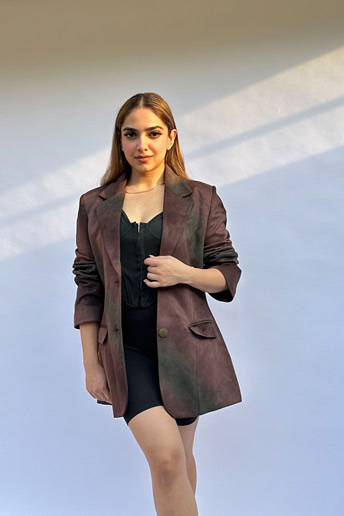 The Essentials of a Winter Wardrobe
The foundation of a winter wardrobe hinges on a few key essentials that marry warmth with style. Central to this are versatile pieces that can withstand the chill while keeping you fashionable. A robust collection should include heavy coats for the coldest days, insulated boots for navigating frosty paths, and warm knitwear ranging from sleek turtlenecks to chunky sweaters. Thermal leggings and woolen socks are indispensable for layering, providing essential warmth without bulk. With these staples, you can build a winter wardrobe that's equipped for the season's demands while allowing room for your personal style to shine through.
Women Jackets and Blazers - A Style Statement
Women Jackets and Blazers are more than just winter essentials; they are powerful style statements that can define an outfit. From sleek, tailored blazers that sharpen a casual look to luxurious wool jackets that add sophistication, these pieces are key in any winter fashion repertoire. They offer versatility, transitioning effortlessly from office attire to evening wear. Experimenting with different cuts and textures — be it a classic leather jacket or an oversized boyfriend blazer — allows for a range of looks that are both practical in the cold and emblematic of personal style, making every winter ensemble uniquely yours.
Layering Like a Pro
Mastering the art of layering is crucial for navigating winter fashion with flair. The key is to build layers that provide warmth without adding unnecessary bulk. Start with a thin, breathable base layer to trap body heat, followed by a thicker middle layer like a cozy sweater or a fleece. Top these off with a stylish outer layer, such as a well-cut coat or a chic jacket. Play with textures and colors to add depth to your outfit. Remember, each layer should be able to stand on its own, ensuring you look polished and put-together, no matter the weather.
Embracing Bold Colors and Patterns
Winter fashion need not be confined to a palette of greys and blacks. Embracing bold colors and patterns can invigorate your wardrobe and brighten dreary winter days. Incorporate vibrant hues like deep reds, electric blues, or rich purples to make a statement. Patterns, whether it's a classic plaid, a whimsical floral, or an abstract print, can add an element of fun and sophistication to your winter attire. Integrating these lively elements into coats, scarves, or knitwear not only sets your style apart but also infuses joy and energy into your everyday winter ensembles.
Trench Coats at Nolabels.in - Timeless Elegance
Discover timeless elegance with the selection of Trench Coats at Nolabels.in, a classic staple reimagined for the modern wardrobe. These trench coats blend functionality with high fashion, offering a sophisticated layer that transcends fleeting trends. Their versatility makes them perfect for various occasions, from formal meetings to casual outings. With thoughtful details, flattering cuts, and durable fabrics, each trench coat is a testament to enduring style. Whether paired with a formal dress or casual jeans, these trench coats add an element of polished refinement, making them an indispensable addition to your winter fashion arsenal.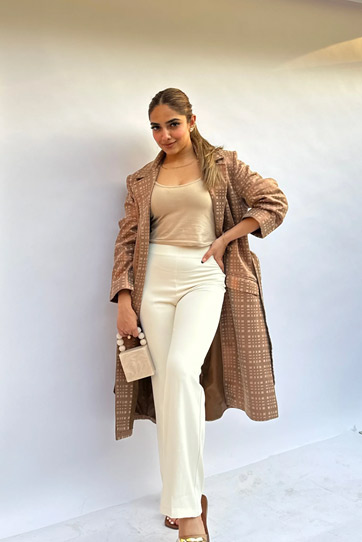 Accessorizing for Warmth and Fashion
Accessorizing in winter is a delicate balance of adding warmth and elevating fashion. The right accessories can transform a functional outfit into a style statement. Think of plush scarves, elegant gloves, and chic hats not just as necessities against the cold, but as opportunities to inject personality into your look. A bold, patterned scarf or a statement beanie can become the focal point of an outfit, while luxurious leather gloves add a touch of sophistication. By choosing accessories that are both practical and stylish, you can add layers of texture and interest, enhancing your winter wardrobe's warmth and aesthetic appeal.
Footwear for Cold Weather
Choosing the right footwear is essential in completing your winter fashion ensemble, providing both comfort and style through the colder months. Opt for boots that are not only insulated and waterproof but also stylish - think sleek ankle boots, elegant knee-highs, or rugged, lace-up styles. Footwear in winter is about striking a balance between functionality (keeping your feet warm and dry) and fashion (complementing your outfit). Whether you're navigating icy streets or heading to a cozy indoor event, the right boots or shoes can elevate your winter look, ensuring you stay stylishly sure-footed whatever the weather.
Caring for Winter Clothing
Caring for winter clothing is vital for maintaining its functionality and extending its lifespan. Heavier fabrics and special materials used in winter garments require specific attention. Regular cleaning and proper storage of coats, knitwear, and boots will keep them in prime condition. Be mindful of the manufacturer's care instructions, especially for delicate items like wool and cashmere. Waterproofing treatments for boots and stain repellents for coats can prevent damage from slush and salt. By taking good care of your winter clothing, you ensure that each piece remains a reliable and stylish ally against the cold, season after season.

Embracing winter fashion with confidence is about finding the perfect blend of warmth, comfort, and style. From the timeless elegance of trench coats to the practical chic of women's jackets and blazers, each piece plays a role in crafting a fashionable winter persona. Remember, with the right care, your winter wardrobe can be both a shield against the cold and a reflection of your personal style. Let each snowy day be an opportunity to showcase your fashion prowess, wrapped in warmth and radiance.


Hits: 7132 | Leave a comment