Attractiveness and temptation: how to wear corset belts correctly?
A corset belt is a type of accessory that has been popular for centuries. It is a garment that is designed to cinch the waist and create an hourglass figure. Corset belts are often made from a combination of materials, including leather, fabric, and metal. They can be worn over dresses, shirts, or other clothing items to add an extra layer of style and sophistication.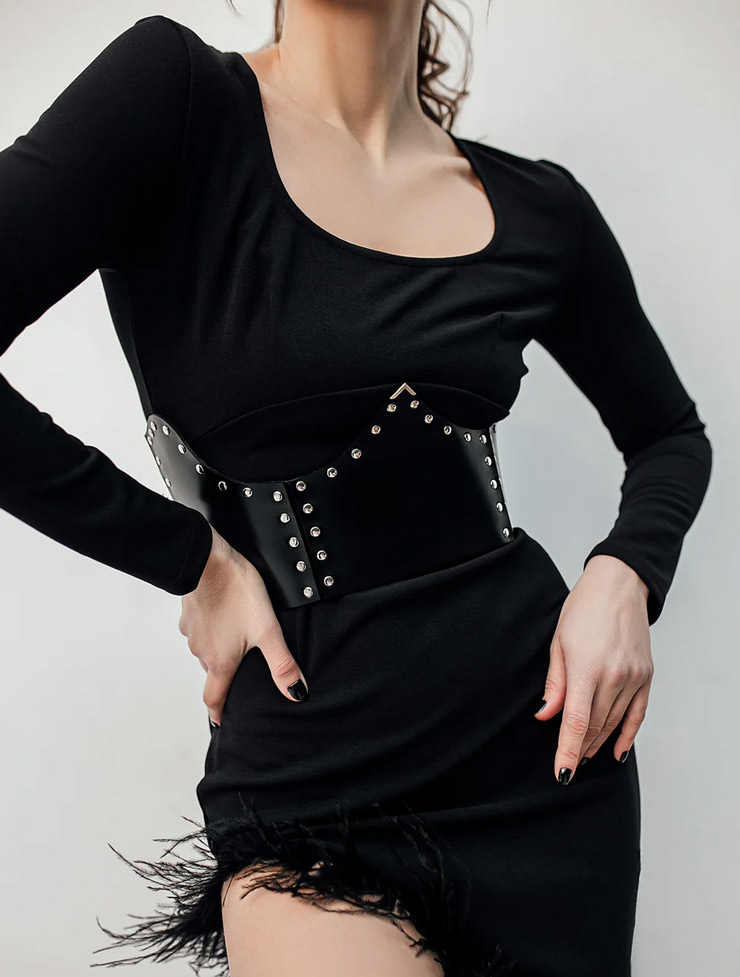 Photo: Bleak & Sleek
What materials and fabrics are corset belts made of?
Corset belts are typically made from a variety of materials, including leather, satin, velvet, and lace. Leather corset belts are often the most popular choice because they are durable and can withstand wear and tear. Satin and velvet corset belts are also popular because they add a touch of elegance and luxury to any outfit. Lace corset belts are often used for more formal occasions and can be embellished with beads or sequins for added glamour. The construction of a corset belt typically involves the use of boning, which is a stiff material that is used to create the shape and structure of the garment. Boning can be made from a variety of materials, including plastic, metal, or even whalebone. The boning is placed between layers of fabric or leather and sewn together to create a sturdy and supportive corset belt.
Corset belts can be designed in a variety of styles, from simple and understated to bold and elaborate. Some corset belts feature intricate lace-up designs that allow the wearer to adjust the fit of the garment. Other corset belts may have buckles or clasps that make them easier to put on and take off. In addition to their aesthetic appeal, corset belts can also provide health benefits. They can help to improve posture by supporting the back and reducing strain on the spine. They can also help to reduce waist size by compressing the midsection and creating a slimmer silhouette.
Overall, corset belts are a versatile and stylish accessory that can add a touch of glamour and sophistication to any outfit. They are available in a variety of materials, styles, and designs, making it easy to find the perfect corset belt to suit your individual style and taste. Whether you are looking to accentuate your curves or simply add a touch of elegance to your wardrobe, a corset belt is the perfect accessory to do just that.
Where, when and how are attractive corset belts used?
Corset belts have been a popular fashion accessory for centuries, and they continue to be a staple in many women's wardrobes today. These stylish and attractive belts can be worn in a variety of settings and for different occasions, making them a versatile accessory that can elevate any outfit.
One of the most common places to wear a corset belt is at formal events such as weddings, proms, or galas. These events often require formal attire, and a corset belt can add an extra layer of elegance and sophistication to a dress or gown. A satin or lace corset belt can add a touch of glamour to a simple dress, while a leather corset belt can add a bit of edge to a more traditional outfit. Corset belts are also popular in the world of burlesque and cabaret. These performers often wear elaborate corset belts as part of their costumes, featuring intricate lace-up designs and bold colors. A corset belt can help to accentuate curves and create an hourglass figure, which is essential for many burlesque and cabaret performances. In addition to formal events and performance art, corset belts can also be worn in everyday settings. They can be paired with jeans and a t-shirt for a casual yet stylish look, or worn over a blouse or dress for a more polished appearance. A leather corset belt can add a touch of edginess to an otherwise simple outfit, while a velvet or satin corset belt can add a touch of luxury.
How to put on belts correctly?
When it comes to how to wear a corset belt, there are many options. Some corset belts feature buckles or clasps that make them easy to put on and take off, while others have lace-up designs that allow for adjustability. Corset belts can be worn over clothing or directly against the skin, depending on personal preference.

In conclusion, corset belts are a stylish and attractive accessory that can be worn in a variety of settings and for different occasions. Whether you're attending a formal event, performing on stage, or simply looking to elevate your everyday wardrobe, a corset belt is a versatile and fashionable accessory that can help you achieve the look you desire.


Hits: 1849 | Leave a comment