Warmth Without Sacrificing Style: Men's Winter Coats to Keep You on Trend
Winter is coming; there's no better time to invest in a stylish winter coat. Finding the perfect winter coat can be hard with so many styles and fabrics. But don't fret! We've got you covered with our comprehensive guide on men's winter coats that provide both warmth and style. From timeless classics to trendy modern styles, we'll show you how to stay warm and fashionable this winter. Whether looking for something to wear to the office or just for a casual weekend look, you'll find the perfect coat to keep you warm and on-trend.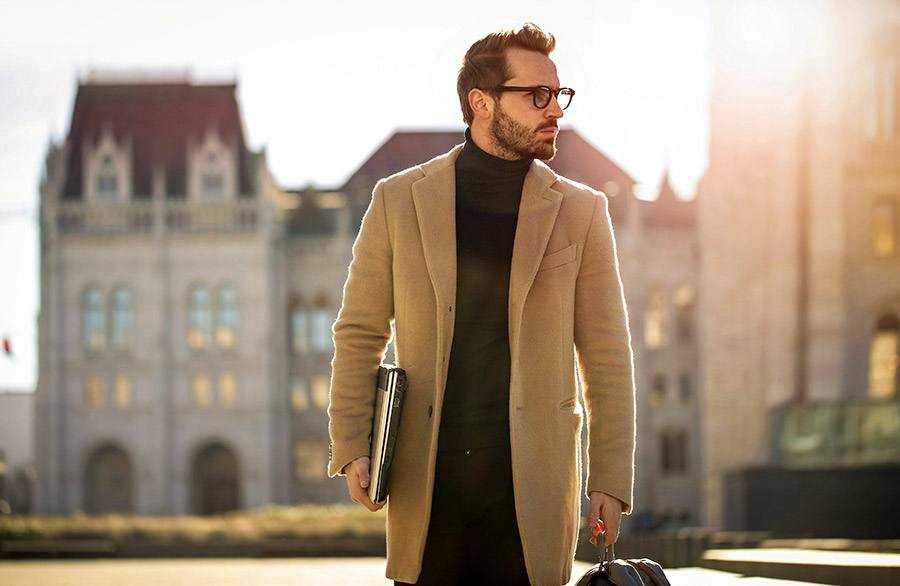 Factors to consider when choosing a winter coat
When choosing a coat, there are a few factors you should consider. First and foremost, consider the climate and the warmth you'll need. Are you in a place with harsh winters or more mild temperatures? Next, think about your style and the purpose of the coat. Do you need something more formal for work or something casual for weekends? Finally, consider the fit and length of the coat. You want something that flatters your body type and allows for layering underneath. By taking these factors into account, you'll be able to find the perfect winter coat that combines warmth and style.
Parkas
Parkas are a popular choice for men's winter coats due to their unbeatable combination of style and warmth. These versatile jackets are typically made from durable materials like nylon or polyester and are lined with insulating down or synthetic fill to provide maximum insulation. Parkas often feature a hood, which adds an extra layer of protection against cold winds and snow. With their longer length, parkas offer excellent coverage and can be worn with dressier and casual outfits. Whether braving the elements on your morning commute or enjoying a weekend adventure, a parka will keep you cozy and stylish all winter.
Peacoats
Peacoats are a classic choice that exudes timeless style. Originating from the navy, these double-breasted coats are characterized by their wide lapels and anchor-shaped buttons. Typically made from a wool blend, peacoats offer excellent insulation and are perfect for colder climates. Their tailored fit gives a sleek and polished look, making them suitable for formal and casual occasions. Whether strolling through the city or attending a winter event, a peacoat will keep you warm and effortlessly stylish. Pair it with jeans and boots for a rugged yet refined look that never goes out of fashion.
Overcoats
Overcoats are a stylish and sophisticated choice for men's winter coats. Overcoats offer warmth and elegance with their longer length and tailored fit. These coats are made from high-quality wool or wool-blend materials and provide excellent insulation to keep you cozy during the colder months. Overcoats are versatile and can be dressed up or down, making them perfect for formal and casual occasions. Whether heading to the office or out for a night on the town, an overcoat adds sophistication to your winter wardrobe. Stay warm and on-trend with this timeless coat option.
Puffer coats
Puffer coats are the epitome of warmth and comfort during the winter months. These coats are filled with insulating down or synthetic materials that trap heat and keep you cozy in even the coldest temperatures. Not only do they provide unbeatable insulation, but they also offer a stylish and trendy look. Puffer coats come in various colors and styles, so you can find one that suits your taste. Whether hitting the slopes or braving a snowstorm in the city, a puffer coat will keep you warm and on-trend all winter.
Trench coats
Trench coats are a timeless and versatile option for men's winter coats. Initially designed for military use, trench coats have become a stylish outerwear choice for formal and casual occasions. These coats are typically made from waterproof materials like cotton or gabardine, making them perfect for those rainy or snowy days. With their belted waist and classic design, trench coats offer a sophisticated and refined look. Whether heading to the office or going out for a night on the town, a trench coat will keep you warm and stylish throughout the winter.
Materials and fabrics
Regarding men's winter coats, the choice of materials and fabrics can significantly impact the coat's style and functionality. Wool is popular for its warmth and durability, while down-filled coats provide excellent insulation without adding bulk. Synthetic materials like polyester and nylon are also commonly used for their water-resistant properties. Other fabrics, such as tweed or cashmere, offer a more luxurious and refined look. Whether you prefer a classic wool coat or a sleek nylon parka, the right materials and fabrics will ensure that your winter coat keeps you warm and stylish all season long.

When it comes to men's winter coats, there is no shortage of options that offer both warmth and style. From classic peacoats to trendy puffer coats, there is a coat for every personal style and occasion. You can find the perfect winter coat that meets all your needs by considering climate, personal style, and fit factors. You can ensure that your coat keeps you warm and fashionable throughout winter with the right materials and fabrics. So don't let the cold weather cramp your style — invest in a stylish winter coat and stay cozy and on-trend all winter.


Hits: 4479 | Leave a comment