12 Streetwear Fashion Ideas for Girls
With the upgrading trends in streetwear fashion, many outfits have come to attention. Be it a jogger, jeans, sweatshirt, or sweater, with the help of these outfits, many have created various fashion styles that will drop your jaw. Streetwear helps you create a rock-and-roll fashion on the street that can get noticed easily. Many fashion houses, like Gucci, Nike, Forét, etc., have embraced streetwear fashion and a wide range of versatile styles and designs that can be paired with any piece. With these available outfit options, it might be overwhelming to see how you can create a good out-of-the-day fashion from it. To clear all your confusion, we have brought 12 streetwear ideas you should follow for trendy fashion.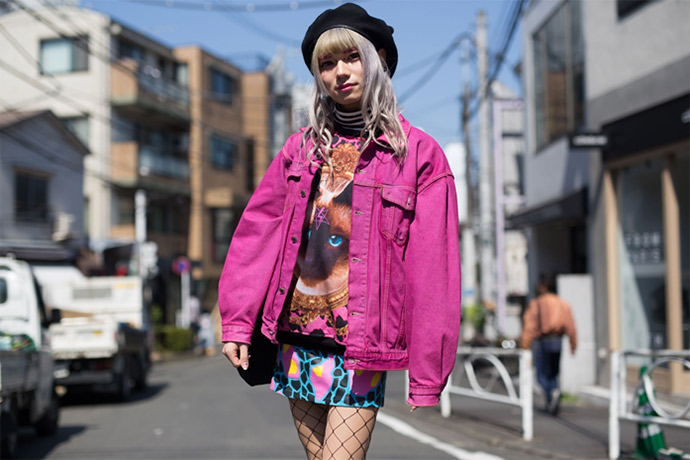 12 streetwear fashion ideas every girl should try
Streetwear fashion gives you ample options to create one of the best looks every day that will leave people around you aww. But some of you might need clarification because of the many options available. Here are 12 iconic streetwear clothing fashion ideas you should add to your vogue to get a striking fashionable look that you will love.
Monochromatic outfit
Using a monochromatic color outfit can create a cozy and fashionable look. Using one color pairing of loungewear can be the best at-home-approved outfit. To complete the overall look, you can match it with white sneakers. Using a Monochromatic outfit will give you the best look that you will totally like.
Sweatshirts paired with bright color joggers.
Sweatshirts are one of the most comfortable outfits that you will ever have. It can be paired with any jogger. But pairing it with light and bright color joggers will make you look unique. You can even match it with Bottega's black pouch bag and sneakers, giving you a complete pop-up look.
Sweater paired with denim
A sweater with denim goes very well. You can create the look using a shoulder sweater and high-waisted white denim paired with a sneaker or a sporty hoodie. This will give you a chunky yet cozy look that will make you look mesmerizing in the crowd.
Hoodies with jeans
You can also pair hoodies with jeans which is one of the best combinations. Jeans and hoodies paired easily with any outfit can give you the best look. You can wear a black hoodie with white or light blue jeans or vice versa. Complete the look with black or white sneakers and a bucket hat.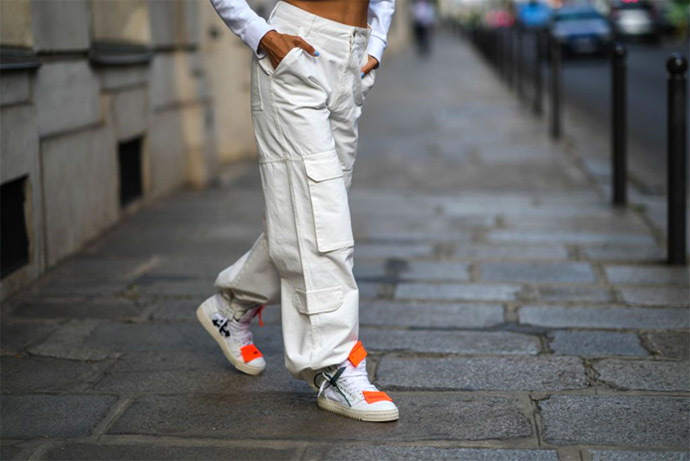 Jeans with a crop top
Jeans and crop tops are the best combinations you will ever get. You can make use of bootcut jeans and pair them with a neon color crop top. To complete this look, you can pair it with white sneakers. To get a more chic look, you can tie a high ponytail and cover it with a baseball cap.
Oversized sweatshirt mixed with biker shorts.
Oversized sweatshirts are one of the trendy fashions. You can wear joggers and or jeans with sweatshirts, but with biker shorts, you can get a sexier look. You can pair it with high socks and white sneakers. By trying this, you will see an excellent transforming look that you will fall in love with.
Leather jacket and track pant
Leather jackets and track pants can blend perfectly and give the best combination. You can wear a long white jacket paired with track pants and create the most alluring style. You can even pair a cropped leather jacket with loose-fitting track pants and complete the look with white sneakers. In place of a crop leather jacket, you can also make use of a bra tops or crop tops.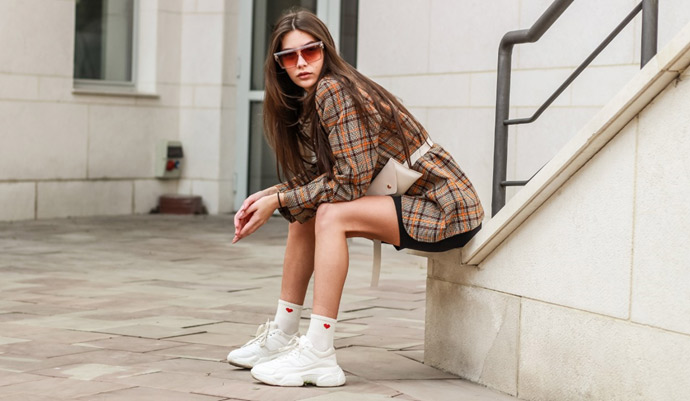 Windbreaker with shorts
You can pair Windbreakers with a short that will give you an iconic look for the day. You can layer a windbreaker over a white t-shirt or a crop top and pair it with shorts. To add a more fashionable look, you can wear black sneakers.
High-waist Denim with an oversized vest.
High-waist denim with an oversized vest is the best ever combination you can wear while going to work or meeting your friend. You can wear a cropped bra top and layered it with an oversized vest paring it with high-waisted denim. Make sure that your jeans is bootcut and in a navy-blue color that will create a good combo and make you stand out. Also, remember to wear a white pair of sneakers.
Graphic Tee paired with tennis skirt.
Graphic Tees can be one of the best outfits you can choose for creating out-of-the-day fashion. By pairing it with a tennis skirt will give you an edgier look. Make use of a black graphic t-shirt and pair it with a crisp white tennis skirt. You can also add a chunky Prada boot and a cross-body bag to complete your look.
Pantsuit suit with a hoodie

A Pantsuit with a hoodie can also be the best combination you should ever try. Use light color hoodie paired with neutral-colored pants and a suit. You can pair it with white socks and pastel-colored sneakers that will give you a chic and utterly alluring look.

Bra top with high waist trousers

Black high-waisted trousers matching with a back bra top can give you an iconic combination. You can layer your bra top with a nude or gray long jacket that will give an enchanting look. You can complete your overall look with nude color accessories like top-handle bags or slingbacks.

With the development and progress of the fashion industry, streetwear has made its own unique space and is in demand worldwide. With the use of various streetwear clothes, you can make the best fashion from them. You will find various high-quality brands that design unique pieces with different styles, giving you options for creating your fashionable outfit. But sometimes you might need clarification because of the many outfit options. You might need help to think about which color combination to choose and which type of outfit to match with whom. These 12 streetwear fashion ideas mentioned above will help you to create your out-of-box fashion. But before buying any of the outfits, ensure they fit your budget and style. Try experimenting with new outfits to get an exciting experience. Finally, remember that whatever outfit combination you choose should make you feel comfortable and confident.




Hits: 2790 | Leave a comment