Holiday Seasons and Matching Pajamas: Have They Become Unanimous?
Holiday seasons have been around for a long time. People celebrate different kinds of holidays worldwide, but there's something special about Christmas and Halloween. Both of these holidays are celebrated in almost every household in America and around the globe. According to a Gallup study, around 9 in 10 Americans celebrate Christmas, while Statista shows that Americans' participation in Halloween celebrations was about 69%. Regardless of the participation, what's exciting about these holiday seasons is how we dress for each holiday. There are many awesome options for dressing up for any holiday. However, wearing matching festive pajamas is the top trend observed recently.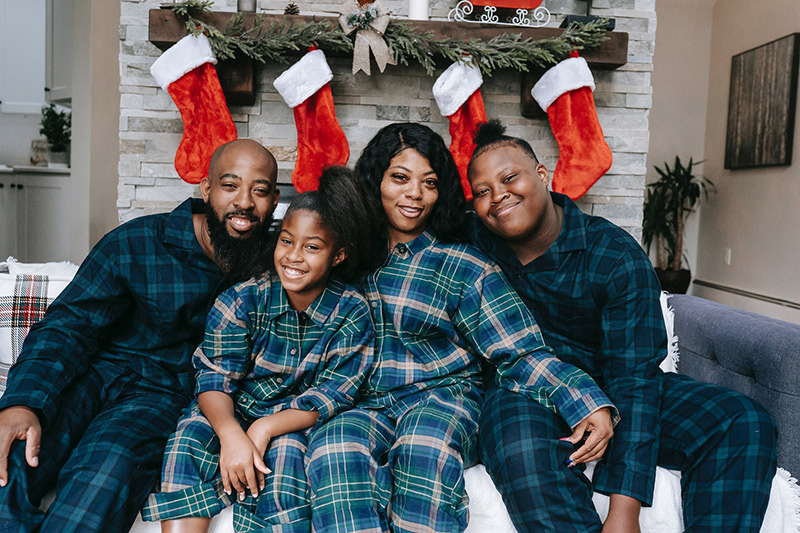 When Did the Trend of Wearing Matching Pajamas on Holidays Start
It's no secret that many of us like to wear matching pajamas on holidays. But where did this trend come from? When did people start wearing matching pajamas? The matching pajamas trend dates back to the late 1950s and early 1960s. However, it was not that popular during those days. But the trend hit back with the emergence of smartphones and social media in 2013. A family from North Carolina released a YouTube video titled XMAS JAMMIES. The video had a family with matching pajamas jamming and enjoying Christmas. It went viral and garnered around 18 million views. After this, many families wore matching pajamas during the holidays, which became a trend.
Matching Pajamas Are the Underrated Heroes of Holiday Seasons
Have you ever worn matching pajamas? If not, it is highly recommended to do so. The holidays are a time to spend with family, friends, and loved ones. Matching pajamas are great for spending the holidays with your loved ones because they're fun and comfortable and make everyone feel cozy on Christmas morning or any other day during the festive season. You can also wear them while watching holiday movies or playing games together.
Matching pajamas are also great for celebrating the holidays with friends. They're a perfect way to bring everyone together while creating lasting memories and having fun at parties or gatherings throughout December. The hype for wearing matching pajamas is so high that many celebrities also wear them during the holiday season. Celebrities like Glen Savchenko, Evelyn Lozada, Molly Sims, and many more have been seen wearing matching pajamas in 2021. You, too, can buy matching pajamas if you want to try them this festive season. Many options are available, from colorful plaids to prints to text graphics. You can head online and visit any online retail store to buy them. Visit an online store that offers a wide range of choices to get something that suits your personality and looks good on all your family members.
Most Common Matching Pajama Designs
While there are many options to choose from, some designs are more popular than others. Here are some common matching pajama designs you can try:
Matching Pajamas That Are Inspired By Cute Characters
While cute characters inspire these pajamas, you may wonder why they're so popular. The answer is simple. These characters are from movies, TV shows, games, and other pop culture phenomena that have become a part of our lives. They're instantly recognizable and almost universally loved. They also remind us of the holidays because we love to watch Christmas movies with our families during that time of year.
Characters like Mickey Mouse, Minions, etc., will simultaneously look cute and cool. Moreover, you can also opt for pajamas with characters from movies like Harry Potter, Toy Story, The Lion King, etc. All these are popular movies and characters that people can instantly connect with.
Printed Matching Family Pajamas for the Holiday Season
It's the holiday season, and you must be prepared to wear the right pajamas for your festivities. There are many printed options to go with. You can choose any design that suits your style and celebrate with your family. You can also wear matching pajamas outside the house and on regular days if you style the pajamas well. There are many ways to style printed pajamas to look less like "sleepwear" and more like a normal outfit. When you're ready to take your printed pajamas outside the home, here are some tips for styling them:
- Add a blazer. A fitted blazer will keep your look from looking like loungewear and give it some structure.
- Wear with heels. A pair of heels will make any outfit look more put-together and polished, so they're perfect when you're trying to dress up printed pajamas.
- Choose a bold color. If you want to wear printed pajamas outside the house but still want to look like you're dressed down, choose a bright color or pattern that can be paired with simple items like black tights or jeans.
- Pair the pajamas with a cool hat or some other accessory. This can instantly take your look from casual to cool and chic, which makes it perfect for going out at night.
- Add one more layer. A t-shirt or button-down over your top will do. This will help tone down the look of your outfit, so it doesn't scream, "I'm wearing pajamas."
Red Plaid Pajamas
Red plaid pajamas are the classic holiday pajamas, but they're also great for other occasions. You can wear them home, in bed, or around the house. For example, you can wear red plaid pajamas as loungewear in your living rooms during summer nights. You can also wear them in the bedroom alone or with a partner. Either way, these comfy pajamas will make any situation more festive.
Red plaids are the classic pajamas used for a long time. You can see celebrities like Julianne and Derek Hough wearing red plaid pajamas for Christmas. You can opt for couples or family pajamas in the red plaid pattern.
Buffalo Plaid Pajamas Are Also Great for Holidays
You can't go wrong with buffalo plaid pajamas. They're the ultimate holiday staple and a gift that will be appreciated by anyone who loves to wear matching pajama sets. Whether you want to show off your school spirit or just keep warm during the winter, these comfy buffalo plaid pajamas are an easy choice for holiday gifting.
Conclusion
With the different styles and designs of pajamas, it is easy to find the perfect style. Now that you have learned everything about matching pajamas, what are you waiting for? Get ready to impress your friends with your new jammies.


Hits: 3352 | Leave a comment