Where and how to keep all your clothes?
When you are a proud owner of the many suits, shirts and shoes arises the question of where to keep them all. So, searching for the storage solution for all the clothes you have? Don't worry. We've rounded up the best ways to store clothes to inspire you to create a unique storage space for all your clothes, shoes, and accessories.
However, it is worth remembering the following things:
- You really need to reduce your wardrobe. If you don't have a closet, you might want to control yourself and not buy extra "just in case" items.
- You may need to do something with your own hands to solve this problem. And that's okay, such items tend to perform much better than off-the-shelf storage solutions.
- If you are going to store clothes in an open view, then you can no longer just throw them everywhere. You will need to fold or hang it neatly.
- Finally, get ready for people to comment on your unique way of storing clothes.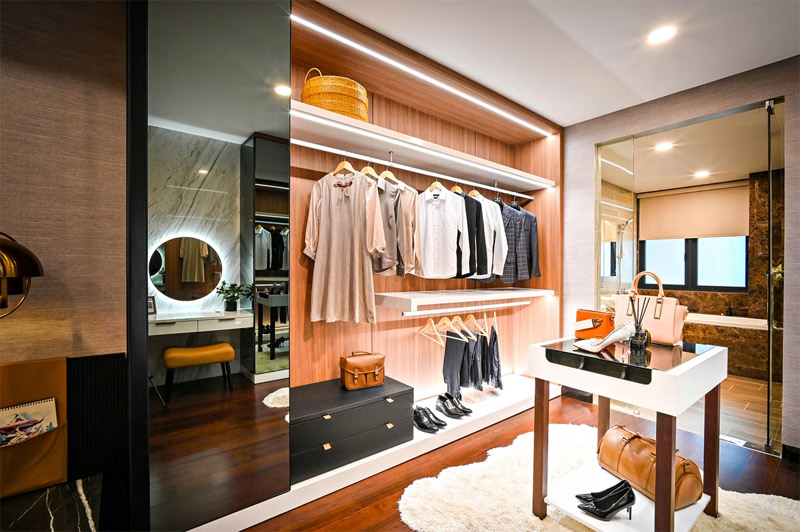 Take a clothing inventory using the KonMari method
This method consists of the fact that you leave only those clothes that make you happy and get rid of the rest. Yes, this is not the most pleasant experience, but if you are planning to buy a new wardrobe or chest because there is nowhere to put things, be sure to try this method - the need to purchase will disappear immediately.
First, take everything out of the closet that is in it. Let only empty shelves and hangers be in front of you.
Another way of the clothes inventory
First, take everything out of the closet that is in it. Let only empty shelves and hangers be in front of you.
Start filling your closet with clothes, but before you hang up your next item, ask yourself some important questions. For example: will I wear this shirt in the next few months? If I saw these jeans in a store now, would I buy them? I really love this sweater, but its condition already leaves much to be desired. Maybe it no longer has a place in the closet?
Reconsider if you will wear all these clothes. Items in good condition can be donated to charities. If the condition of your belongings is not really good, just throw them away. A well-known truth: for the new to come, you need to get rid of the old.
Hang things in the closet very neatly and do it in such a way that you can see the entire contents of the closet at a glance.
Learn to fold beautifully
The most convenient way to store T-shirts and underwear in a chest of drawers is vertical. So all the clothes are always in front of you and it is very comfortable to get them.
Use shoeboxes
Old shoe boxes are great as dividers for your dresser, as well as for storing tights, socks, and underwear in the closet.
What about chains?
A great way to get extra space for little money. Suitable for clothes of the same type, it is very convenient to pick up an outfit in the morning - took out one hanger and all things in front of your eyes.
Vintage chest
Depending on what result you need, the dressing room can be "camouflaged" to match the color and texture of the rest of the bedroom walls. But also, sections with shelves and rails can be decorated with a mobile screen, and as a highlight - a vintage chest of drawers. If you have high-end bedroom furniture this kind of storage will be very suitable for it.
Scarf rings
Do you have too many scarves? Use shower curtain rings to organize them on the same hanger.
Storage bench
In small spaces, you can double the space with a bench or chest. You can store shoes or some seasonal items in such furniture.
Trays for accessories in the hallway
Clutches, glasses, hats, and gloves love to scatter around. A small box or basket will keep them within the bounds of decorum.
Rails and baskets on cabinet doors
Make use of every possible storage space, including closet and closet doors.
Copper pipe hanger
A copper pipe fixture can be attached to the ceiling that doubles as a coat rack. Hooks on the wall can serve to organize jewelry, hats, and bags.
White background to cut down on visual clutter
If you don't have a closet but still need to store your clothes in your bedroom, then you should definitely choose white for your walls. This will reduce visual clutter and add a modern look. In addition, in the absence of massive wardrobes or built-in structures, the space of the room looks light and spacious.
Birch branch
This is the perfect way to tastefully arrange your favorite things in the interior without cluttering up the space.
Combination of elements
Shelves, clothes racks, and hooks are all you need to create the perfect organizational space. And the use of a decorative bookcase adds charm to the interior.
Rack and hangers
A couple of clothes hangers, a shelving unit, and a small stool make for a nicely organized area for storing clothes. It's great, but the mirror will add the finishing touch.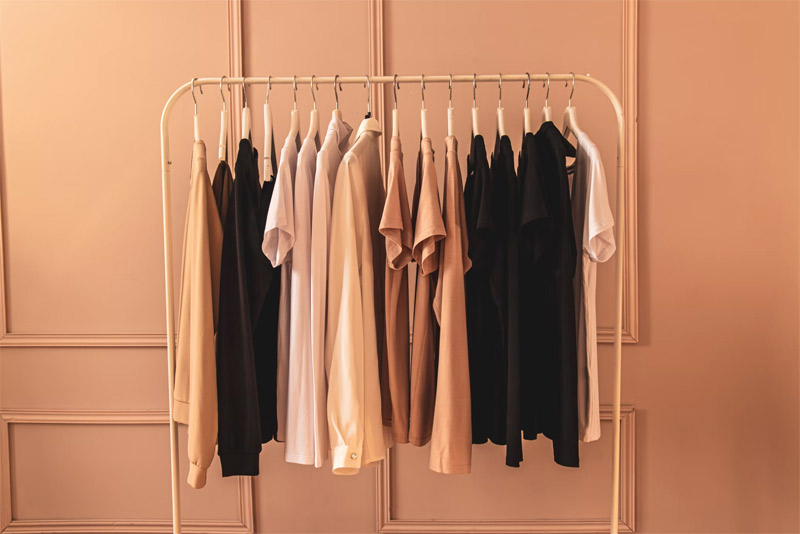 The abundance of copper pipes

Only copper pipes and fittings can be used to create a functional wall that serves not only as a rack for clothes but also performs a decorative function.

Wicker baskets

People use the space under the bed to store books, shoes, towels, and linens. Why not place clothes there? Baskets are a convenient option within easy reach and will save space.

Curtain as zoning

If you do not want to see your clothes all the time, then this can be fixed with a curtain. But you shouldn't use any old fabric for this. You have to choose what you like and what will go with the decor in your room.

Clothing as an element of decor

Do you want to turn your favorite clothes into an element of decor? Install hooks to store clothes and accessories. Floating shelves and a wall can be used to place shoes, bags, and other items. Don't forget to add a mirror and lighting.


Hits: 6020 | Leave a comment