Six Ways to Wear a Denim Overall Skirt
Denim overall skirts are one fashion item that everyone should have in their closet. That is because there are just so many different ways you can wear an overall denim skirt. Matching a top is a breeze. Adding accessories can be an exciting way to add even more personality to a fit. So, whether you've been rocking the single strap look since day one, or maybe you're newer to the trend, be sure to keep reading as we delve into six looks anyone can incorporate into their denim overall skirt outfits.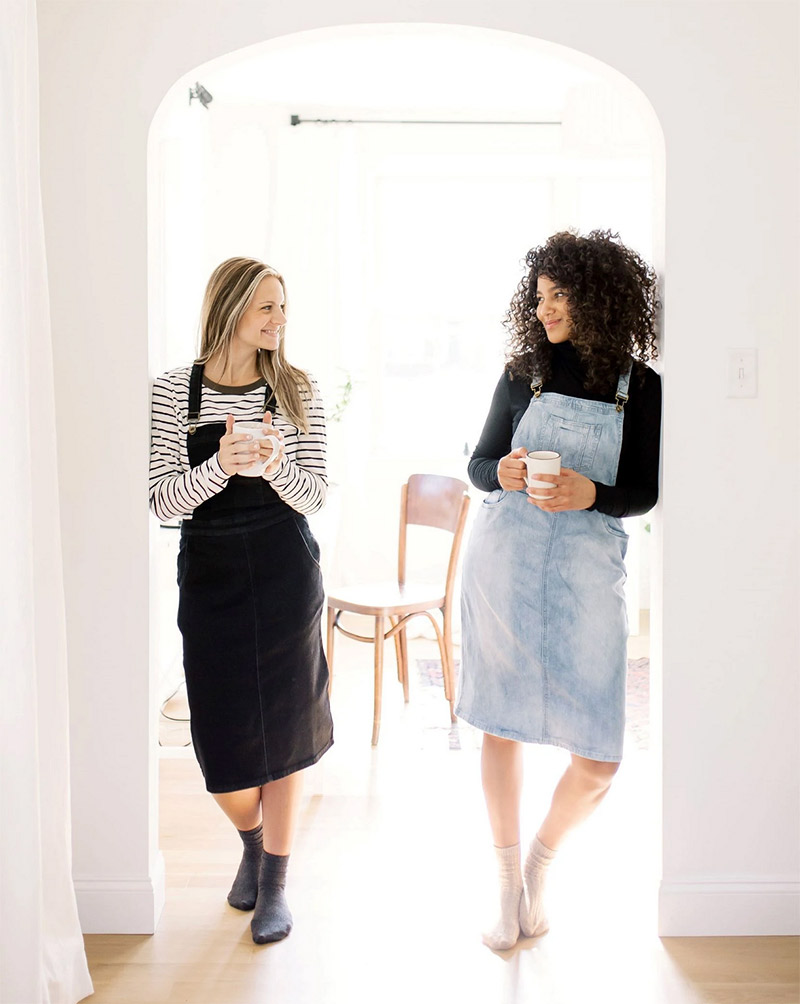 Rock an Off The Shoulder Striped Tee
When combining a denim overall skirt with an off-the-shoulder striped tee-shirt, don't be afraid to dip a toe into a little sailor-chic vibe. A classic blue and white strip will match any shade of denim nicely. This getup is unfussy and casual without looking like it took zero effort to put together. Oversized sunglasses can help give the look a different aura of cool.
Put a Button-Down On
Looking for an outfit that you can wear on the weekend that requires minimal effort but won't leave you feeling like a total slob? A button-down shirt might be just the ticket to unlocking your ultimate weekend overall outfit.
The button-down and denim overall trend is so hot that you've probably seen photos of some of your favorite celebs trying it when out and about. The button-down makes this outfit classy without taking it out of the realm of a casual ensemble. Pair this look with overstated jewelry or a new pair of sneakers for an even funkier vibe.
Go Funky with a Lace Blouse
Nothing says that you can't mix materials like lace and denim together in the same look. So why not give it a try? The dainty details of a lace blouse does an interesting interplay when paired with such a rugged material as denim. For those that want a way to soften the somewhat masculine vibe denim overalls may provide, incorporating lace is a way to make any outfit decidedly more feminine. A printed headband can be the perfect finishing touch for just such an outfit. (Check out this outfit from Emmy Lou Styles to see how the lace and denim can look when put all together.)
Try a Simple Plain White Tee
This is a favorite outfit of Selena Gomez, and it's easy to see why. If it ain't broke, don't fix it. And there is absolutely nothing wrong with this classic combination of a simple white tee-shirt and a denim overall skirt. This is the perfect thing to throw on if you're in a hurry and don't want to be bothered by how you look.
And just because the tee-shirt is plain doesn't mean that the entire outfit has to be. By staying conservative with your top, you allow yourself more freedom to make your own choices elsewhere in the fit. Wear a bomber jacket, put on colossal gold hoop earrings, and go crazy. When paired with a white tee-shirt, nothing will ever look too outlandish.
Put a Sweater on Underneath
Worried about looking too casual? Guard against this by going with the always elegant sweater and overall combination. The potential combinations for a sweater and overalls are only limited by what you have in your wardrobe. Oversized sweaters work great with denim overall skirts, as do turtlenecks. When pairing with a material like denim, you can never go wrong with neutral colors such as gray, black, and brown.
Trying to dress this look down? Go with a knit that has a more vibrant pattern or graphical features. The options when it comes to this sweater combo are nearly endless. (Just don't try this look with an ugly Christmas sweater, or at least don't say we didn't warn you!)
Beat the Heat with a Crop Top
Everyone knows that when a heatwave arrives, it is time to break out the crop tops. (Besides, who doesn't like to show off a little stomach after doing crunches at the gym?) This helps make crop tops the perfect combination of fashion and comfort. A crop top will keep you cool, and they pair well with denim overall skirts. Try a solid-colored crop top for a simpler look. Patterns and graphics can also help an outfit stand out. When pairing with denim already, just try to avoid using similar materials such as khaki. Less you want to end up wearing a modified version of the Canadian tuxedo.
Whatever Style You Choose, Make it Your Own!
Of course, if none of the above looks feel right to you, don't wear them. At the end of the day, it doesn't matter if you wear your overalls with one strap done or two. The most important thing is that you feel good in the clothes you're wearing. If you would feel comfortable in a denim overall skirt matched with something not mentioned above, by all means, wear what you want. Whatever you choose to wear, make it your own, and you surely won't regret it.


Hits: 1867 | Leave a comment